The NBA Finals are right around the corner and, boy, do we have a fun matchup on our hands.
In one corner stand the Los Angeles Lakers, headlined by the star power of LeBron James and Anthony Davis. The terrifying twosome can bludgeon the toughest defenses with rim attacks and erase mistakes at the speed of light on the other end.
In the other corner stand the Miami Heat, a grind-it-out group that has used a surprisingly-explosive offense to take them to the Promised Land. Bam Adebayo and Jimmy Butler are stars in their own right, and they're flanked by confident shooters, rangy defenders and arguably the NBA's best coach in Erik Spoelstra.
I'm not a coach -- I'm just a pun-loving basketball fan with a hankering for film breakdowns. But instead of a traditional series preview, I decided to go into the basketball trenches and devise gameplans for both teams. The tone of this two-part series will be a little more informal, but it will still be informative (at least I hope).
Without further ado, here is how the Los Angeles Lakers will try to stop the Miami Heat.
Defensive Matchups
Kentavious Caldwell-Pope → Goran Dragic
Danny Green → Duncan Robinson
LeBron James → Jimmy Butler
Dwight Howard → Jae Crowder
Anthony Davis → Bam Adebayo
There's an argument to be made for playing things straight up, with Davis playing free safety off of Crowder. However, shutting down the Dragic-Adebayo pick-and-roll (more on that later) should be of the utmost importance. Davis is more comfortable playing higher on screens than either of the true centers, and can switch out on the perimeter if necessary. Taking away Dragic's airspace could go a long way to slowing him down.
Top Priority on Defense: Shutting Down Handoffs
The crux of Miami's half-court goodness begins and ends with handoffs. Via Synergy, the Heat led the NBA in handoff possessions (9.6), points (10.2), points per possession (1.07) and adjusted field goal percentage (55.4). They are relentless in their attack; if one handoff doesn't create an opening, they have no issue hunting a second, a third or even a fourth.
Staying attached to those will be priority number one. Run their shooters, namely Robinson, off the line and muck up the passing lanes from there. There will be room to switch some of their wing-to-wing handoffs in order to keep things in front.
The Heat struggled generating good looks during the regular-season matchups, though those games were played ages ago. Still, they scored just 0.82 points per possession on trips featuring a handoff in those meetings, the worst mark they posted against any team in the league, per a source with access to Second Spectrum tracking data. The Timberwolves were the only other team to hold them under 0.9 points per possession (0.84) on those actions.
Heat Team Stats (and Miami's stats vs. L.A. in parentheses)
• Offensive Rating: 111.9 (97.9)
• True Shooting Percentage: 58.7 (50.6)
• Assist Percentage: 65.7 (62.7)
• Turnover Rate: 14.9 (10.8)
• Pace: 98.7 (97.0)
• Free-Throw Attempts: 23.2 (26.0)
• Free-Throw Percentage: 80.1 (76.9)
• Three-Point Attempts: 35.4 (34.0)
• Three-Point Percentage: 37.9 (23.5)
• Offensive Rebounds: 8.5 (6.5)
Heat's Play Type Breakdown

Actions to Watch For:
No team in the league utilizes handoffs quite like the Heat. They can come from anywhere, at any time, multiple times in a possession.
A lot of their possessions are going to start with Chicago action -- a pindown that flows into a dribble handoff above the break.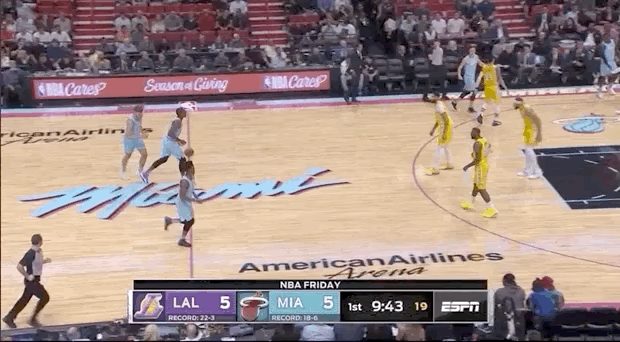 You can see the problems it can pose. If the first screen connects at all, it'll throw the first defender (Caldwell-Pope) behind the play, setting up a two-on-one once the handoff is completed. It also puts the second defender (Green) in a tough spot. If he tags the roller (Adebayo), it'll leave a shooter open; in this case, it's Robinson. If Green doesn't make that tag, there's a lob opportunity for Adebayo.
The best course of action is switching the pindown, then sliding under the handoff. Kendrick Nunn has been out of the rotation, so it'll likely be Dragic initiating that set. He has a relatively slow gather on his jumper, so there'll be room to recover and contest his shot if he decides to pull up.
Nothing says "we will break you" quite like the nature of Miami's split action. It begins innocently enough, with the ball being dumped down to Adebayo or Butler or Kelly Olynyk or Andre Iguodala. From there, things get annoying.
They can spread you out and dice you up with cuts from the slot: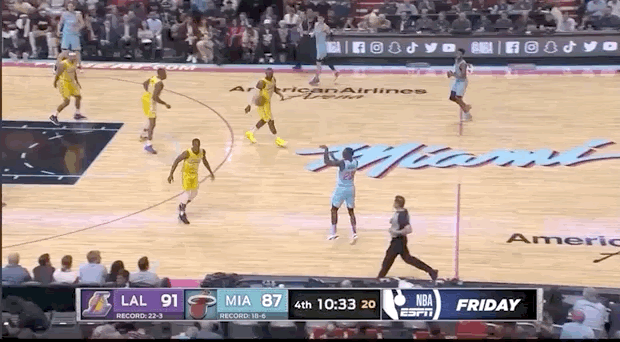 Or they'll have two, sometimes three players congregate together to cut or flare off one another until a poor decision is made.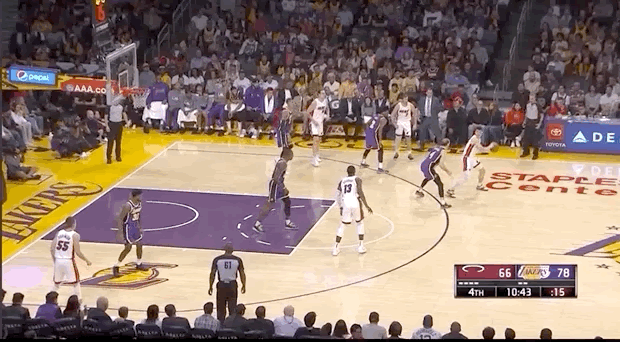 The Heat led the NBA in points per game off cuts (13.6, via Synergy) for a reason. Their players never stop moving, and they have unselfish ball-movers that can hit them in stride. It's a similar dilemma to what the Nuggets presented, but with even more options.
A common early offense action, the Heat will run this above-the-break or kick things off from the wing. Their ball-handler will receive two screens, with one guy rolling to the basket and the other popping out to the perimeter.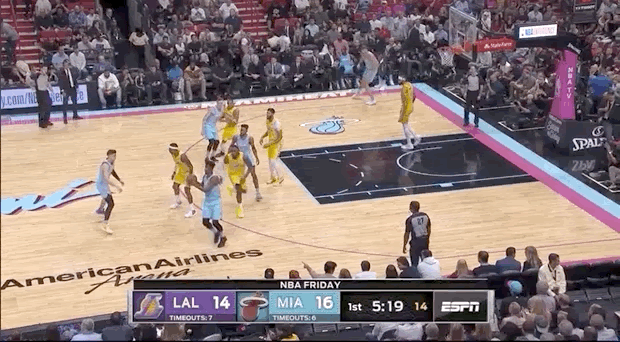 Miami wants to get two to the ball because that'll create a pick-your-poison decision for the help. In this specific example, Avery Bradley gets chipped on the screen, forcing Davis to step up and opening up the roll for Derrick Jones Jr.
Switching that first screen will help take away an advantage. Switching the second screen is an option if Davis is involved, since he should be able to corral any of the Heat's ball-handlers in a pinch.
Base Coverage: Drop
Stick to your guns. Miami's best perimeter player (Butler) isn't a pull-up threat. The second-best threat (Dragic) has a slow enough trigger to where his jumpers can be bothered, assuming the guards stay attached to him. Tyler Herro can get loose, so there may be room to play a step or two below the level of the screen just to cut off some of that air space.
Ultimately, you don't want the Heat touching the paint and generating clean catch-and-shoot looks, or getting to the line and slowing things down. Force them into contested pull-ups, clean the glass and blitz them in transition.
The Changeup: LeBron on Dragic
The matchups can be played straight, but it's worth acknowledging that Dragic is the head of the snake. Butler wants to get downhill in pick-and-roll, get to his floater, get to the line or kick it out. Dragic may be their best shotmaker; he's tough to deal with when he gets going.
The Dragic-Adebayo pick-and-roll, in particular, has been effective. The Heat are scoring 1.09 points per possession on trips featuring that action, the ninth-best mark among 51 duos that have hooked up for at least 50 ball screens, according to a source with access to Second Spectrum tracking data.
Dragic has been less effective running pick-and-rolls when defended by wings, per the Second Spectrum source, and that's where LeBron taking that assignment could be effective. He put out a similar fire late in the Western Conference Finals when he matched up against Jamal Murray, with the Nuggets generating a paltry 0.7 points per possession in those situations.
Defending Jimmy Butler
Butler has proven he can be the best player on the floor featuring an MVP -- just ask the Milwaukee Bucks. Saying he can go blow-for-blow with LeBron may be a tad bit rich, but Butler has been turning games on their heads all postseason long. He's filling the stat sheet (21-6-5), leveraging his brute force into free throw attempts (9.2) and tough rim finishes. He can absolutely shape this series in his image if he's able to get downhill.
Major Keys
1. Cut off his airspace
Honestly, it's been a bit baffling to watch how Butler has been defended in pick-and-roll situations this postseason. Playing drop coverage isn't inherently a bad idea, but having the big in a deep drop while Butler's defender forces him downhill doesn't make too much sense. It's basically playing into his hands.
If Butler's able to build a head of steam, he can explode past or through the big and get to the rim.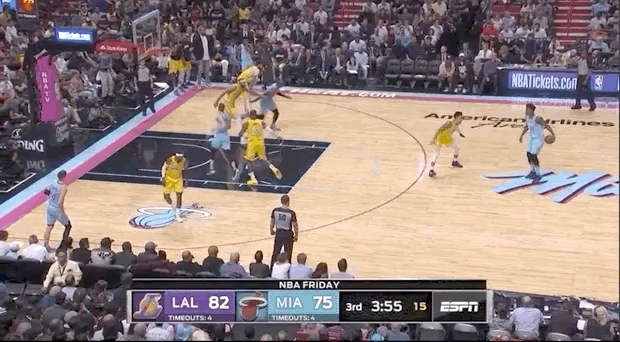 Green is trying to ICE this screen, but Butler smartly drives right and runs him into it. With McGee standing flat-footed at the free throw line, Butler is able to gain momentum in three dribbles. McGee opens his hips, and Butler takes advantage of McGee being off balance by powering through his chest, creating a window for the layup.
If you're going to ICE Butler, the big is going to have to play higher up. It doesn't have to be an all-out blitz like we saw in spurts during the Eastern Conference Finals -- what was THAT about? -- but you have to cut off his runway.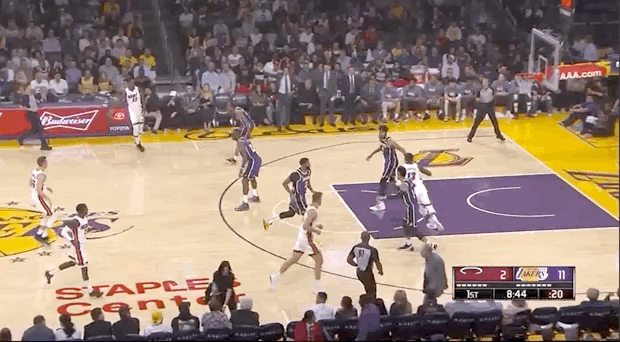 McGee plays a couple of steps higher in this example, which forces Butler to halt his drive. That gives Bradley time to recover, and Butler settles for a pull-up jumper. That's a win for the defense.
Notice how Adebayo flips the screen there. There's a brief window for a pocket pass, but McGee flashes his hands to make Butler think twice about it.
Butler will absolutely thread the needle on pocket passes if he can draw two to the ball.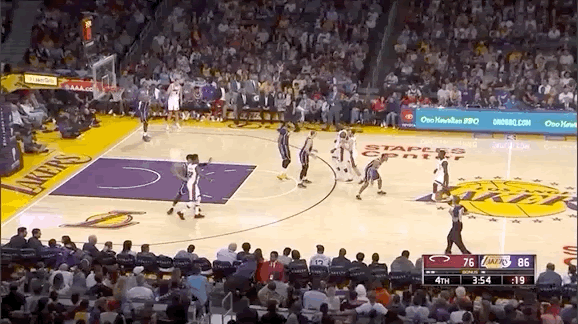 2. Cut off the corner
Butler is going to hunt out corner kicks. A lot. A LOT.
He doesn't mind going into a floater or a short pull-up against some sort of drop, but he's going to hunt those shots out on middle pick-and-rolls. If he's attacking from either wing and goes baseline, he's waiting for a shooter to drift to the corner for a kick-out.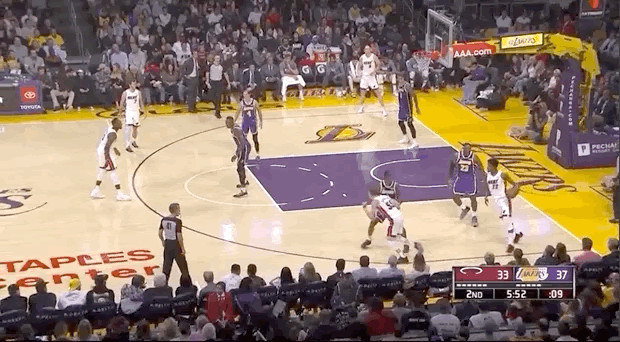 Butler drives away from the screen as LeBron attempts to ICE it. Howard meanders towards the baseline. He isn't far enough over to cut off Butler's drive, but he's over enough to open up a window for a pass to Adebayo. Alex Caruso drops down to tag, which gives Dragic the opening to slide to the corner.
Further compounding things for the Lakers is Olynyk's seal. He reads Butler's driving angle, cuts inside of Kyle Kuzma, then seals him off. When Butler leaps into the air, he basically has an uncontested pass to Dragic in the corner.
This is going to be a tendency play. Butler's going to look to pass more often than not, especially if he leaves his feet on the baseline. Tag the roll, cut off the corner and trust your rotations if the kick-out is made to the wing.
Defending Bam Adebayo
Butler has been calling Adebayo the heart and soul of the Heat all year long. After his performance in the Eastern Conference Finals -- 21.8 points, 11 rebounds, 5.2 assists, 1.7 steals and 1 block per game -- maybe it's time to believe him.
Adebayo has solidified himself as a top-20 player, and it's probably higher than that. He's an elite roll threat, a great passer and a versatile defender that unlocks Miami's ability to shapeshift between schemes. He's a problem.
Major Key
1. Play him flat
Adebayo is an impressive ball-handler for a player his size. He possesses a quick first step that allows him to beat slower bigs off the bounce, and complements that with improving footwork that allows him to pump, pivot and flow into short-range shots from different angles.
Dig a little deeper and you'll notice his "bag" is a little limited; he relies almost completely on his suddenness to create advantages for himself.
The first step of any Adebayo attack is reading his defender's feet. If one is higher than the other, he's going to rip through, jab step and take off the other way.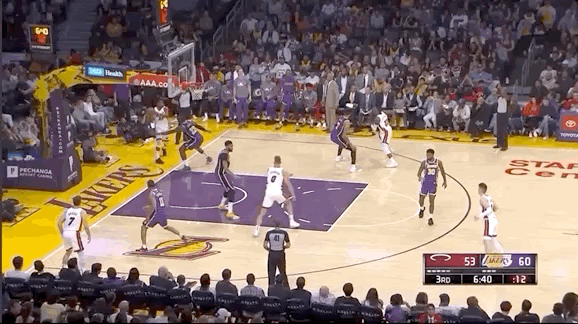 McGee does a great job of recovering and not falling for Adebayo's initial fakes, but he still opens up and gives Adebayo a window to dive in with a righty finish -- and all of that is created from his jab-and-go.
If you play him flat, the window becomes much smaller for him to attack. From there, you can put him into positions where he has to get creative. He's growing in that regard, but he isn't there quite yet.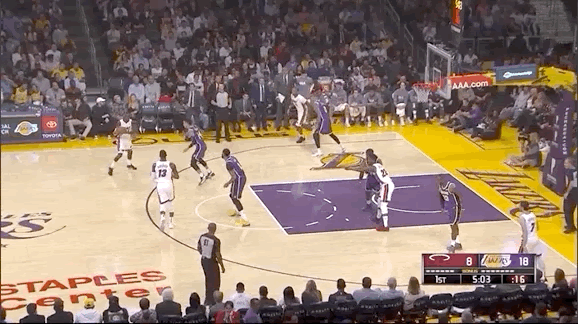 This is slowed down so you can peep the positioning of Davis. He's square with Adebayo, so the drive isn't super effective even with the built-in confusion of the fake handoff. Adebayo gives a subtle push as he spins back to his right, and it flows into a floater over Davis. It's a makeable shot for him, but a tougher one than he'd like to take.
Take away the easy stuff and force him to finish over the top. That's going to keep him from establishing a rhythm and, more importantly, it'll keep him off the line.
If he's taking tough shots and missing them, that's inherently putting him behind the action on the ensuing transition opportunity. That's where things can get ugly.
Defending the Shooters (Perimeter)
Duncan Robinson: Stop at all costs.
Robinson probably needs his own section. While Adebayo and Butler are the Heat's best players, there's arguably nobody more important to their offense than Robinson. His work as a movement shooter is almost unrivaled in the league. The Heat's offense is based around handoffs featuring Robinson and attacking the creases generated if (or when) there's a slip-up.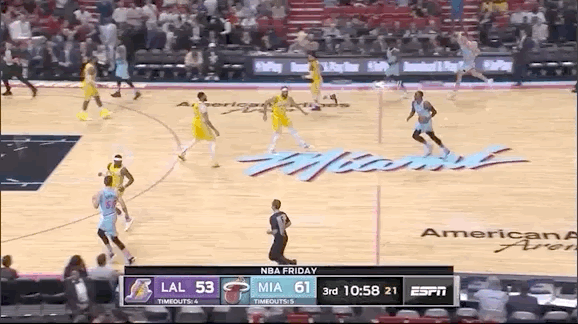 That ends in a miss from Meyers Leonard, but you can see the kind of chaos Robinson creates. His defender (Caldwell-Pope) reacting slowly to the initial handoff sets everything off in motion. He has to close out harder, which Robinson smartly uses against him with a pump fake. As he reverses course, McGee steps up to take away the pull-up, opening up the dump-off to Adebayo. Swing, swing, open shot.
There has to be a body in Robinson's jersey at all times. The ability to execute rearview contests will be important. He's shown throughout this playoff run, particularly the last two rounds, that he's prone to pump his way out of looks if he feels a defender breathing down his neck. That kind of hesitancy has put the Heat later in the clock than they'd like.
There's room for him to start using that terror to draw fouls on those rearview contests, but that's a mental step he hasn't taken yet. Stay attached, and trap HARD if it comes down to it. There's enough length on the floor to rotate behind it.
Tyler Herro: Hard, but controlled close-out.
Herro is a sniper with his feet set, ranking in the 96th percentile on spot up possessions, via Synergy. If you leave your feet, he can pump and side-step into an open triple. He has impeccable footwork for a guy his age -- impeccable footwork, period. If you can close and stay in front, he may be able to get an angle, but there are a lot of possessions where he dribbles out of advantages to reset for an isolation of pick-and-roll.
Goran Dragic: Hard, but controlled close-out.
Dragic is similar to Herro in that he can kill you if his feet are set. He's much more willing to take shots over late contests -- 60.1 percent of his catch-and-shoots were dubbed as "guarded" during the regular season, per Synergy -- so staying down and putting a hand in his face is vital. The savvy veteran can get you off balance with pump fakes if he's able to get downhill. Force him baseline if he's in the corners. He'll probe and look for cutters, which should be pretty easy to pick off if the rotation is there.
Kendrick Nunn: Soft close-out.
Nunn probably won't see many minutes, if any at all. His jumper has left him, as has his confidence.
Andre Iguodala: Let him fire.
He's proven he can make big shots from the corner, but it's much more important to help off to thwart drives or to tag rollers in pick-and-roll. If he beats you, like he did in Game 6 against Boston, just tip your cap.
Defending the Shooters (Bigs)
Kelly Olynyk: Hard, but controlled close-out.
Olynyk can be a booger. He's really good with his feet set, but can knock down shots off platform too and has serious pump-and-drive potential. He didn't play much towards the back end of the Eastern Conference Finals, but there should be minutes for him in this series. Matching up against McGee or Howard will free up some pick-and-pop opportunities. Get out there, but do so under control. If he drives, make his life tough by staying down and forcing him to finish over a sea of arms.
Jae Crowder: Soft close-out.
Crowder may be coming down to earth, as he's shooting 18.4 percent from deep on 7.6 attempts over his last five games after he knocked down 41.7 percent on 8.4 attempts through his first 10 contests. He's prone to these kinds of streaks. Just show a body at him to make him overthink; him reestablishing a rhythm and getting hot will open up all kinds of lineup and play combinations for the Heat.
Derrick Jones Jr.: Let him fire.
I'm not sure how much he'll see the floor, either. Jones is shooting just 28 percent from three this year on low volume (2.2 attempts). He has a quick trigger, but an inconsistent base. He'll leave a ton of them short, which could lead to some quick transition opportunities.
Solomon Hill: Soft close-out.
Hill surprisingly cracked the rotation last series, though he didn't have much of a role offensively. He didn't take a shot in his 17 minutes and was mostly used as a screener to generate switches. He shot roughly 37 percent from three on nearly three attempts per game, but a vast majority of those looks were open. Leave him to help elsewhere and, like Iguodala, tip your cap if he makes enough shots to beat you.