In what was a hectic day for the organization, the Cleveland Cavaliers received some good news with the likes of Collin Sexton, Darius Garland and Dylan Windler all returning to practice and participating in full contact drills as they return from injury. The team was also able to finally incorporate its newcomers, Jarrett Allen and Taurean Prince, into the session.
Allen and Prince arrived to Cleveland last week as a part of the blockbuster four-team trade that sent James Harden to Brooklyn, but nobody could step foot on the court until Saturday's early-evening clearance of the deal. Now, having met their new teammates, the former Nets are ready to move forward.
"It feels good," Allen said. "I'm kind of getting '17-'18 and '18-'19 Brooklyn Nets vibes [from this Cavaliers team], where we're not the Lakers or what the Nets were when I got traded or not one of the top-three teams. [But] we're all competing for something, we're all trying to have a common goal, working our hardest in practice, staying late and trying to grow not only as basketball players but as human beings."
It's the first time Allen has been traded. Both players are appreciative to have each other throughout this process.
"It's been great to have somebody not only from the Brooklyn Nets, but another Texas guy," Allen said. "We both are from Texas, just to bounce different things off of. I feel like going through this alone would have been a little more difficult. But having him around, we get to kind of express how we were feeling about the trade and just everything that was going down, so having him has been great."
"Coming over with J, it gives a sense of comfortability," Prince added. "Because you always kind of go through the things in your head, of not necessarily fear, but you just think about the unknown and what could be. So having somebody that you know and are familiar with come into a situation with you like this brings a lot of comfort to you. And I feel like moving forward with this group, I can bring a lot of leadership. I have some experience playing-wise and being around some of the best players to play the game, so I'm just trying to bring what I've learned and the knowledge I possess and some gems that I've taken from different coaches, different players and kind of just shed them on a group, how they may be."
The #Cavs introduced the newcomer pair of Jarrett Allen and Taurean Prince to the media today. Although the former Nets have a desire to keep learning, they also bring a wealth of experience to a young team they want to lead.

Story for @basketbllnews: https://t.co/6CLWDDoOkT pic.twitter.com/tm8L7t9iQ9

— Spencer Davies (@SpinDavies) January 19, 2021
Before sending him to Cleveland last week, Brooklyn brought Prince in from the Atlanta Hawks in July of 2019 to bolster its core at the wing position. With the return of Kevin Durant, the acquisition of long-time veteran Jeff Green and the likes of Joe Harris and Timothe Luwawu-Cabarrot rising to the top of the depth chart, his minutes diminished.
It's not an unfamiliar feeling for Prince, who has consistently had his role changed and has now played for six different head coaches since entering the league with the Hawks in 2016. Asked how he's viewed these adjustments from his own perspective -- and how he foresees fitting in the Cavs with those experiences -- Prince had a lengthy response.
"Man, well you're talking to a guy whose life has kind of been so inconsistent, up and down, as far as good, bad situations growing up," Prince said. "So I've always learned to kind of adapt to what's thrown my way. So with the new coaches, Coach [Mike] Budenholzer leaving when I was in Atlanta, from then going to an option offensively to now kind of like just a shooter. And then going to Brooklyn switching my position to the four, and having to guard bigger guys, gaining weight a little bit to kind of sustain those loads and then now I'm back to a lighter weight. Now I'm back at the three.
"So there's just taken that sacrifice and do whatever the team needs me to do. But at the same time, kind of molding into the player I want to be at the same time. But that's what life's about: sacrifice. So just trying to do anything to stick around and continue to be the great-minded player I feel like I am."
Prince and Allen come to Cleveland with more of a seasoned presence about them, despite still being young players with room to improve.
"[It's] a chance to bring out some of my leadership skills again," Prince said. "I'm a four-year guy that came out of Baylor, so I was able to kind of go through growing steps and then become a leader. And then when I got in the league, I was drafted to a veteran team, so I kind of went back a little bit and it was more on the soak-it-in-and-be-a-sponge type of curve. And now it's just getting the opportunity to kind of give off some of the knowledge and experience I've had over my five years to the one-year, two-year guys.
"By no means do I know everything. I'm still trying to get better as well. I don't think I've scratched the surface or even really reached close limits to what my skill set and abilities are. But I'm glad I'm with a group that for one, wants me, and for two, that's willing to get better and better, coachable and that's why you asked from the young guys."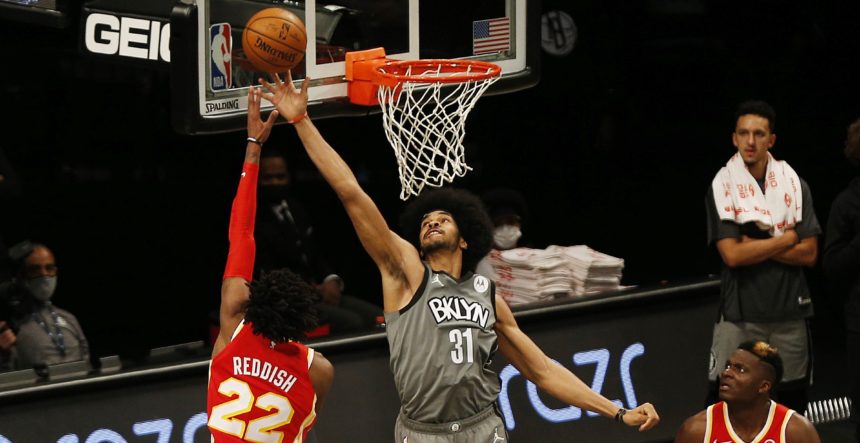 That goes especially for Allen, who is just 22 years old and is now in his fourth NBA season.
"I was thinking about it: [I'm] just as young as them, and I don't want to knock on them -- but I feel like I have more experience playing in the playoffs and playing with some Hall-of-Fame players, so I kind of know a little more in that aspect in terms of coming to practice and knowing what it takes on that level to play and just keep reminding what to eat," Allen said. "I'm happy to guide them, but I don't want to come in and overstep my welcome. I don't want to try to overpower anybody. I want to try to know where I can fit in and see if I can help in any way."
The two voiced excitement when Collin Sexton was mentioned. The third-year guard known as Young Bull made a massive impression on both just from past encounters as adversaries.
"When you guys call him Bull, that's a good nickname because he's always ready to play. He's always head first, going down and playing hard," Allen said. "I see us working together well, especially in the pick-and-roll. Playing against him, I especially realized that he draws a lot of attention. Like for me, even still I was trying to help him like off (of when he had) Tristan Thompson on the side. I would kind of leave Tristan and go towards Collin. So I think once the roles are switched, once I'm the one rolling to the basket, one that he's looking for lobs, they're going to have to help off of him and he's going to have me down below."
"The number one thing that sticks out to me about him is his intensity on the defensive end. I plan to match that 100 percent," Prince said. "That's the type of stuff that gets me going. And then obviously, his ability to score the ball and be creative in the lane and get others involved, it's a plus. So I'm excited to see what he does when he comes back. Definitely excited to get along with him and DG [Darius Garland] in the backcourt and see how I can help them out."
The 26-year-old Prince reiterated that he is nowhere near a finished product, and he agrees that Cavs head coach J.B. Bickerstaff and his mindset could help him unlock the defensive potential he knows he has in him. Allen is looking forward to learning from a two-time All-Star in Andre Drummond and a three-time NBA champion in JaVale McGee, joking that the Cleveland big man duo has "almost 50 years in the league combined."
There are a lot of things that change when a trade happens, and the logistics aren't easy. Allen and Prince are temporarily staying in a local hotel until their living situations are figured out. The former is apartment hunting, while the latter would probably look for a bigger place because he has a family to take care of.
So while they're trying to get settled in Cleveland as players, Prince and Allen are also having to get used to their new surroundings in Northeast Ohio.
"It's slow motion, and that's what I'm used to, being from Texas," Prince said. "I can walk outside and get in my vehicle and not have to go to a parking garage. I like snow, I like the weather here. It's cool. I'm enjoying it. Now, it's time to get to the basketball part."
"[We're] trying to learn all these new plays and just watching the team and finally being able to be out there with them today," Allen added. "It's been a lot. So far, everybody has been friendly, the team has brought me in with open arms and I just can't wait to play with them."
In their debut game with the wine-and-gold, Allen and Prince will be able to close a chapter of their basketball careers -- because the Nets are the first team on the schedule, and they're set to play two consecutive games in Cleveland on Wednesday and Friday.
No hostility. Just a little weirdness.
"I don't want to say it's emotional. It's a little awkward, I'm not gonna lie to you," Allen said. "It's like they just traded me away. No hard feelings, but now like the actual first game is going to be against them. I think it's gonna be good. It's gonna be good to see the guys again. It's gonna be a final send-off."