I've never had basketball taken away from me.
I was eating well, playing good, feeling confident and having fun again.
Things were going really well. I remember Coach Ryan Schmidt signaling to either Jermel Kennedy or somebody to run a play to get the ball in my hands because I had just scored, and we wanted to run a specific play for me, so they handed the ball off to me and I went to accelerate and advance the dribble like I do every day.
And I fell.
My initial thought was that I slipped on a sticker. On the court they have those decals and sometimes they get slippery if they get wet or aren't put on properly. I had slipped on one four or five plays earlier, so I thought I had just slipped again.
Usually when I turn the ball over, I go after it. But my body couldn't even move to go after the ball this time. That's when I knew something was wrong.

My teammate, Briante Weber told me that he heard a pop. Coach Ryan was turning away like he didn't even want to look. I looked at my teammates' faces and they were all looking back in disgust. I thought, "Oh no, is it something gruesome like what happened to my friend, Tyler Ennis?" But it wasn't that, thankfully.
It didn't even hurt, because when you tear your Achilles, all of the nerve endings are just kind of…finished.
But inside, I knew something was wrong. I couldn't get up, and I just started crying on the court.
I thought about how hard I had worked to stay in shape throughout the pandemic, and about having the opportunity to play basketball again in the Canadian Elite Basketball League after a situation with the 905 where I wasn't playing a lot. We had just got Coach Ryan his first win as a head coach and we were on our way to securing a playoff spot, but I couldn't even finish the game. It was like I had let my teammates down.
How could I get hurt? It's not even a contact injury. I was in better shape than I was with the 905! This all went through my mind while I was lying on the court and my foot was just kind of…dangling there.
I was home in Canada, but none of this was familiar. I had to go to the hospital alone, talk to doctors alone, and tread all of these new waters alone while trying not to drown.
I'm fortunate that I was playing under my long-term mentor, and, for lack of a better word, rock, in Jermaine Anderson (the general manager of my CEBL team). He was able to get everything together for my insurance, get me second opinions, and get me the best treatment and doctors possible, because that almost wasn't the case.
Initially, I was in St. Catharines General Hospital and I was going to go do surgery the next day with someone there. But the doctor at St. Catharines was making jokes and making me really uncomfortable, saying stuff like, "Is Kevin Durant your favorite player? I guess you guys have more in common now!" I don't know if that was just his method, to use humor during a tough time, but like, my guy, this is not the time. It was only a day after, I hadn't even gotten through all of my text messages and phone calls from people. I was still in mental survival mode, thinking, "This can't be real." The doctor came back in and told me, "We can do the surgery, but tonight I have a gallbladder surgery to do, then another surgery to do, and then I'll do yours." I called Jermaine, and we were both like, "Nah, we can't do the surgery here."
Jermaine came through, like he always does, and hooked me up with Dr. Desai, and he's a huge basketball fanatic. He actually saw Kevin Durant when KD tore his Achilles against the Raptors. It made me feel more comfortable to see somebody who actually specializes in orthopaedic procedures, and who works with basketball players on a regular basis.
But again, I was alone.
This was at the height of COVID, and it killed my mom and the rest of my family to not be able to be in the waiting room or anywhere close to the hospital. They had to wait outside, and I had to go in for surgery by myself. I was by myself when I woke up after the surgery and saw my foot in a cast for the first time. I was by myself when I had to face the reality that I was going to have to rebuild my body and pause my career.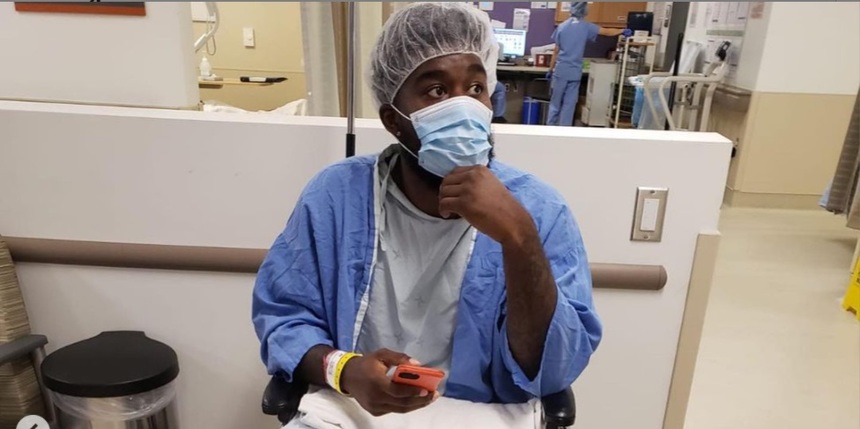 My mom, my brother and I live by this family mantra, 'the 72-hour rule." When something negative happens, you can sulk about it for two-to-three days, but then after that third day, you have to snap out of it. So I took notes. I wrote down all of the things I was going to do, and then aligned it with the protocols that the doctor gave me and just made sure I kept my mind out of a negative space. I want to stay positive when it comes to attacking this rehab process.
And it's been a good process.
I'm in Canada, so my surgery and post-op care was free, but they don't cover the cost of my lengthy rehab. But I have insurance through Team Canada, which covers some of my expenses (with the rest paid out-of-pocket).
I work with the Team Canada guys and their physical therapist Jason Meehan, who I see once a week. Four-to-five times a week, I do weights and stuff with Dr. Thomas Lam, who is someone I've worked with since I was 13 years old. Dr. Lam works with my Team Canada teammate, Dwight Powell, who also tore his Achilles in January with the Dallas Mavericks. This is a strange coincidence, but it's one that I needed, to have somebody that is going through the exact same process that can coach me and be like, "Hey, this is what you're going to experience. You're going to have good days and bad days..." That was good for me. That made me really optimistic.
Dwight is a great person and he is a hard worker. That's something no injury can ever take away from him. He also plays for Mark Cuban, so he has access to all of the best resources. Even in the NBA bubble, there was talk that he looked so good that he could probably play, but the team just wanted to be cautious.
I was playing in the G League, living check to check. It's already hard to stay committed in the G League, where our per diem is $100 for a two-day road trip and our salaries are $30,000 before taxes. I thought about Dwight's injury, and I thought about my injury, and how if I just had a little bit more money (or an NBA organization footing the bill), I could have access to better resources too.
Fortunately, I did have a lot from a support standpoint.
The team I was playing for, the Hamilton Honey Badgers, features a number of people who I got to know during my time with the Raptors 905. Jermaine Anderson went from a player-development coach on the 905 to GM of the Honey Badgers. Coach Ryan was one of the main assistant coaches that I was really close with throughout my tenure with the 905.
Many people from the 905 reached out including their GM Chad Sanders, the new president Courtney Charles and the former president John Wiggins. Jama Mahlalela (who used to be the 905's head coach) hit me up as well. They offered words of support and told me that they were keeping me in their prayers. One of the 905's therapists, Graeme Campbell, was already there in the CEBL bubble because he was working with Coach Charles Kissi and the Guelph Nighthawks.
Everyone offered me so much. Rayhan Malik, our athletic trainer with the 905, was like, "Let's see what the insurance is like, but if you want to work with me and work with Graeme, we can definitely help take care of you."
I couldn't work with the Raptors' people because they were still in the bubble, so they were trying to figure that out and it wouldn't have been an option for me. John, Chad and Jama all brought up the idea of the 905 signing me as a practice player for the upcoming season. You don't get paid for that, and I would have had to travel to the arena by myself and they wouldn't provide housing, but the goal would have been to give me the opportunity to be around basketball, to be around the team, maybe even help coach some of the new guys, and at least get access to working out with Arsalan Jamil and Ryan Schmidt, and then get treatment there around the clock. But because of COVID-19 and what they're going to do with the G League season, and then with the Raptors moving to Tampa and the 905 possibly moving too, it wouldn't make sense for them to have to fly me out and house me if I'm not going to get the opportunity to play with them.
And then they had a coaching change.
I haven't heard from the 905 since they hired Coach Patrick Mutombo and Brittni Donaldson, and Jama is on Nick Nurse's staff now, so he has other things to worry about. I don't know where I stand with them in terms of being a practice player or not. But regardless, I'm still thankful that they reached out, thankful that they wanted to help out, and thankful for the two years that I spent there.
I've been carrying it well, doing everything I can to get back out there, but this stuff is still heavy, man.
Even Employment Insurance is a grey area, because my job as a G League player doesn't really exist right now, and I can't find other work because I'm still injured.
These are the kind of things that NBA guys, NBA fans, and just basketball fans in general don't really understand, or even think about.
And I can't blame them for that. I can't blame anybody for this situation since it was entirely out of anyone's control.
I'm blessed, so blessed, to be in an organization that has offered all they could in terms of support. But at the end of the day, I'm not in a situation where I'm making millions of dollars or receiving all of the same perks as an NBA player.
Don't get me wrong. I love my job. I get to play the game I love, and I get paid to do it. Not many people can say that.
And it's not all about money.
It's just life, when I think about it.
The richer people always have access to better healthcare than the people who don't.
Growing up, people always talk about managing your money properly and getting your degree because you could get hurt. You hear those things and you take it in, but you don't really process it. Then, it happened to me. I'm glad I got my degree. What if I had left school early and never went to the NBA? Then I'm overseas and this happened to me. At least I have my degree to fall back on.
The window for undrafted players and G League players is so small. You can do everything right and still have your dream disappear before it even begins.
I'm lucky to have so many people in the basketball community that care about me and want to see me get back on my feet.
It's been a hard road, but I'm luckier than most.