About a year ago, Gary Clark was fielding 10-day contract offers from a handful of teams. As he studied each squad via film sessions, one stood out in particular: Steve Clifford's Orlando Magic.
"Knowing how Coach [Clifford] plays, he's all about defense," Clark said via Zoom after Monday's shootaround. "And how they needed some extra shooting, it was kinda ideal for me to come here... Seeing Coach, the numbers about how defensive our team is -- it's like night-and-day. It was like, 'I have to go to Orlando to be able to be a part of a defensive team that is in the NBA.'"
If you look up Clark's stats, the numbers won't jump out at you. He admits that he's not the most athletic player in the league, nor is he likely to show up on a nightly highlight reel. He just goes out there and does his job when called upon.
Take his play in the NBA Bubble, for example, when Jonathan Isaac tragically went down with a torn ACL on Aug. 2. Clark went from getting DNPs at the end of the bench to averaging 22 minutes per contest. The burly forward stepped right in and filled the role that Clifford asked of him.
Matching up with the Milwaukee Bucks in the postseason, Orlando needed somebody to get a body on Giannis Antetokounmpo. Insert Clark, who spent nearly 25 minutes total guarding the Greek Freak in that series. Not only did he do a stellar job holding his own against the league's back-to-back MVP, he also forced eight turnovers and held Antetokounmpo to 26.7 percent shooting from beyond the arc, per NBA.com.
"It was a huge learning experience, just playing the best offensive team and close to being the best defensive team last year," Clark said. "Like, there's no plays off, so you have to be extra prepared for the game plan.
"Defensively, I think [I'm] night-and-day better at what to expect on a night-in, night-out basis [as far as] what other teams like to do. I think I'm more confident in guarding pretty much anyone after guarding [Giannis] as my assignment. You kinda take a little bit of it and move on, but I hold an edge with myself every day knowing that I had that assignment in the postseason."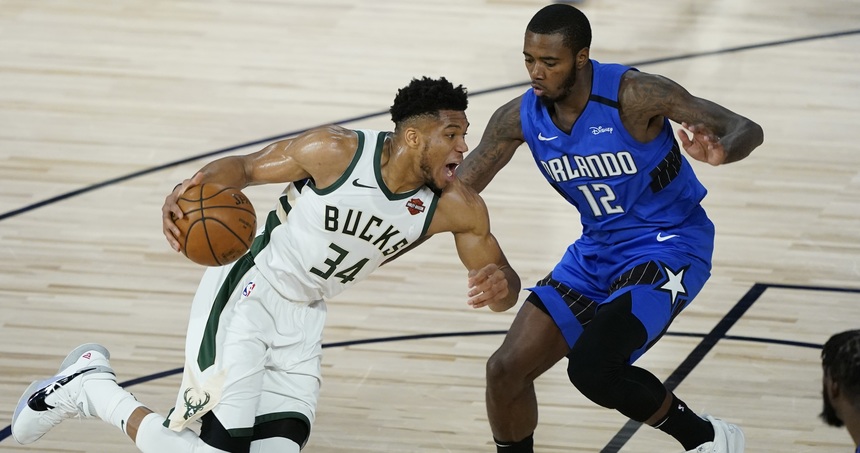 Go figure that Clark put up the best numbers of his career when it was playoff time. He scored 7.4 points and nabbed 5.6 rebounds a night, knocking down 34.4 percent of his triples on over six attempts per game. He also registered a steal per game.
Suiting up for the Cincinnati Bearcats in college, Clark was a two-time Defensive Player of the Year in the American Athletic Conference. The 26-year-old won over Clifford with his terrific defense and ability to knock down threes.
"His range shooting and then I think also, he has a mindset on that [defensive] end of the floor -- pick-and-roll coverages, he'll make multiple efforts on possessions... Those would be the two things [that impressed me]," Clifford said. "And then as a coach, we function when he's out there. He knows where he's supposed to be, he knows what we're doing at both ends of the floor. And with a 24-second shot clock, that's a big part of it."
Following a 4-0 start to the season, the Magic caught the dreaded injury bug. Currently, they're down Evan Fournier, Chuma Okeke, James Ennis and Al-Farouq Aminu -- a mixture of wings and frontcourt talent. Slotted at those similar positions, Clark is able to provide the necessary depth for Orlando to keep rolling. He's made a career off staying ready, and that hasn't changed.
"With all the guys going down like that, it's one of those things where I think it's been a tale of my journey so far in the NBA -- just always staying ready conditioning-wise and knowing our game plan," Clark said. "It's benefited me so far in my career, just always being prepared and just always thinking the game and having my body and mind ready to play no matter if I haven't played in three or four games, or if Coach -- in the middle of a game if a guy goes down -- just throws me in. Just being prepared.
"I think it's the biggest part of being a professional," Clark continued. "You see guys that excel in their role -- whatever it is, they just kinda perfect it. Knowing the schemes and knowing the game gives me a benefit. And the more I study and the more I prepare, I'll always have an edge or an advantage. I think the hardest part is probably the game rhythm. You can do all the running and conditioning outside I was doing with Nate [Spencer] and strength-conditioning guys, but it's nothing like the change in direction of a regular game and how the game flows. I think that and just rhythm shooting -- one of those things that comes with not playing many games. But [the key is] just... never being not confident."
On Monday night, Clark connected on a pair of shots from downtown, his first threes of the season after an iffy 0-for-5 start. He mentioned the work he's putting in with assistant coach Bruce Kreutzer on his jumpshot, most notably making sure that he's not shooting on his toes. He also had the third-highest plus-minus for the Magic with a plus-14 in his 20 minutes off the bench in Orlando's 103-83 win over the Cleveland Cavaliers.
"I think just my resume of being able to knock down a shot, it's easier said than done to think about the next shot when you're so passionate about your craft and how confident you are when you're putting in that work," Clark said. "I know it's been ugly as far as the lid hasn't come off the basket yet, but I'm confident, the team is confident, Coach is confident in me to be able to step in there and knock down some shots, provide the spacing that allows our guys to really get in the paint and [Nikola Vucevic] to facilitate inside with the extra spacing that I bring."
Clark's teammates are constantly encouraging him to fire them up when he has good looks. Khem Birch loves the way he stretches the floor, his unselfish play, his knowledge of when to help on defense and the basketball IQ he brings to the team. Aaron Gordon had similar praise as well.
"He's an excellent shooter. The thing about shooters is you gotta keep shooting," Gordon said. "G-Clark is a pro. He's a pro's pro, man. He's always ready. He does whatever he is asked to do. He takes care of his body in the training room, in the weight room, on the floor. He's always putting in work, he's always getting shots [up] and when the opportunity presents itself, he steps up and he plays big. It doesn't go unnoticed and we appreciate him for that."
In just one year's time, Clark has earned the trust of the Magic -- from the coaching staff to the guys he's playing with. While he believes being a reliable shooter helps with that, it's his defensive prowess that really accelerated the process.
"The biggest trust issue that you have to gain from coaches is knowing our stuff defensively, and then offensively," Clark said. "You can survive a couple nights not knowing exactly what you're supposed to do offensively, but defensively [if] you [are] in and something happens within those first couple of possessions that you don't do right, then you lose coach's trust.
"So I think the biggest part for me within that year was to learn everything that is expected from us on the defensive end. The playcalls on the offensive end, Coach kinda gives you a lot of plays, but you kinda prepare each game based off how the other team plays. So you can kinda get an edge or an advantage as to like what plays are gonna be called, so that you can prepare. But the defensive part is everything here, and I learned that pretty fast as far as, 'How do I get on the court?' when I had times where I hadn't been playing. Just be ready knowing our schemes."
Whether you need him for five minutes or 25, Clark is going to bring consistency to the table, and you can't say that about everybody.