Luka Doncic is still the favorite to win the NBA MVP award, which was the case even before he recorded his first triple-double of the season last night (33 points, 16 rebounds and 11 assists). Trae Young probably has a different opinion on the matter, as does Domantas Sabonis. And do not get us started on freak show Julius Randle, who was supposed to be the butt of never-ending Knicks jokes but has instead dominated.
Until yesterday, LaMelo Ball was the favorite to win the Rookie of the Year award, and he comes off the bench… although if Devonte' Graham keeps playing so poorly, that may change quickly. James Wiseman has overtaken him.
The Los Angeles Lakers are heavily favored to win the title, which makes sense. The Brooklyn Nets are the second choice despite sitting in 10th place in the Eastern Conference and now facing a week without Kevin Durant (as well as missing Spencer Dinwiddie for the remainder of the season due to a torn ACL). The East-leading Philadelphia 76ers are 20-1.
Some things make perfect sense in the NBA gambling world, and some things do not. Figuring out the difference is what can make folks rich.
Here are five questions regarding the NBA gambling market (along with the best answers this writer can come up with).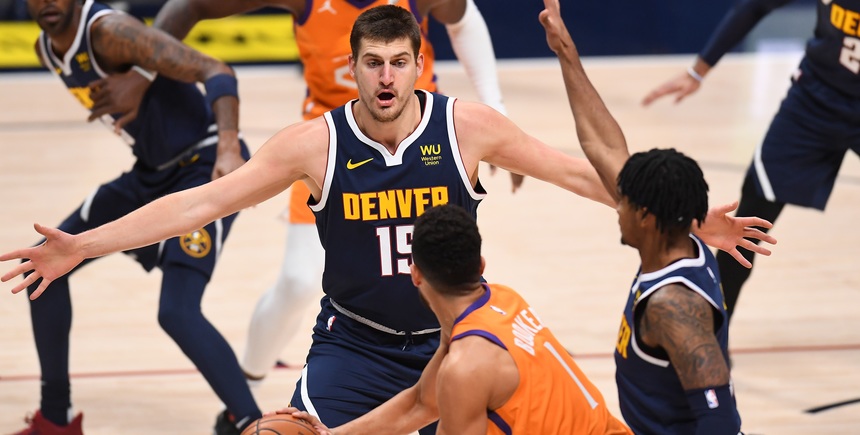 Which teams have been kindest to bettors?
The Indiana Pacers, Philadelphia Sixers, Orlando Magic, Los Angeles Clippers and Phoenix Suns are all 5-2 against the spread. The Denver Nuggets are 5-1 on over/unders. These kinds of numbers are important to people who gamble, and do not underestimate their numbers. In December, $12.09 billion was legally wagered in Nevada, $10.85 billion was wagered in New Jersey, and $4.5 billion in Pennsylvania. Sports gambling is a massive growth business, and at a certain point, state legislatures in New York, California and Texas are going to figure that out.
Why is Luka Doncic still the favorite for MVP?
Prior to the season, the oddsmakers figured the Dallas Mavericks would be a top-four team in the Western Conference and Doncic would lead the NBA in triple-doubles (as he did last season), which carries a lot of weight with voters. Right now, it looks like Nikola Jokic and Russell Westbrook (when he is not tired) will finish ahead of him, although it is too early to say that with any certainty. Giannis Antetokounmpo is the second choice because he is the reigning two-time MVP, but the Greek Freak's team is only 4-3… so it doesn't look like he will wrap up the award by early February like he did a year ago. There is no reasonable explanation as to why Paul George is 80-1.
Why would anyone play the over/under?
Well, that depends on the perspective of the bettor. On Sunday, the "under" hit in seven of eight games. Last Friday, the "under" hit in nine out of 10 games. Last night, the "under" was 5-4. The biggest miss by the oddsmakers was an over/under off by 32 ½ points in the Warriors-Kings game. With many teams giving what we shall politely call "early-season defensive effort," the scores have been high. The oddsmakers try to adjust, but this is clearly a tough season to figure out. The Nets-Jazz over/under tonight is 231 ½ despite Durant sitting out, and Utah is a 2 ½ -point 'dog. There is no rational explanation for this.
Why is James Wiseman the favorite for Rookie of the Year?
For one thing, he plays with Steph Curry and he's complemented him extremely well. Also, he is making up for milk-carton-material Draymond Green, who became a better broadcaster than basketball player over the past 12 months. Wiseman is averaging 11.4 points, 6.1 rebounds and 1.7 blocks while shooting 46.3 percent from the field and 41.7 percent from three-point range. LaMelo Ball has the next-best odds, and Anthony Edwards is the third choice. Payton Pritchard, who went for 23 points last night while Tremont Waters started for Boston, is 80-1. Again, this is unexplainable.
Can anyone catch Christian Wood for Most Improved Player?
He is the prohibitive 2-1 favorite right now for obvious reasons, but the Houston Rockets are only five games into a 72-game season. Jaylen Brown is making a strong case, but he was already a known commodity. Keldon Johnson of the San Antonio Spurs is 50-1, averaging 16.2 points and a team-leading 7.5 rebounds. He averaged 9.1 and 3.4 last year, and his odds might be lower if his team was not in the middle of a four-game losing streak.