We are now at the two-week mark of the NBA season, and surprises abound. Yes, the Los Angeles Lakers are very, very good… but we all expected that.
The Orlando Magic are 5-2, which is the second-best record in the NBA. The Brooklyn Nets are sitting below .500 and in the Eastern Conference's 10th seed, and they'll be without Kevin Durant for four-straight games. The Denver Nuggets are among the five teams tied for last place in the Western Conference. Somehow, the New York Knicks have the fifth-best record in the East.
If this is what defines 2021 being better than 2020, so be it.
But we are off to a strange start to this NBA season. There are times when things feel somewhat normal again, like when Steph Curry is going off for a career-high 62 points two nights ago against the Portland Trail Blazers and then follows it up with a 30-point outing to up his average to 32.0 points per game.
Luka Doncic and Giannis Antetokounmpo have been okay, but not great. The Philadelphia 76ers and Phoenix Suns have been tremendous, but can those teams sustain this level of success?
As we enter the third week of the NBA season, here are five players to keep a close eye on. Will they be able to continue producing at a high level after exploding out of the gate?
Keldon Johnson, San Antonio Spurs
The second-year player out of Kentucky is the second-leading scorer on a San Antonio Spurs team that did not make a whole lot of changes during the offseason and was widely expected to eventually shed DeMar DeRozan and LaMarcus Aldridge as they transition to a youth movement. But sometimes, the perfect mix of young and old can breed the correct chemistry. Johnson shot 7-for-11 and 10-for-16 in the Spurs' two most recent games, and Johnson looks like yet another example of Gregg Popovich and R.C. Buford finding buried treasure late in the draft.
There remains a logjam at point guard with Dejounte Murray, Patty Mills and the injured Derrick White, so time will tell whether the Spurs will try to make a trade to bolster their roster for a playoff push. This week, the Spurs will face the Los Angeles Clippers on Tuesday and Los Angeles Lakers on Thursday, and those teams will key on him defensively. Last Friday, Johnson had no trouble putting up points against the Lakers, dropping a career-high 26 points along with 10 rebounds, 5 threes, 2 steals and 1 block.
Enes Kanter, Portland Trail Blazers
Remember last year in the playoffs when every time Enes Kanter came into a game, good things happened on the court? Well, Terry Stotts is using him a heck of a lot more than Brad Stevens did last season in Boston and Kanter has three double-doubles in six games while backing up Jusuf Nurkic, who has not replicated his All-Bubble form. The latest effort from Kanter was 24 points and 12 rebounds in just 24 minutes against the Golden State Warriors, after he scored just 5 points in 11 minutes in the first game of the teams' back-to-back. Kanter is now with his fifth NBA team and while he will never be known for his defense, he remains one of the league's best when it comes to battling on the boards and converting second-chance points.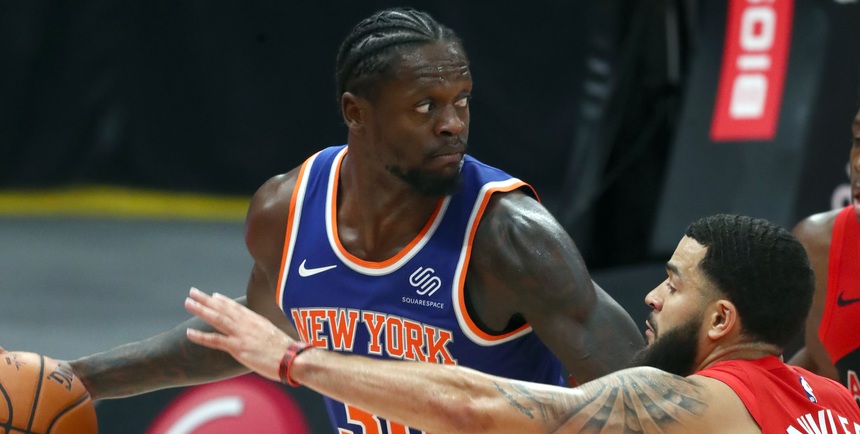 Julius Randle, New York Knicks
Tom Thibodeau is basically running his offense through the team's highest-paid player, and Randle is averaging 22.1 points, 11.4 rebounds and 7.4 assists – team-highs in all three categories. The Knicks didn't compete in the NBA bubble, so Randle essentially had a long offseason and dedicated himself to getting in better shape, and it shows. He's displayed significant improvement when it comes to his motor and efficiency. This is his seventh season in the league after being the No. 7 overall pick of the 2014 draft (by the Los Angeles Lakers), and he is putting up better numbers (especially the assists) than he did in his previous career-year -- his 2018-19 campaign with the New Orleans Pelicans, when he averaged 21.4 points, 8.7 rebounds and 3.1 assists.
Thibodeau is leaning on Randle and Alec Burks while simultaneously trying to figure out his point-guard situation. Also, R.J. Barrett is starting to play like the Knicks expected when they made him the No. 3 overall pick of the 2019 draft. His three-point shooting still needs work, but his free-throw percentage has risen from 61.4 to 77.8, and his assists (3.7) and rebounds (7.6) are up while playing 38.7 minutes per game. Randle is just below him at 37.7 minutes per game, and we are again seeing that Thibodeau prefers to keep his rotations short. The 4-3 Knicks are in a four-way tie for fifth in the East.
C.J. McCollum, Portland Trail Blazers
He went off for 28 points against the Golden State Warriors two nights ago and made only 2 three-pointers, which was a season-low through six games. We were all expecting Dame Lillard and Gary Trent Jr. to be the three-point marksmen for the Blazers this season, but McCollum is actually leading in the league in three-pointers made per game (4.7). McCollum is also first in the NBA in assist-to-turnover ratio (8.5).
Last season, Portland was a disappointment in the West after making the Conference Finals the previous season, and a full season of Jusuf Nurkic was supposed to change that. But instead, it's been McCollum and Kanter along with the intangibles provided by new additions Derrick Jones Jr. and Robert Covington that have helped make this a better all-around ballclub. They are a .500 team after six games, but will play 10 of their next 12 at home, so do not sleep on them.
Jaylen Brown, Boston Celtics
The 24-year-old forward is shooting 58.1 percent from the field and 42.9 percent from three-point range, which makes his 71.4 percent free throw shooting somewhat of a mystery, eh? But we have seen this guy evolve over his five seasons and prove that he was clearly worthy of the No. 3 overall pick in the 2015 draft, but nobody could have envisioned a 6.6-point increase in his scoring average. Jayson Tatum often gets credit for being the best player on this team, but Brown is making a push.
Brown is now averaging 26.9 points per game and is the better rebounder and big-man defender, but Tatum has evolved into the better offensive player. As a duo, they're averaging a combined 53.2 points, 12.2 rebounds, 7.1 assists, 5.7 threes, 2.6 steals and 1.6 blocks while shooting 52.0 percent from the field, 43.2 percent from three and 78.8 percent from the free-throw line. They became the first Celtics teammates to both score 200+ points in the first 8 games of a season since Larry Bird and Kevin McHale in 1986-87. Brown is shooting nearly 60 percent from the field, which is something that only centers are supposed to do.
Jayson Tatum and Jaylen Brown become the first @celtics teammates to both score 200+ points in the first 8 games of a season since Larry Bird and Kevin McHale in 1986-87. pic.twitter.com/invaxZ3ewS

— NBA.com/Stats (@nbastats) January 5, 2021
Honorable Mention
Malcolm Brogdon, Indiana Pacers (22.0 PPG, 7.0 APG)
Collin Sexton, Cleveland Cavaliers (25.7 PPG, 3.4 APG)
Christian Wood, Houston Rockets (23.6 PPG, 10.0 RPG, 2.0 BPG)
Dillon Brooks, Memphis Grizzlies (17.5 PPG, 4.3 RPG)
Darius Garland, Cleveland Cavaliers (17.2 PPG, 6.3 APG)