On Sunday, Jimmy Butler became just the third player in NBA history to post a 40-point triple-double in the NBA Finals (joining LeBron James and Jerry West). He finished with 40 points, 13 assists, 11 rebounds, 2 steals and 2 blocks on 14-20 shooting from the field (70 percent).
The triple-double brings Butler's postseason averages to 22.1 points, 5.9 rebounds, 5.5 assists, 1.9 threes and 1.8 steals, while shooting 48.2 percent from the field, 37.1 percent from three-point range and 85.8 percent from the free-throw line.
After the game, Butler stressed that he doesn't care about his individual numbers as long as the team is winning.
"Everybody remembers winning; that's it," Butler said. "They don't care how many points you score, they only care if you won or lost. For us, we're all about winning. We are. I say it all the time, but I mean it. The guys that we have, the group that Coach Pat and Coach Spo put together, it's always to win; nothing else. I hope the next game, I score zero [points] and y'all talk all you want to talk and we win, so I can come up here and say the same thing."
Butler noted that the Heat are getting more comfortable in each game, as they gain experience playing on this stage. While the Lakers have seven players who have played in the Finals, Miami has just two: Andre Iguodala and Udonis Haslem (who is out of the rotation). The rest of the Heat's roster is learning on the fly.
"We're just settling down," Butler said. "I think it's a lot of bright lights, it's a big stage for almost everybody except for Coach Spo, Andre, OG [Udonis Haslem], and nobody's been here before. But we're coming to realize that we belong here. We're a really good team and we can win, as we have shown tonight, if we play basketball the right way, if we do what we say we're going to do. So everybody is just becoming more and more comfortable as the days go by."
Heat head coach Erik Spoelstra raved about his superstar after Game 3.
"Jimmy effing Butler," Spoelstra said. "It's really hard to analyze or describe Jimmy until you actually feel him between the four lines. He's a supreme, elite competitor and we needed it. Obviously, this was a very desperate, urgent game and he was doing it on both ends of the court. Just put his imprint on every important part of the game. He's in the top percentile of this entire Association in terms of conditioning and you saw he just got stronger as the game went on…
"It's so settling when you have that type of guy in a really competitive game like this. It allows your other guys -- and we're playing young guys -- [to] just be who they are. They don't have to worry about too much pressure or context. They can just be who they are when you have somebody like that that takes on all the pressure for them."
"He's very calming for us, just because of his ability to obviously get a bucket himself and also get other people involved and move the ball," Duncan Robinson added. "I feel like everyone is getting touches. Down the stretch, he just made big play after big play on both sides of the ball. That's just who he is. He's been doing it for us all year, all playoffs and we expect that out of him… It was huge. Great players want that responsibility, and he certainly does."
Butler's teammates were asked if this performance surprised them -- Jimmy delivering perhaps the best game of his career on the biggest stage when his team needed it the most. One by one, they said that they've come to expect this from him.
"I don't think it's a surprise," Kelly Olynyk said. "We know what Jimmy can do. We see it day in and day out. Maybe [a surprise] to some other people, but that's our guy. He was at his best when his best was needed… He's our leader. We go as he goes. He was going tonight so that was big for us. His energy, his enthusiasm, his grit – all of that. We just picked up where he leads off."
"No, I wasn't surprised," Tyler Herro added. "We know how Jimmy is in these moments, and the world has seen what Jimmy Butler is capable of. He just played tremendous for us. He did everything, obviously. Ran the offense all the way through him, made play after play, bucket after bucket. And defensively, guarding LeBron [James], making it tough on him, and just being a leader out there. We were all following him. Obviously, we're going to need that from him for the next three."
"He's always been the type of guy you can depend on," Jae Crowder added. "Whatever you need -- not just scoring. He can get a big rebound or big foul or big charge. In college, he was that guy. Whatever you need him to do he'll come through. He's always been that. I've obviously been around him and seen him do stuff like this, but he's always been that type of player. Whatever you need him to do, he's capable of doing that. I'm not surprised at all."
Back in 2006, Spoelstra was part of Miami's coaching staff when a former Marquette player (Dwyane Wade) helped the Heat win the championship after falling behind 0-2 in the Finals against the Dallas Mavericks. Butler, who was also a Golden Eagle, hopes to do the same. Behind the scenes, Wade encouraged the Heat to bring in Butler and build around him.
"Dwyane swore to us, he looked Pat [Riley] and I dead in the eye and said, 'This is your guy. This is the next guy.'" Spoelstra said.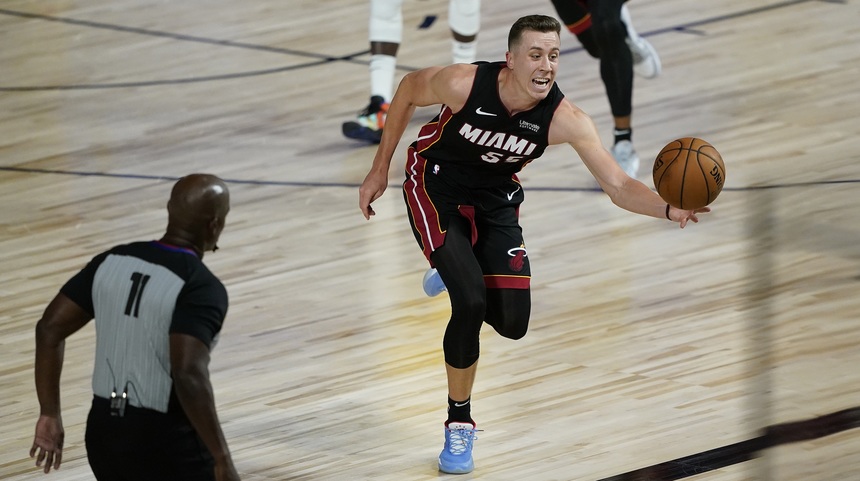 DUNCAN ROBINSON'S SHOOTING SLUMP
After Game 3, Jimmy Butler commented on Duncan Robinson's recent struggles.
"I will say: Duncan needs to shoot the ball a lot more," Butler said. "He needs to hunt shots because he's going to be a reason that we win one of these games. He's going to hit six, seven threes and I'm going to jump up and down and I'm going to give him a big hug, maybe a slight kiss on the back of his head, because I know how important that that guy is to our team."
In this series, Robinson is averaging just 7.3 points and 1.7 threes, while shooting 27.3 percent from the field and 25 percent from three. That's well below his regular-season averages (13.5 points and 3.7 threes on 44.6 percent shooting from deep) and his numbers from the first three rounds of the playoffs (11.3 points and 2.9 threes per game on 40 percent shooting).
"I fully expect to make more shots going forward, so I have to continue to be aggressive and do my job," Robinson said.
After Game 3, Robinson and Tyler Herro talked about how Butler is constantly encouraging Miami's young players to keep shooting and stay aggressive, even when they're struggling. Robinson said that Butler and his coaches "are only yelling in my ear when I am not shooting, so that's always a luxury to have as a shooter."
Robinson finished Game 3 with 13 points (on 4-12 shooting from the field and 3-10 from three) to go along with 5 rebounds, 3 assists, 2 steals and 1 block.
LEBRON AND JIMMY EXCHANGE WORDS
In Game 3, at the end of the first quarter, LeBron James told Jimmy Butler, "You're in trouble."
After Butler scored his 40th point and gave Miami a 9-point lead with 1:13 left, Butler yelled back, "You're in trouble!" Butler was asked about this exchange after the game.
"I mean, that's competition at its finest," Butler said. "I think LeBron has got the best of me way too many times. I respect the guy for it, but this is a different time now, a different group of guys that I have around me, and we are here to win, we are here to compete. But we're not going to lay down, we're going to fight back in this thing, even it up 2-2."
When asked if he enjoys playing against a competitor like Butler after Game 3, James had some high praise for his opponent.
"Love it. Love it. One of the best competitors we have in our game," James said. "We love that opportunity. For me, personally, I don't know how many more opportunities I'm going to have, so to be able to go against a fierce competitor like that is something I'll look back on when I'm done playing. I'll miss those moments."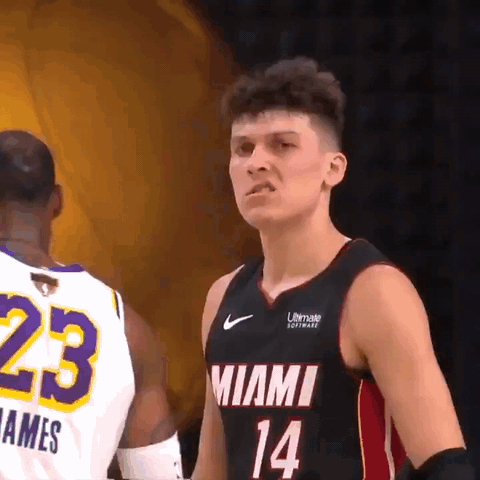 TYLER HERRO'S SNARL GOES VIRAL
After scoring over Rajon Rondo late in the game, Tyler Herro snarled and the clip went viral, with many fans and players discussing the rookie's swagger on Twitter.
When asked about this, Herro said that he's just enjoying the fact that he's playing in the Finals.
"I think it's every kid's dream to play at this stage, but I just cherish the moment," Herro said. "[I] really have got to take a step back and just realize and look at everything that's going on. I'm just embracing the moment, enjoying it. It's a great opportunity for all of us and we're just here enjoying it."
Butler was asked about Herro's snarl after the game.
"I saw it. He did that thing with his lip, I saw that," Butler said. "Tyler's always going to be Tyler. I think we all love him for that. But like I tell T all the time, he's my third favorite Herro. His little brother Myles is definitely my favorite, so I'll talk more to Myles tomorrow than I will to Tyler because I think he is the reason that Tyler plays like that. He looks up to Tyler, and so Tyler goes out there and plays with so much confidence because he knows that his brother is watching."