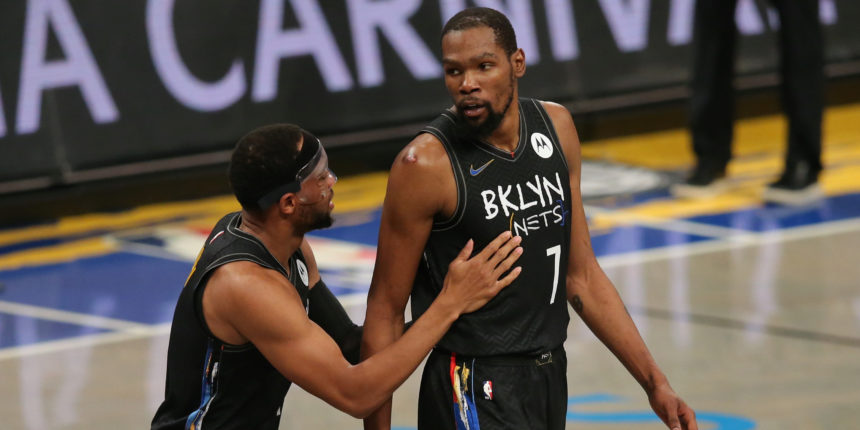 Breaking down the early odds for NBA Finals MVP
The NBA Finals are still more than a month away, but the sportsbooks are already putting Finals MVP odds on the board.
At FanDuel Sportsbook, the favorite is Kevin Durant at +390, and teammates Kyrie Irving and James Harden are among the top nine, both at +1300. That makes sense, because the Brooklyn Nets are the favorites to win the NBA title. And though those prices are not bad, the problem is that any of the three could win.
The second choice is LeBron James at +550, followed by Giannis Antetokounmpo at +600, then Donovan Mitchell and Joel Embiid at +900, then Anthony Davis at +1100. Again, nice prices, but we are a long way from the Finals, and there is still a chance that an outlier makes it to the final round. We shall get to that, but let's see where the money is going first.
These stats are courtesy of BetMGM spokesman John Ewing.
Line movement
LeBron James: opened +450, now +400 (favorite)
Kevin Durant: opened +750, now +450
Giannis Antetokounmpo: opened +1000, now +625
Luka Doncic: opened +5000, now +2200
Highest Ticket Percent
Kevin Durant 15.3%
James Harden 15.1%
Nikola Jokic 13.0%
Highest Handle Percent
James Harden 21.7%
Kevin Durant 18.3%
Luka Doncic 11.7%
The Nets and Lakers have been the biggest liabilities for the sportsbooks all season long, and given the fact that the sportsbooks usually win (this is why they build big hotels in Las Vegas), it would stand to reason that the Finals will not be Brooklyn vs. L.A.
So let's have a look at more of FanDuel's odds for Finals MVP, and what it would take for these wagers to pay off.
We shall start with the longest odds:
There are 24 players listed at 250-1: Bam Adebayo, Bogdan Bogdanovic, Bradley Beal, CJ McCollum, Chris Paul, Clint Capela, Deandre Ayton, Derrick Rose, Dillon Brooks, Evan Fournier, Goran Dragic, Jayson Tatum, Jimmy Butler, Joe Ingles, John Collins, Jonas Valanciunas, Jusuf Nurkic, Kemba Walker, Norman Powell, RJ Barrett, Rajon Rondo, Russell Westbrook and Tim Hardaway Jr.
There isn't a single player on that list whose team is undefeated, hence the long odds. But teams come back from losses over the course of the playoffs, which run two months, and epic comebacks are not unheard of in the NBA (anyone remember what the Nuggets did last season when they were down 3-1 twice?)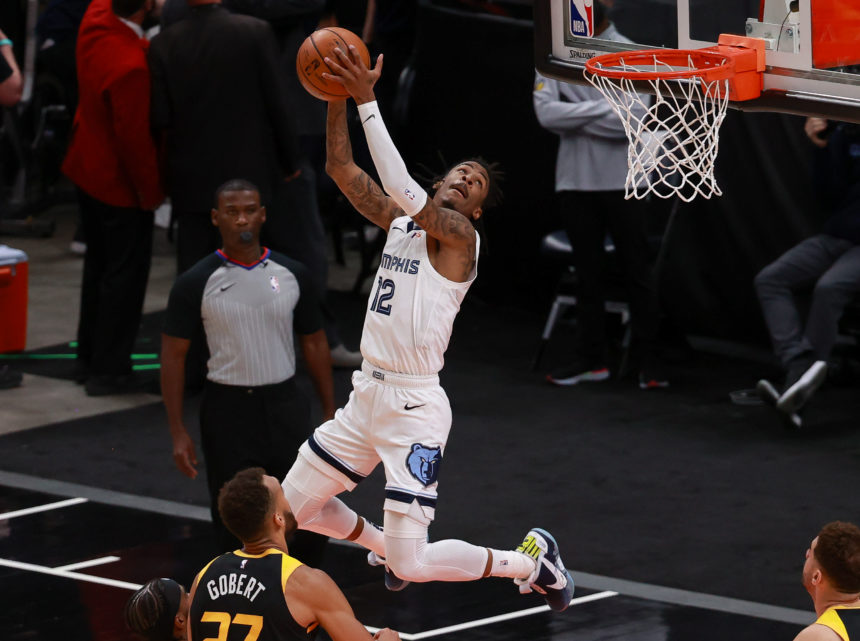 Just below that group is Kristaps Porzingis at 240-1, then Ja Morant and Dennis Schroder at +230, and Julius Randle at +190. Given the way that foursome has played thus far, only Morant has a snowball's chance in hell. Remember, 2021 is stranger in many ways than 2020, so you really never know. Games 3 and 4 of the Grizzlies-Jazz series are in Memphis, and Morant is coming off a 47-point game.
The threesome at 130-1 is Khris Middleton, Mike Conley and Jrue Holiday, and Holiday is the most interesting one here because he has been dominant against the Heat with a plus-88 during his playing time compared to Jimmy Butler's -68. If the Bucks win the championship, but Giannis is a free throw liability and Middleton is only so-so, Holiday would have a legit shot.
The other players listed at least 100-1 are Ben Simmons (now 100-1 after being 80-1 two days ago), Bojan Bogdanovic (110-1) and Tobias Harris (120-1). Since the Sixers have the easiest road to the Finals of any of the 16 teams, Simmons and or/Harris are appealing bets.
Devin Booker is 65-1, which makes sense because he is having to carry the Suns with Paul nursing a sore shoulder. Trae Young is 55-1, Rudy Gobert is 49-1, Damian Lillard is 46-1, Paul George is 45-1, Luka Doncic is 32-1 and Nikola Jokic is 24-1.
Again, if the player in question does not compete for the Nets or the Lakers, the odds are enticing. Keep in mind that the sportsbooks set these lines with the goal of making a profit, so there are going to price players from the not-so-sexy teams lower than players from the sexiest teams.
For those who do not believe in the Nets and Lakers, there are opportunities out there. The one that seems most enticing to this neutral observer is Simmons. Or maybe Lillard.
Time will tell.