Here's a number for you: 168.
According to Synergy, Markelle Fultz had knocked down 168 jumpshots in 105 career games entering this season. He'd converted those jumpers at a 35 percent clip, and that mark raised slightly to 36.6 percent on off-the-dribble looks.
That's a problem for a lead ball-handler. That's especially a problem for a lead ball-handler whose calling card was three-level scoring when he was drafted with the top pick in the 2017 draft.
The story of Fultz's disappearing (and disappointing) jumper has been talked about ad nauseam. In addition to its randomness, it understandably capped his ceiling in the eyes of many. That's what made his recent extension a somewhat surprising one: a three-year deal worth up to $50 million.
Questions about his ceiling were, and are, fair; doing so while dismissing his floor was always faulty. Through the early goings of the season, Fultz is thriving in all of the non-jumper factions of his game. He's a major reason why the Orlando Magic have gotten off to a 3-0 start.
TRANSITION PLAY
What makes Fultz difficult to gameplan for in the open floor is that he very rarely hits top speed. He often opts to glide, chewing up space with his long strides and complementing those steps with his yo-yo handle. It allows him to put pressure on backpedaling defenders while remaining in control.
This is a preseason clip, but you can get a feel for Fultz's cadence here.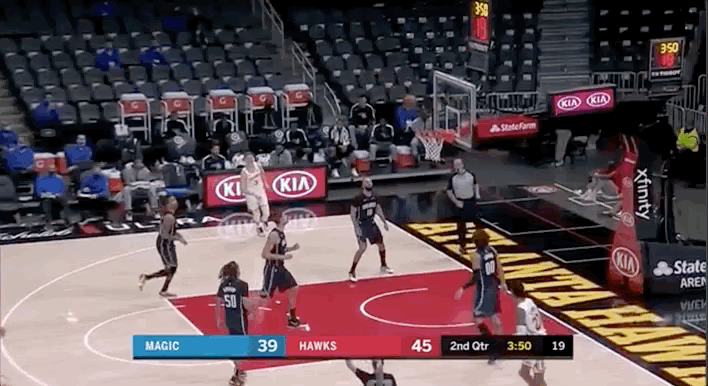 Not only is Fultz smooth, he's incredibly powerful. He's able to accelerate to gain an advantage, decelerate to evade rotating defenders and lower the shoulder to create better finishing angles for himself. Watch how Wizards wing Troy Brown Jr. bounces off of Fultz here: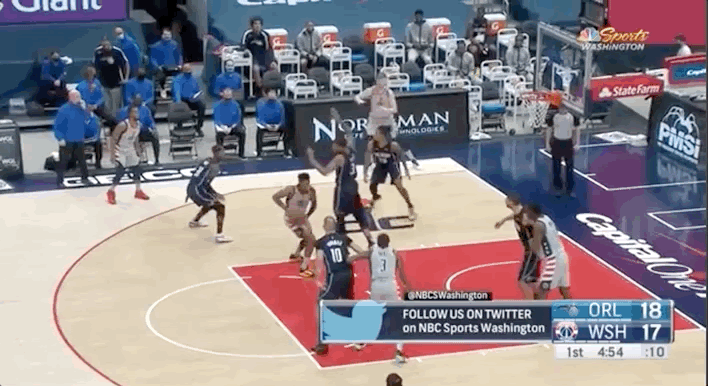 Fultz is converting nearly 63 percent of his shots in transition thus far, per Synergy. His unique blend of speed, power and craft makes him a booger to deal with in space.
HALF-COURT CREATION
Much like his transition exploits, Fultz is at his best when he's able to get downhill. It's tougher for him to do so against set defenses. Enemies usually duck under his picks in an effort to dare him into pull-ups. Fultz is so good at navigating tight spaces -- again, his handle, strength and ability to shift speeds shine through -- that he's able to get to his spots anyway.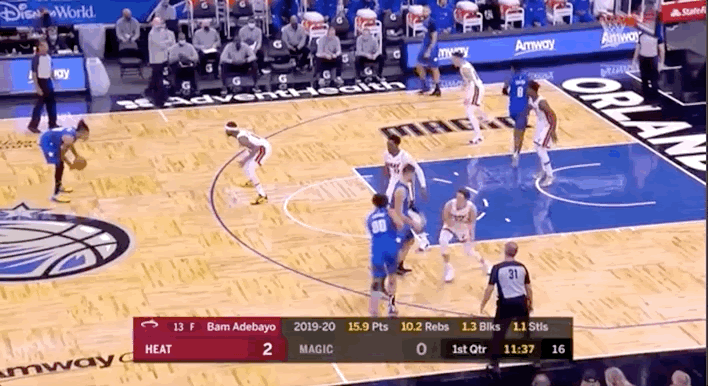 Fultz doesn't get "under" coverage here, but you can see his craft and speed mixing on display. He uses a hang dribble to give Nikola Vucevic time to get set and hammer Mo Harkless with a screen. He uses another hang dribble to freeze Bam Adebayo and gain inside leverage on the drive. From there, he slows up as he tiptoes the baseline, then accelerates while lengthening his strides (watch the final two steps) to create separation from Adebayo on the reverse.
Those same manipulation principles apply when Fultz is looking to set up others. He has a keen understanding of the coverages defenses are throwing at him, and he is able to maneuver space in a way to create advantages for others.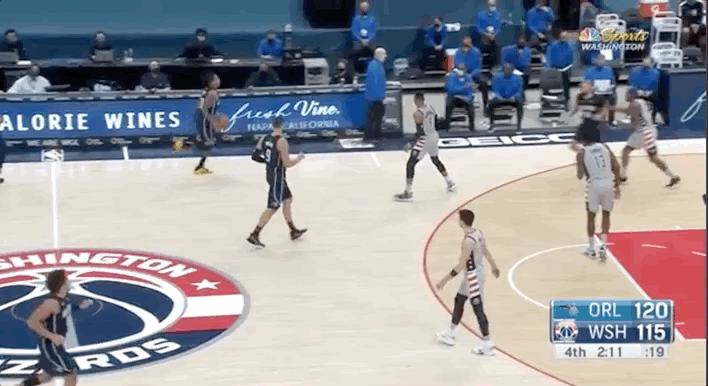 The highlight is the behind-the-back pass, but the read is what's important here. The Wizards are attempting to ICE this screen, meaning Russell Westbrook wants to force Fultz away from Vucevic and towards the baseline. Fultz is able to get a step on Westbrook, but then crosses back over to draw Thomas Bryant away from the hoop. With Vucevic diving to the rim, he gets an uncontested layup with Bryant out of the picture (and Westbrook getting caught ball-watching).
The Fultz-Vucevic pairing has been a fruitful one. No pick-and-roll pairing has generated more points (44) on direct hookups so far this season, per a source with access to Second Spectrum tracking data. Fultz's downhill craft vibes nicely with the skill set of Vucevic. The big fella can pop out and shoot, and has the post skills to abuse mismatches if he gets a switch.
DEFENSIVE MENACE
Fultz's real calling card is his defense. At 6-foot-4 with a 6-foot-9 wingspan, he has the size and length to bother players at three different positions. He's at his best against point guards, where he's able to restrict their airspace and disrupt their rhythm.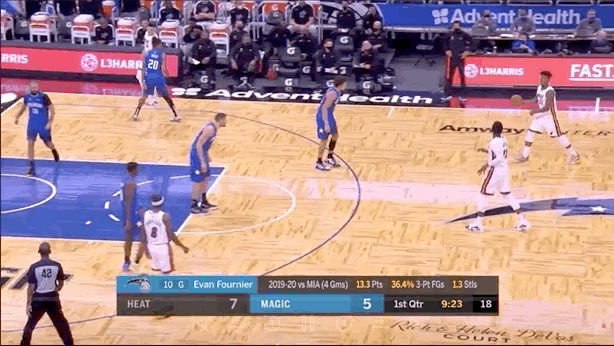 Fultz does a fantastic job of getting skinny here -- slithering through the space between Jimmy Butler and Aaron Gordon, then sliding through the Adebayo handoff to stay attached to Tyler Herro. Fultz takes a tight recovery angle as he trails Herro, then comes up with the block on the pull-up jumper.
Not only is Fultz relentless on the ball, he has tremendous feel off the ball. He can diagnose actions on the floor like a veteran, and has the tools to make calculated gambles. Those gambles can obviously get him in trouble if they fail. When they hit, you get pick-sixes like this: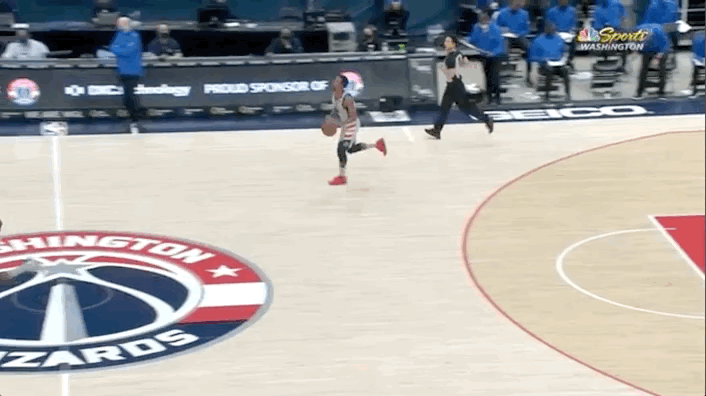 It's the perfect marriage of instincts and scheme knowledge. Fultz knows he can be more aggressive because he has help behind him on the weak-side. The subtle fake towards Bradley Beal before jumping the pass to Bryant is just tremendous work.
Fultz still has to improve as a pull-up shooter to maximize himself and others in half-court settings. Being able to turn lemons into lemonade is a testament to his talent, but it would still be preferable for him to just have the lemonade. A 5-of-16 clip on dribble jumpers per Synergy isn't going to cut it, even if it's encouraging that he seems more willing to pull from deep.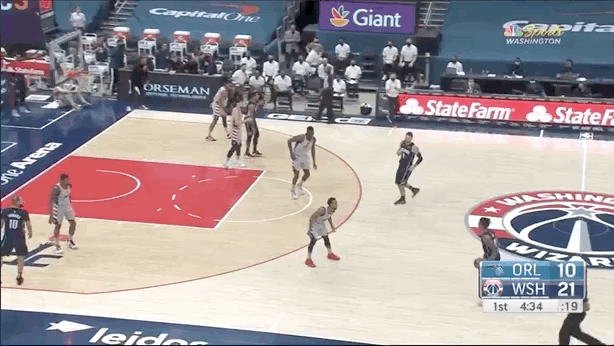 But it's important not to miss the forest for the trees. Even without a reliable shot, Fultz is a dynamic finisher in transition and in half-court situations. He's a good passer with legitimate manipulation skills. His ability to hound guards on and off the court is a joy to watch. Fultz providing two-way value is already one of the best stories of this wacky season.