The G League Ignite made their regular season debut against the Santa Cruz Warriors on Wednesday morning. They were able to snag a W, defeating the Warriors 109-104. While there are former NBA vets on the Ignite, most notably Jarrett Jack and Amir Johnson, the intrigue lies with the young guys.
Jonathan Kuminga, Jalen Green, Daishen Nix and Isaiah Todd were all highly-touted recruits coming out of high school. Each chose to develop in the G-League versus playing college basketball for a year. All four players showcased some intriguing flashes during this game; let's take a look at what they were.
JONATHAN KUMINGA
STAT LINE: 19 points (8-of-11 from 2, 1-of-7 from 3), 4 assists, 2 rebounds, 2 blocks in 33 minutes
INITIAL THOUGHTS: STOCK UP
Kuminga didn't do much to quell the concerns about his jumper, though his willingness to fire from deep is a slight positive. His strengths were very much on display, though.
Actually, let's start there: Kuminga is a strong dude. Not just weight room strong, but functional basketball strong. He consistently dislodged dudes on drives and post-ups, which should bode well for him as he continues to grow.
The biggest surprise of the day was Kuminga's passing flashes. We didn't see LeBronian manipulation with his eyes, but he made a couple of better-than-average passing reads in pick-and-roll, and tossed in some reactive dimes to boot. "Rim pressure plus passing chops" seems like a solid formula for positive value offensively, even with the questions of his jumper for now.
PLAYS THAT STOOD OUT
If you want a brief example of the rim-pressure-plus-passing-chops point, we can start with this transition sequence.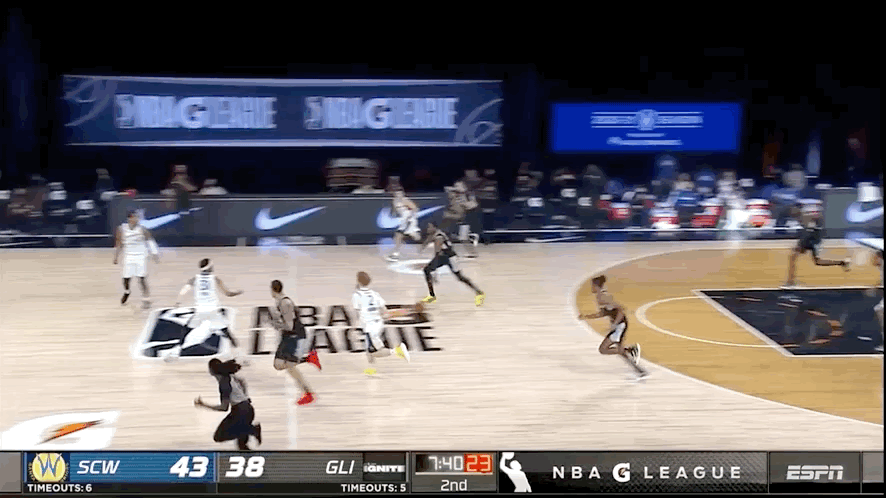 Kuminga slows up in transition to sort out his path. He crosses to his right on the drive, knocks the socks off his defender with his shoulder to generate some space, then makes a nice reactive jump-pass after drawing the eyes of a second defender.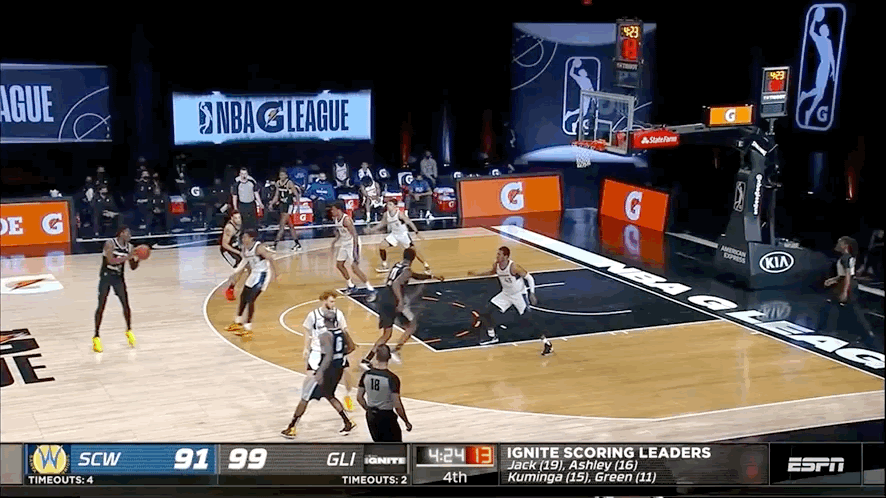 Simple bucket-getting on display here. The screen forces a switch. From there, Kuminga sets up his defender with a pair of hang dribbles to throw him off balance, drives left, then spins back to his right for the and-one.
JALEN GREEN
STAT LINE: 11 points (3-of-7 from 2, 1-of-3 from 3), 5 rebounds, 2 assists in 28 minutes
INITIAL THOUGHTS: UNDERWHELMING PERFORMANCE
Green was ESPN's top-ranked high school recruit, edging out Oklahoma State's Cade Cunningham. I disagree with that, but it was pretty easy to see the intrigue with Green. At his best, he's an explosive athlete with the kind of tough shot-making chops that teams crave.
It would've been nice to see that today.
Green's athleticism was on display in the open floor, but things got iffy in the half-court. Nico Mannion, a second-round pick for the big boy Warriors, gave Green real problems. It seems clear that there's more work to be done in regard to his handle, though he did look fluid flowing into sidestep or stepback jumpers (that mostly missed).
Green has to bring it offensively, especially since the defense is a real work in progress.
PLAYS THAT STOOD OUT
The good and bad from the Jalen Green Experience was on display during this possession.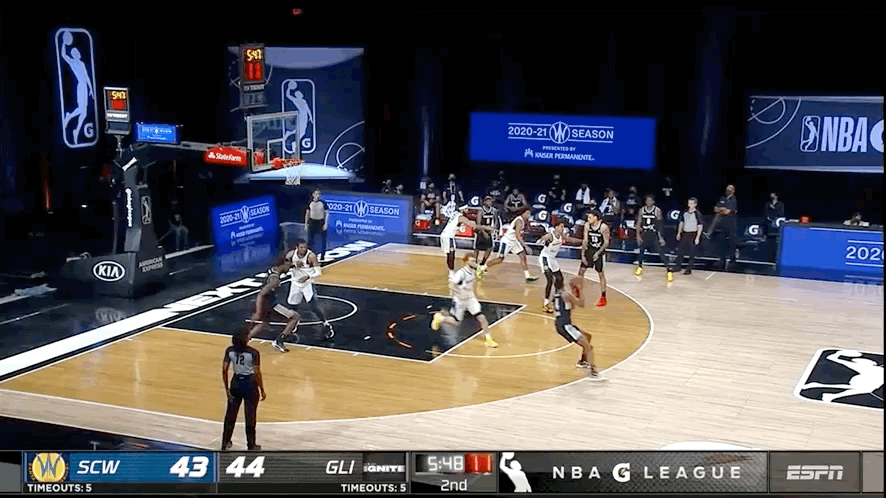 He attempts to jab-and-go against Mannion, but he doesn't sell it. Mannion doesn't flip his angle on the jab, so there's no front foot to attack on the righty drive. Green tries anyway and gets stonewalled by Mannion, forcing the action to reset.
But from there, Green shows some feel. He recognizes Mannion's attempt to ICE the screen and drives left. He uses a subtle in-and-out dribble to set up a stepback to his left. It misses, but it's a shot he can make and, more importantly, a shot he looks comfortable getting to.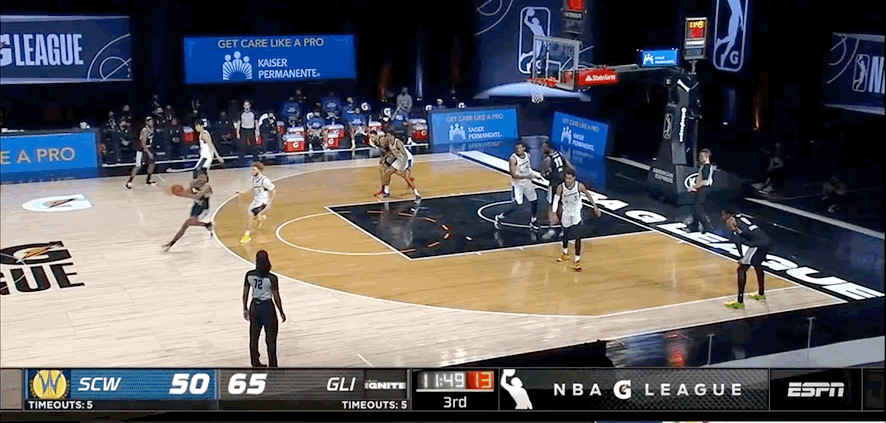 This time, Green is able to force some movement with the jab step. Once Mannion turns, Green fakes left and crosses over to his right. He absorbs the initial contact from Mannion, hangs in the air, and double-clutches to avoid the second defender before kissing it off the glass.
Again, he's a pretty special athlete.
DAISHEN NIX
STAT LINE: 12 points (3-of-6 from 2, 1-of-1 from 3), 3 rebounds, 3 assists, 1 steal in 19 bench minutes
INITIAL THOUGHTS: STOCK UP
There are tall guards, there are big guards, and then there's Daishen Nix. Nix looks every bit of the 6-foot-5, 224 pounds that he's listed at. More importantly, he plays like he's 6-foot-5, 224 pounds.
Like Kuminga, Nix regularly made defenders bounce off of him on drives. That sort of rim pressure can and will force rotations, which should open more passing windows for Nix. The pick-and-roll craft Nix showed was also pretty encouraging.
PLAYS THAT STOOD OUT
There were plenty of drives to be impressed with from Nix. This one was probably my favorite.
The intersection of craft, strength and touch is truly incredible. The quick dart to his left to receive the ball from Johnson doesn't really lose Mannion. That's fine, because he follows that up with a small hop to his right to get Mannion on his hip -- put that man in jail! -- then an escape dribble to his left to create more space. From there, he leaps into the vertical-that-isn't-vertical contest and finishes through contact.
Sheesh.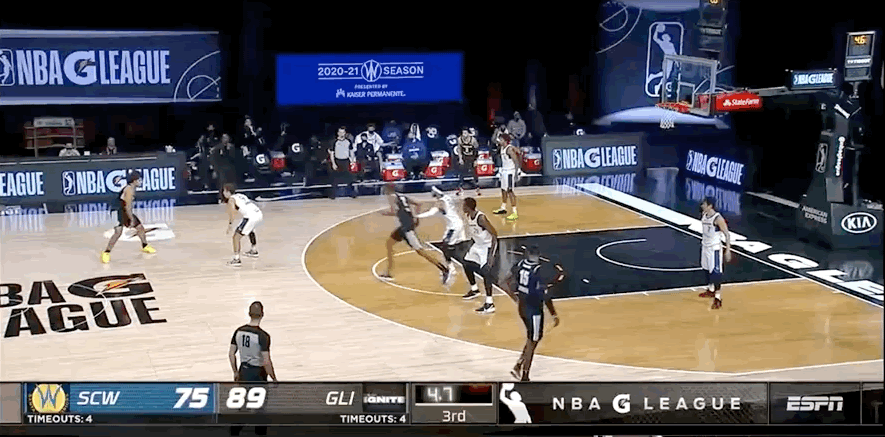 This is awful defense. I'm not going to praise Nix that much for his decision to pass to the corner.
What I am going to give him props for is how quickly he recognizes the defense break down (seriously, why the heck did four players converge?) and the level of zip and precision he had on this dart. This lands right into Jack's shooting pocket.
ISAIAH TODD
STAT LINE: 2 points (1-of-4 from 2), 3 rebounds, 1 assist in 17 bench minutes
INITIAL THOUGHTS: LET'S SEE MORE
Todd is a fun prospect from my view -- a lanky dude with shooting ability, movement skills and no real idea of how to consistently put those traits together to form a great basketball player. The feel is something I want to track as I watch more of him. You could feel him thinking through his responsibilities on defense when he was off the ball. When he was forced into situations where he simply had to react, the movement skills and his tools in general stood out.
PLAYS THAT STOOD OUT
Big men that can shoot aren't that rare in the NBA anymore. Big men that can shoot on the move, however, is a different story.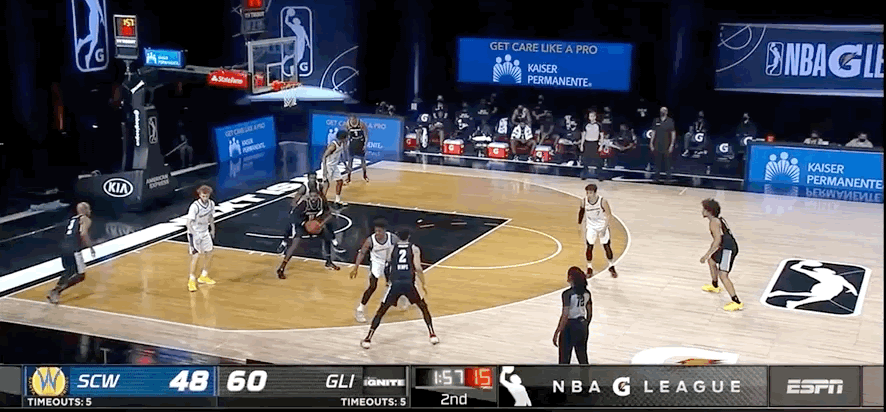 Sure, it's a 16-footer, but this is an incredibly smooth rep. Little bit of a fake before exploding towards the "screen" that doesn't hit. The transfer is smooth; small dip on the catch before flowing into his you-can't-reach-this jumper.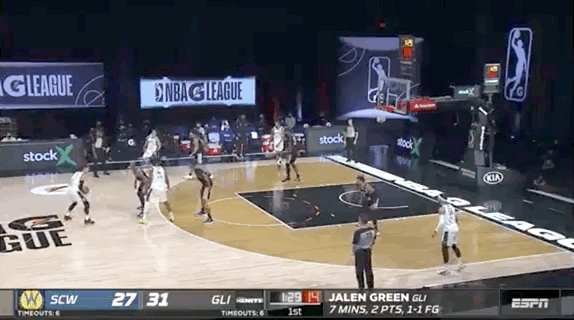 13 seconds of Todd defending a guard in space. That guard is Jeremy Lin, a former NBAer with a solid history of getting buckets. Todd is with him every step of the way on the initial iso, hanging with Lin as he tries to throw him off with hesitations and crossovers. The action relocates to the corner, where Todd uses the baseline as an extra defender to cut off driving options for Lin. The rep finishes with Todd's arms sky high, not falling for a pump fake and contesting the shot without leaving his feet.
Good stuff.