Ahead of tonight's 2020 NBA Draft, BasketballNews.com caught up with former Notre Dame big man John Mooney. Last season, the 22-year-old averaged 16.2 points, 12.7 rebounds, 1.3 steals and 1.0 threes while shooting 46 percent from the field. Mooney talked about his game, what he'll bring to an NBA team, his off-court interests, this unique pre-draft process and more.
What was it like having your season end prematurely in March and then entering a very unique pre-draft process that's unlike anything we've seen?
John Mooney: "The way the season ended, I think I can speak for everyone when I say that it was definitely disappointing. But it is what it is; you want to prioritize everyone's health. But to be playing your best basketball as a team at the end of the year and thinking you can really make a run and guys are clicking and everything is looking good, then to have it end that way is very disappointing. You put the work in all year and you want to play in the postseason, but it is what it is. You have to turn to the next page, and I'm certainly excited about the next steps. It's a little bit different right now with everything going on, but I've still been getting better every day leading up to the draft. I'm very excited."
What are some things that you wanted to show teams throughout the pre-draft process?
Mooney: "I wanted to show teams that I can play at the next level. I wanted to show them that I can move, that I can shoot the ball and that I can defend. Rebounding is my No. 1 strength. For two years in a row, I was top-five in NCAA in rebounds. I think I'm the best rebounder in this draft - both on the offensive and defensive side. I really feel like I have a knack for the ball, and I can rebound with anyone. I think that's a skill that will translate over to the NBA. I also wanted to show teams that I'm a high-character guy and a team-first guy that will do anything to help the team win. All four years [in college], my role changed, but I think I maximized my role no matter what I was doing."
You have a ton of productive game film, which may help you. Teams have been watching a ton of film in recent months and some front offices may put more stock into that due to the limited workouts and strange circumstances.
Mooney: "Yeah, definitely. With workouts being limited, it's natural for teams to depend on film. Not in a cocky way, but I think my film speaks for itself. I'm hoping a lot of teams see it. They're getting a guy who does his job and maximizes his role. I feel like I'm versatile on the offensive end, I can shoot it. I have to be more consistent from deep, from the NBA [three-point] line, but I'm working on that. I think I'm an underrated guy athletically. The perception of me is that I'm a slow white guy, but I really feel like I can move; athletically, I can hang. When teams see that on film, plus my rebounding and motor, hopefully they'll like what they see."
[Editor's Note: During the NBA Draft Combine, Mooney shot the ball really well, making 69 percent of his three-pointers and 82 percent of his two-pointers. Also, he shot an impressive 83.3 percent on his corner threes.]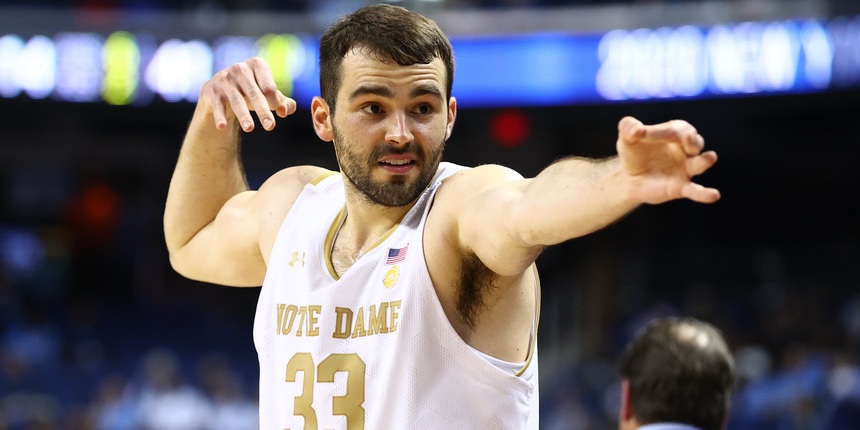 Who are some NBA players that you've studied or tried to emulate?
Mooney: "I've always loved watching Kevin Love play. The way he's kind of a stretch big, but he can also post-up and he's one of the best rebounders in the game, I love watching him. And I love watching his outlet passes. That's something that I tried to add to my game during my junior and senior year; just getting the ball and really firing it down the court to get the offense moving. That's someone who I really like to watch.
"I also liked watching a guy like Shane Battier, who was a really good role player. I think I can be someone like that - not necessarily someone who's getting up 20 shots, but who can just come in and do his job, no matter what the organization needs. A guy who's going to come in and be a great locker-room guy and maximize his role and love doing it. I just want to come in and do my job, whatever that is. ... I'm going to work my tail off to try to become an All-Star and become the next Kevin Love, but I think in the here and now, I'll be a guy who just maximizes his role - no matter what the organization needs. I think I can be that guy."
A lot of prospects talk about what they can add to a locker room or how they can help off the court, but what specifically can you do to help a team in that regard? What separates you from the other players who are saying that?
Mooney: "I just think my experience throughout college has helped me in that regard. When you're a guy who played as a junior and senior, you're called upon to be a leader and lead some of the younger guys. I think I did a good job of that, and I definitely got better at it over the years. But, for example, being a senior this past year, I had to use my voice more and with that experience comes leadership and that ability [to help a locker room]. Also, I love people. I love getting to know guys. Obviously my teammates, but you can talk to anyone on Notre Dame's staff - assistant coaches, managers, team trainers, support staff - I loved having relationships with all of those people too. Like I said, I'm a team-first, organization-first guy who's sole focus is to help my team win. I think a guy with a mindset like that can help out no matter where he is."
I feel like that college experience also makes you more NBA-ready than a lot of the prospects in this draft. Do you think your NBA-readiness will intrigue teams too?
Mooney: "Definitely. There are guys out there whose potential is through the roof and maybe they're younger - 18 years old or something - and I get that. I'm a 22-year-old guy who has experience. With that being said, I don't think that I've come close to hitting my ceiling; I think I can get better. I'm on a trend that's going up. From freshman year to sophomore year, I got better; from sophomore year to junior year, I got better; from junior year to senior year, I got better. And I don't plan on having that trend stop. I will continue to work and continue to try to get better in the areas that I need to every day. That's my mindset. I think I can come in and maybe teams know what they're going to get, but I also have room for growth as well."
Because you're 22 years old, there will be questions about whether you've reached your ceiling. How much room do you still have to improve?
Mooney: "I feel like the ceiling is through the roof, like the sky is the limit. Like I said before, I'm trending the right way just in terms of my development - from freshman year to now - and I'm going to continue to put the work in. I have areas for growth - my consistency shooting from the arc, athletically trying to take things to the next level - but there's no reason why I [can't play] in the league for 10-15 years. I think I have the ability to get better, and I have the work ethic to do it."
I know some players avoid the draft coverage altogether, while others look at it or use it for motivation. Do you pay any attention to the mock drafts or rankings?
Mooney: "I mean, I look at it, but I try not to pay too much attention to it. I think I'm a little bit overlooked on some of those boards, but that's just the way it is sometimes being a four-year guy. But I've gone head-to-head against a lot of the guys [who are ahead of me] on those boards and I've more than held my own or outplayed some of those guys, so I'm extremely confident that I can play with anyone. It definitely is fuel to work harder and use that motivation to show teams that I can play at the next level."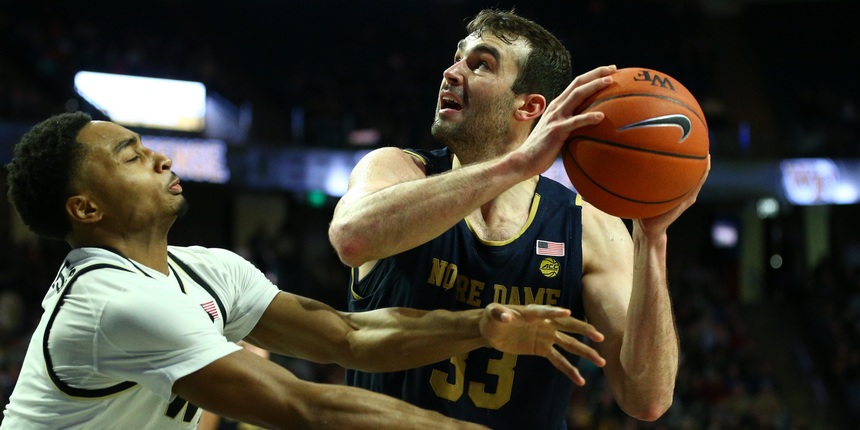 What are some of your off-court interests?
Mooney: "I love to compete. No matter what it is, me and my friends try to find different things that we can do where we're competing. I love to golf in my free time. My dad was a big golfer, so he got my brother and I into it at a young age. I love the competitive aspect of it. My handicap isn't where I want it to be because I'm always playing basketball, but I'm probably around a 15 to 20 handicap. I like to play ping pong and video games and just compete. And I'm a guy from Florida, so I love hanging out at the beach. When I'm with my friends, we go to the beach a lot."
If you weren't playing basketball, what career would you have pursued?
Mooney: "It would definitely be something where I could compete. Maybe something in the business world. My major at Notre Dame was Business Management. My dad is a successful businessman and my brother and sister are [in business too], so probably something in that realm. I'm very interested in the business side of basketball too, so maybe an executive or front-office job. I would love to do that. Maybe I'll play as long as I can and then go down that path. That or coaching; coaching is something that intrigues me as well."
What would it mean for you to hear your name called on draft night?
Mooney: "I would love it, man. I've been working [toward that] and it's been a goal of mine since I was a little kid. To have that chance in front of you, it's very exciting. I just love the game so much. Whether I get picked up on draft night or go undrafted, I'm going to keep working - just because I love the game so much and I'm so passionate about it."
When did you have your big growth spurt or was it pretty gradual? And when did you take that next step as a player?
Mooney: "I was always one of the taller kids, but I think between eighth and ninth grade is when I shot up from 6'3 or 6'4 to 6'7 or 6'8. It was when I was going into my freshman year of high school. But as for taking the next step, I really thought I could play at the next level all throughout high school. Then, you get to college and your experience success and your dreams of playing in the NBA just grow. It's always been a dream and goal of mine, to play professionally, and I love to compete and want to compete at the highest level."
How much did you develop during your time at Notre Dame and how did they help you grow as a player?
Mooney: "I grew tremendously. Shout out to Coach [Mike] Brey for giving me a chance and helping me better myself as a player and as a person. Big shout out to Ryan Humphrey, who coaches the bigs at Notre Dame. He was instrumental in helping me day in and day out. I feel like I made tremendous strides. Comparing the player I was when I first arrived on campus to the player who left, it's night and day. My confidence soared, my work ethic - mixed with great mentorship from those coaches - really helped me out."