With the 2020 NBA Draft on Wednesday night, BasketballNews.com caught up with Onyeka Okongwu, who's projected to be a top pick in this class. Last season, Okongwu averaged 16.2 points, 8.6 rebounds, 2.7 blocks, 1.2 steals and 1.1 assists per game, while shooting 61.6 percent from the field. He talked about his early days in basketball, his developing skill set and much more.
From what I understand, your parents immigrated to the United States from Nigeria and they both work in medicine. Could you tell me a little bit about your childhood and what it was like growing up in your household?
Onyeka Okongwu: "When I was younger, I remember my dad working from about 4 a.m. to 4 p.m., and my mom would work late nights starting at 6 p.m. She'd get back in the morning, and then my dad would leave. There would always be one parent home, but then the other was working. That's how it was most of my childhood. Basically, my brothers and I would always be together, hang out with one another, and we got close to each other. That was before my sister was born, but then she was just in the mix, too."
You played with the Ball brothers at Chino Hills High School. How did your role on that team help your development as a player?
Okongwu: "I was able to play with a lot of talented players. All five of our starters were Division I players, so I was able to learn how to play with talent at a young age. My role on that team was to block shots, be a rim protector and rim run. All of that has carried on with me until today."
Despite LaMelo leaving Chino Hills, you decided to stay and went on to win three state titles. Did you consider following LaMelo and leaving school too? Where was your head at during that time?
Okongwu: "I was going to stay at the school no matter what. I'm loyal to my community and I'm loyal to the people who have supported me. I was always going to stay there."
You won California's Mr. Basketball twice, which has not happened many times. What did winning those awards mean to you?
Okongwu: "It gave me the confidence that I could really be something and really do something with basketball. To be the best player in California back-to-back years, that was just a blessing. I knew that if I kept working, I could do special things with the sport."
From a basketball perspective, what was it about USC that made you feel it was a good fit?
Okongwu: "The coaching staff was great and I knew that they had talent. There were a lot of young, talented players on the USC roster and I was close with them, so it was great overall."
I've watched you play many times; you get a lot of credit for being a physical force and a defensive presence. However, I personally feel like you don't get enough attention for your skill level, specifically regarding your footwork and touch around the rim with both hands. How do you see yourself as a player?
Okongwu: "I feel like I'm a jack-of-all-trades type of player. I'm a player that will be a force inside on offense, but also be able to stretch out to the perimeter and shoot. I feel like I wasn't able to showcase my shooting much this year, and that's something I really take a lot of pride in."
I think you have an incredible ability in pick-and-roll coverage to keep active hands in passing lanes while still being able to contest shots. Would you consider those skills to be more natural for you or something that you've worked on?
Okongwu: "Definitely natural. I have a natural ability in me, but I'm still learning the game of basketball. I'm still learning different things and I'm excited about that."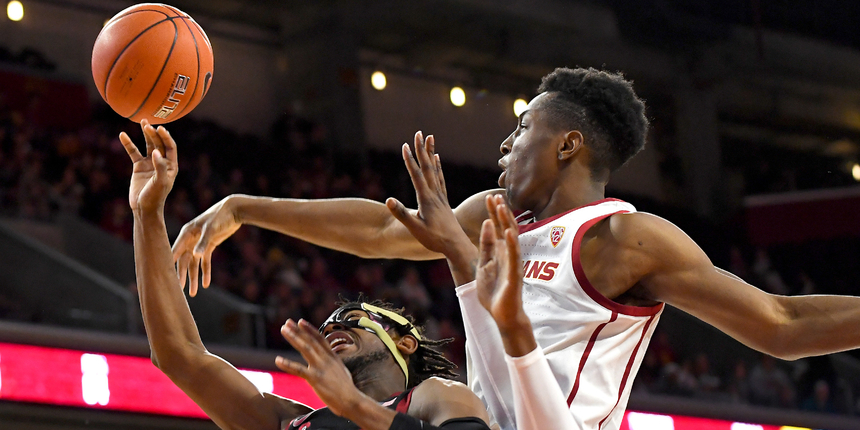 You're able to move your feet well and contain guards on drives in pick-and-roll actions, which is something that I think will serve you very well in the NBA. Has developing that versatility been a priority for you in your career?
Okongwu: "I've always been able to move well, but yes, I always try to work on my lateral foot speed."
I heard you grew up playing tennis. Do you think your past experience playing other sports has contributed to your skills in basketball?
Okongwu: "I'd say so. Tennis helped with my footwork when I was younger, and that's translated to helping me be where I am right now. My footwork definitely carried on with me."
Of course, this pre-draft process has felt never-ending. Can you walk me through what a typical day has looked like for you while preparing for the NBA draft?
Okongwu: "Basically, I'll wake up in the morning and go work out. Then, I come back home, sleep, maybe do an interview, do some yoga and do some media work. Then, it's about six or seven o'clock and I get tired. So I rest, go to sleep. The past month or two has been pretty busy for me."
What are some aspects of the game where you feel you've grown the most since high school?
Okongwu: "It has definitely been my maturity; I really feel like I've matured. My confidence level is definitely higher. I feel very confident in my abilities. Also, I'm just a better basketball player overall. Honestly, my confidence has helped me a lot."
What are some things you would like to work on and improve in your game?
Okongwu: "Ball-handling, for sure. That's what I've been working on during this long offseason; ball-handling is a big one for me because I want to be able to live up to my potential, and that's the key -- being able to handle the ball."
If you had to choose one player that you'd like to model your game after, who would that be?
Okongwu: "Bam Adebayo. I hear it all the time and I see it. You know, Bam and I are very good defensive players. He's a great playmaker. I feel like in due time, I can be like him."
If you had to name one short-term goal for yourself and one long-term goal, what would they be?
Okongwu: "I just want to get better and see my development play out through my younger years. Long-term goal, I want to win a championship, of course."
Let's pretend you've just entered an elevator with a general manager of a team that's considering selecting you. What is your elevator pitch as to why you're his guy?
Okongwu: "I'm a defender. I'm tall. I'm a big, bruising, strong player. I defend the ball and I move well. I can guard bigger players and I can guard smaller players. I'm able to help defensively, and I feel like I can do that better than anyone else in this draft class."