Ahead of the 2020 NBA Draft, BasketballNews.com caught up with former Alabama point guard Kira Lewis Jr. As a sophomore, the 19-year-old averaged 18.5 points, 5.2 assists, 4.8 rebounds, 1.8 steals and 1.8 threes, while shooting 45.9 percent from the field and 36.6 percent from three-point range. Our Matt Babcock has Lewis going No. 13 overall to the New Orleans Pelicans in his most-recent mock draft.
In this exclusive Q&A, Lewis talked about his game, NBA players he studies, his pre-draft training, his off-court interests, his plans for draft night and much more.
What's it been like going through this process in such a unique year?
Kira Lewis Jr.: "It's been good. I've just been taking it day-by-day and really just trying to figure out what happens next, 'cause you never know with everything being pushed back. You never even know if you're gonna have workouts or anything, so really just taking it day-by-day and trying to get better."
During the pre-draft process, what's been a typical day for you? And where were you training?
Lewis: "A typical day is get up, eat, work out, eat again, probably lift weights depending on the day. Then, depending on the day, I wanna keep my body as fresh as I can so I'll probably go back to the gym. And as far as where I was working out, I worked out at a home, in Cleveland and in Miami."
Who are some NBA players that you study or model your game after?
Lewis: "I try to study guys who are kind of slight of frame, but still explosive and fast. So, pretty much every guard you can think of that's got a slender body but is really effective in the league, can hold up in the league on the defensive end and on the offensive end as well."
What are some things you've been trying to prove to teams when you're talking to teams or working out for them?
Lewis: "Really just showing them that I'm trying to be the most complete player I can be -- handle the ball, shoot the ball, pass the ball, play defense. I really just want to show them that I can be a complete player and help the team win."

What are your plans for draft night?
Lewis: "Just celebrate with the family and a couple of friends. That's about it, honestly."
When did you realize that making it to the NBA was a realistic possibility for you?
Lewis: "Probably when I started middle-school ball, and a little bit when I started high school 'cause that's when I started taking it real serious -- watching film, working out. That's when I stopped playing the other sports I was playing to focus on basketball. I feel like that's when I started to take it more seriously."
What other sports did you play?
Lewis: "I played football and baseball. In football, I played wide receiver."
So, you were like a Tyreek Hill type of wide receiver, just destroying kids.
Lewis: "Yeah, but it's not like I was playing at Alabama. [If I had played at this level], once I hit the middle, they would've been destroying me. (laughs)"
What are some of the sacrifices you had to make to get to the point where you are now?
Lewis: "You can't do everything that other people do. You gotta watch the social media -- you can't put everything out there. Really, you just have to stay focused, don't get distracted by anything because there's a lot of things to get distracted by. Really, you just gotta keep your head level and know what you wanna do. It's easy to go work out and all that, but you got a lot of stuff thrown at you from the mental side as well that you gotta make sure you're on top of."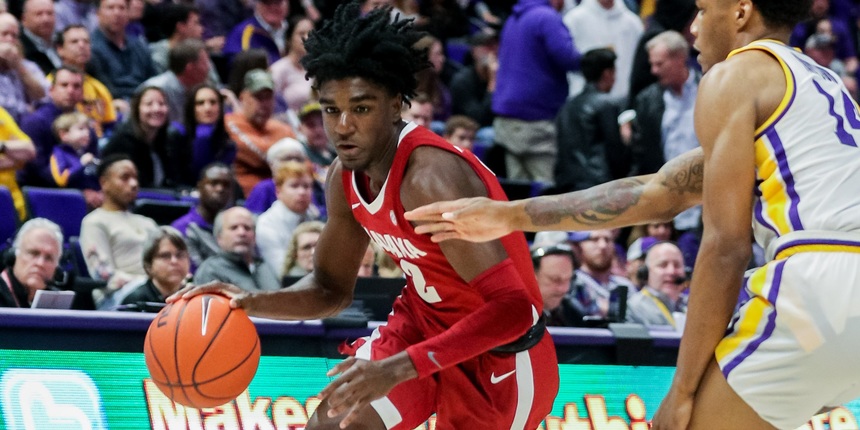 What are the biggest things that you'll bring to an NBA team, immediately and long-term?
Lewis: "Playing fast and getting in transition -- I feel like that's gonna be from day one. Being able to compete and wanting to win and work hard, I feel like when I come in, that's gonna stick out the most. And I'd have to say the next few years, getting accustomed to everything and really getting more comfortable and having more experience. That just fits to everything I'm doing, whether it's into the paint, going off a pick-and-roll or defense."
Do you feel like you're gonna be one of the fastest players in the NBA once you get drafted?
Lewis: "I do. I definitely do. I'm gonna bet on myself. Why bet on somebody else?"
Off the court, what do you feel you can provide to a team?
Lewis: "Just a guy that likes to have fun, be with the team, team-bonding, build the chemistry. I'm really just a laid-back guy, honestly, so whether it's going with the team and having a good time, or getting dinner, or [hanging at] somebody's house, meeting family, I feel like off the court, that's what I'll be best at."
What are some of your biggest interests away from basketball?
Lewis: "Listening to music, watching other sports, talking to my family, playing with my dogs. I don't really do much. (laughs)"
Who are your favorite artists?
Lewis: "Well, all-time, probably Lil Wayne and Drake."
What are some misconceptions about your game?
Lewis: "People look at my size and say that I'm just gonna concede and give in. That's what people probably look at me and think."
What was it like doing the Zoom interviews?
Lewis: "It was good, just learning something from every interview. Meeting new people, them learning about you as well, telling them about your background, how you're gonna get better, how you can contribute to each team. They were great, as far as I've been face-to-face with them. At the same time, it just feels like any interview, it was just on the computer screen."
How many teams did you interview with?
Lewis: "Around 25 teams."
What are some of your goals for your rookie year?
Lewis: "I don't wanna do all the, 'Be on the All-Rookie Team,' [and stuff]. I'd just have to say: come in and be the best player I can be for my team, learn everything and get better."
What will it mean to hear your name on draft night?
Lewis: "It'll be a good feeling 'cause I've been thinking about it my whole life. It probably won't hit me right when it happens, but it should take about a couple minutes and then hit me. This is gonna be a great night. I really couldn't tell you right now, 'cause this has been the longest week of my life. Any other week, it'd be Wednesday right off the bat, but [everything is moving so slow]. I feel like when it happens, though, it's gonna be a great day -- for my family, for my friends, for where I'm from."
Who are some people that supported you through the years and helped you get to this point?
Lewis: "Well, there's my sisters, close cousins, aunties, uncles. There's a lot of people that's been there. But for the most part, I'd have to say those people."
This is a short offseason and you may be starting training camp just 12 days after getting drafted. How will you make sure you're ready?
Lewis: "It's going to be like, for me, my first day in college. I was getting done with AAU and going straight to college and then I was thrown into the fire. That being said, I'm used to it, but it's going to be different going against grown men. It's my job, but it's not my job at the same time."
At this point, what are some aspects of your game that you're working on and trying to improve?
Lewis: "At this point, I'm trying to improve on everything. Like I said, I wanna be the most complete player, so I wanna be better at ball-handling; I even want to be faster with the ball. Shooting, defense, coming off a pick-and-roll, passing -- pretty much every component of my game, 'cause I wanna be the best I can be."
What are some long-term goals for you throughout your career?
Lewis: "Of course, be an All-Star, win a championship. I mean, it don't get much better than that, honestly."