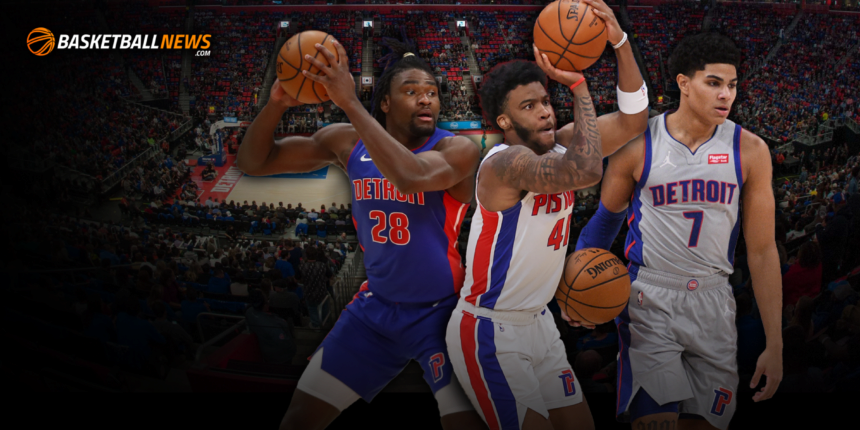 Young and starving: Pistons smartly handing the keys to rookies
The Detroit Pistons are in the NBA's basement, but they're not as deep as one might think.
Yes, Dwane Casey and Co. sit at a paltry 18-42, and they own it -- but with each individual flash of brilliance the team's youth puts forth, they're inching back up the stairs, step-by-step.
"We've been concentrated on development," Casey said prior to a recent road victory over the Cleveland Cavaliers. "As much as we want to win, getting guys experience, minutes and developing [is important]. We're in full-blown mode with that now because again, in rebuilding we don't have a G-League season, we didn't have summer league, so these minutes -- not to demean our season this year -- but we have to get guys like Killian [Hayes], Isaiah [Stewart] Saddiq [Bey] and Saben [Lee] as many NBA minutes as possible as we go forward."
Knowing what they have in Jerami Grant and the current veterans in place, the focus has turned toward finding out what the "kids" have in their respective tool bags.
The first that stands out is Bey, who at any moment is ready to fire from deep, put the ball on the floor or use his size in mismatches on the block. Who can forget the stretch in mid-February when he won Eastern Conference Player of the Week? (By the way: the only other Pistons rookie to do so was Kelly Tripucka in 1982). In one of those games, Bey ended up recording two career-highs by scoring 30 points and pulling down 12 rebounds in a win at Boston. In that same contest, he set a new Detroit rookie record for threes made with seven triples.
We've learned that such a strong week was not just a blip on the radar, though admittedly, the highs and the lows have been pretty glaring. One day, he can go 10-for-12, and the next, he'll have an 0-for-8 showing. While streaky is probably the best word to describe his offensive game, you don't want to see him get hot, as Cleveland quickly found out with his 18-point first quarter in which he went 6-6 from three within the first 10 minutes of the game.
Saddiq Bey is 6-6 from deep.

It's the 1st quarter. 🤯

📱💻: https://t.co/Laecx0phzX pic.twitter.com/T7AK9mOgUX

— NBA (@NBA) April 19, 2021
👏 Former Villanova star Saddiq Bey is the 1st rookie in NBA history to make 7+ threes with 0 misses last night!

The former @NovaMBB star had a career high 30 points on a perfect 7 for 7 from 3 + career high 12 rebounds@6abc@VUCoachJWright#Villanova pic.twitter.com/8DSjvSD491

— Jeff Skversky (@JeffSkversky) February 13, 2021
"He's one of the best shooters in our league right now, which to me, is a surprise -- the three-point shooting; he was a prolific scorer [in the] mid-range and what he wanted to do at Villanova, but I didn't foresee the efficiency of his three-point shooting and and his ability to get his three off with the low release as he's doing now," Casey said.
"It's great to see. I'm happy for him. He's worked with the coaches. The coaches have done a good job working with him. Wayne Ellington, his shooting buddy, [has helped too]. It's contagious. He's getting it off quicker now like Wayne, and that was one of the issues early: was he gonna be able to get that shot off quick enough? But working with Wayne and D.J. Bakker, the developmental coach, has worked on that and it's working well for him. It's only gonna get better once he is able to read the screen and close-out, the length of the close-outs during the games."
Bey has already blown away Brandon Knight's franchise rookie record for threes made with 136, and he's currently second among all rookies in triples (behind only Anthony Edwards).
When asked by Detroit Free Press beat writer Omari Sankofa for Bey's closest player comparison, Casey had to think a bit.
"He's got a body type that's big and strong. There's not a lot of guys like him in the league. You have a guy like Jimmy Butler, size-wise -- I'm not saying he's gonna be Jimmy Butler or he is Jimmy Butler -- but that type of shooter at the same stage of Butler's career," Casey said. "Now, Butler can put the ball on the floor much, much better now at this stage of his career, but that body type, that size and shooting ability. Not saying he's Jimmy Butler or better than Jimmy Butler, but that's kinda the body-type that he has."
When asked to assess his offensive game, Bey talked about finding comfort in the role he's currently in.
"I think it's just trying to find ways that integrate my entire game," Bey said. "In college, that's what I did -- I used every aspect, and that's what you wanted to do at school anyway, have everybody use their complete games. So, I'm just trying to figure out my role and try to figure out which ways I can attack and use different parts of my game to help the team win. It's something to get used to and just find and look at situations where I can help my team in every way."
Then, there's the bruising, burly definition of physicality personified in Bey's fellow rookie teammate, Isaiah Stewart. The one Pistons Twitter refers to as "Beef Stew" is actually all about cooking the kitchen, and he certainly brings his own flavor on the floor. Following his third straight double-double, he revealed after Tuesday's practice that he studies film of Miami Heat All-Star big man Bam Adebayo and Los Angeles Lakers human motor Montrezl Harrell. Stewart and Harrell are cut from the same cloth, and their fight and hunger is on display every night.
Stewart is not letting this opportunity go by the wayside. He is soaking all of it in, deterring his opponents and essentially bullying them with gritty box-outs and downright wanting the ball more on every possession. A perfect example of this was when he out-hustled multiple Cavs for a backtap in a one-possession game that led to Detroit sealing the win in Cleveland.
"A lot of teams passed over him in the draft, but I love his [competitiveness]." Casey said. "He has his PHD: poor, hungry and driven. I love it. That kid, he gives you everything, every ounce he has... Isaiah is a hit-first guy. He fights for space, he fights for position on both sides of the ball. And if you're not ready for that, it's not just gonna be one out of five times, it's gonna be every time you're down the floor.
"He's gonna fight for every inch of the court and use his body legally to get it. A lot of times, the official may see the second of him trying to release because [the opponents] are grabbing him. I think his reputation will grow once he's through the league another year after this year and going into next year. I just love him. He's scratching the surface of what he's gonna be in this league."
Isaiah Stewart didn't give up on this play love the effort and hustle #DetroitUp pic.twitter.com/i3mPdJftg1

— Woodward Sports Network (@woodwardsports) April 18, 2021
Stewart is the first Piston to register three consecutive double-doubles since Greg Monroe had four in a row in 2011. The rookie brute has seven total on the season. And even though he's a little shorter, Stewart's battling in the trenches and doing the dirty work has reminded the city and team of former defensive stalwart Ben Wallace.
"It's definitely great because the history of those teams, the history of those players, just speaks for itself. The fact that they see that in my game and the way I play is definitely a great thing to hear," Stewart said of the comparison.
"I put in the work. I do all the extra things, take the time out to watch film, watch every game and make notes on every game and see where I can always grow from [it]. I put in the work after practice, or on the off day, I'm working on my game."
Bey and Stewart were both first-round picks, but they weren't Detrot's highest selection. Killian Hayes was drafted No. 7 overall to be the franchise's point guard of the future. Unfortunately, he's spent the majority of his debut campaign on the sidelines due to a hip injury. However, the 19-year-old French-American has shown plenty of promise since returning to action on April 3. He is putting his craftiness (and shiftiness) on display, getting to his spots and being aggressive when he needs to be. It's the passing acumen, lob location and ability to pester his matchups that have really stood out, though, especially because his 6-foot-5, 195-pound frame can give opposing guards headaches on both ends.
"He is [reaching the level we thought]. He's growing. He sees things that other people don't see," Casey said. "Now, sometimes, it may go in the 14th row right now, but we've gotta live with some of that and not take away his creativity. But the young man's big and strong. I think the more he gets in NBA condition where he can play huge minutes, I think that's gonna help him even more as far as he grows.
"His shooting will come the better condition he gets in. I'm not saying he's out of shape, but there's a different level of NBA conditioning, especially for a usage guy like himself who's gonna have the ball a lot and who's gonna be guarding a lot of pick-and-rolls every game. So that takes a lot of energy, lot of conditioning and strength to do that, and he's learning that right there and he's growing. He's not where he would've been if he had that time that he missed with the hip injury, but he's coming. And I'm gonna say this: he'll be a different young man this time next year -- probably won't recognize [him with] how much he's grown."
This dime from Killian Hayes! 🤯@DetroitPistons x #NBARooks pic.twitter.com/o8CG9PF2gy

— NBA Draft (@NBADraft) April 17, 2021
Killian Hayes stays aggressive pic.twitter.com/iYjWhVhgxR

— Pistons Talk (@Pistons__Talk) April 23, 2021
There will be more chances for Hayes to sharpen his play through the rest of the season, as there will be for the other young players.
Saben Lee seemingly came out of nowhere and started a stretch of games from late March to early April. He's unafraid to step in and shoot the ball, mostly at the cup and in the short mid-range area. Josh Jackson has proven to be a solid pickup with upside, and is just 24 years old despite being in his fourth NBA season. Frank Jackson joined the team on a two-way contract in late December and he's become one of the best defenders on the team who can also drain shots from deep. Sekou Doumbouya is still one of the youngest players in the league who can benefit from more minutes.
Pistons general manager Troy Weaver scooped up Dennis Smith Jr. and Hamidou Diallo in separate trades, with the latter specifically providing hard-nosed defense with attention to detail, as well as aggressiveness while leading the bench unit.
All of that young talent, plus the breakout star season Grant is having? The Pistons have something cooking, and it starts with the three first-rounders they drafted last fall.
"We've gotta build," Hayes said. "Win, lose, draw, we've gotta still build, get better. We've got a long career ahead of us. Just building step-by-step."
"When we first came into camp, we didn't really know much about each other at all. We were all strangers to each other," Stewart said. "As time went on and all the way up 'til now, I'd say we've definitely grown together. We've definitely built chemistry since then, and we're continuing to learn about each other every day."
"I pray and hope that all of us keep getting better and better each year, and try to be the best we can be by the end of each and every year," Bey said. "I think, obviously, we'll have more experience and it'll just be exciting to see what the future holds."
Monday night marked just the fourth time in franchise history that Detroit has started three rookies in the same lineup. It was the trio of Hayes, Bey and Stewart, and the team punched the Cavs in the mouth with a 32-9 onslaught to start the game. You can tell how much they all value this opportunity.
Casey credits Weaver for the job he's done with assembling this group that's full of players with a similar mindset and proverbial chip on their shoulder. It's reminiscent of that old-school Pistons feel, and the organization can sense the progress toward bigger, better results.
"To me, they're meeting the benchmarks for their development, moreso than the record. Our record is who we are; whatever it is, [it] is who you are right now... but their benchmarks are great," Casey said. "...And so, our rookie class has been that and then some... I think our coaches do a great job. I try to set the tone with it, but our coaches do a great job at selling players on how important it is to get on the court, watch video and watch themselves grow. I think that's very, very important. Once you sell a young man on that's his future, you want to be in this league for a long time. It's pretty simple, but some guys don't buy into it. Fortunately, Troy's done a great job of bringing guys in here that are gym rats, they love the gym, and they love working. It's been pretty easy this year and I think you can see it in their growth.
"...We're not where we're gonna be, but we're definitely headed in the right direction. I'm excited about the direction we're going. I know Troy is and [Pistons owner] Tom [Gores] is and [vice chairman] Arn [Tellem] is. So it's a good start with our foundation and our restoring program."