If you've ever tuned into the NBA's Top 10 plays of the night, chances are that Derrick Jones Jr. has skied high across your television screen.
"I don't recommend it for everybody," Jones quipped when asked about the air up there, something that 99 percent of us will never experience, in an exclusive interview with BasketballNews.com.
They call him Airplane Mode for a reason, folks. If you want to talk about guys who can truly fly in this league, Jones has to be at the top of your list. Whether it's leaping to grab an alley-oop or bouncing up for a putback slam, he will demand your attention every time he leaves his feet.
From the outside looking in, there's something to be said for his keen timing, but Jones doesn't point to any specific strategy with these athletic feats.
"That's just the ball bouncin' to a height that nobody else can reach besides me," Jones said. "Can't nobody get up that high, so it's like easy pickins'."
Make no mistake about it -- Jones is a confident fellow in his physical abilities, but he's even more assured of his skills as a basketball player, and he'll let you know about it. The "just-a-dunker" tag has been attached to his name far too long, especially for somebody who has been contributing in the Association for the past four years.
"I mean, I don't care, me personally," Jones said of the label, not mincing any words. "I'm a basketball player at the end of the day. If you want to sit up there and disrespect my game, then when I get out there, it's different. My game talks for itself. When I got it going and I'm in a rhythm and I feel well, it's different."
The 23-year-old's career started as an undrafted rookie with the Phoenix Suns in 2016-17. He spent the first half of the season with the team's G League affiliate in Northern Arizona before carving out a significant role for then-head coach Earl Watson, who was fired three games into the following campaign, which led to Jones' eventual release in Dec. 2018.
Just weeks later on New Years Eve, Jones latched on with the Miami Heat on a two-way contract. He made an impression on Erik Spoelstra quickly, and signed back with the organization that summer on a standard minimum deal for two more seasons. It led to the most playing time and production of his career, particularly showing huge strides in 2019-20.
Unfortunately, Jones suffered a neck strain after a scary spill that led to him leaving the floor on a stretcher on Aug. 14, 2020. Luckily, he was okay and able to play afterward; however, the Heat didn't really utilize him in the Orlando bubble as much as they did before the league stoppage in March. While Jones probably would've liked to play more, it did allow him the opportunity to get a head start on recovering his body for the offseason.
When free agency came, the Portland Trail Blazers took notice of Jones' development and signed him to a two-year, $19 million contract, a far cry from the minimum salary and two-way deals he signed in the past. Once upon a time, the Chester, Pa. native dreamt of being in the NBA and told himself he was going to get there. Behind the motivation of his family and his determination, Jones successfully turned his dream into a reality and become a key contributor.
So far, the transition to Portland has been a smooth one for Jones, and playing with the likes of Damian Lillard, CJ McCollum, Jusuf Nurkic and Co. has helped him as he adjusts. If there's a spot he needs to be or if he's unsure of what to do on a play, they'll be the first to let him know.
"They're gonna make sure that I'm good," Jones said. "While we're on the court, we need play as one so it's like whatever is holding us back, then we need to fix it. And if it's me not knowing the plays, I sit down and break down every play with my coaches or my teammates if I have to."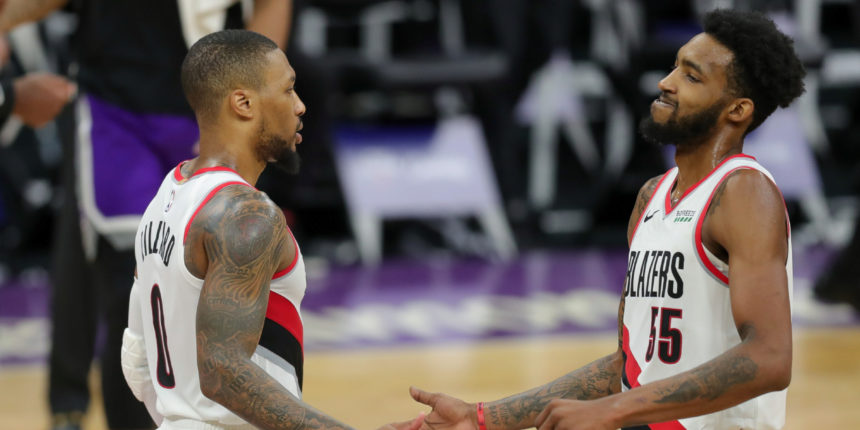 McCollum and Nurkic, along with Zach Collins, are all out with significant injuries. It's a crushing blow to a Blazers bunch that depends on them on both ends. This league is about the next man up, though, and Jones says nobody in the locker room is feeling sorry for themselves.
"Those guys goin' down, it didn't [get] nobody down or anything," Jones said. "Those guys have great spirits. We talk to 'em every day. CJ, he's here, so we get to talk to CJ every day. Those guys are wholesome people and they have great hearts. So it's like, if they not down, none of us should be down for 'em. They can't wait to get back and we can't wait for 'em to get back."
Currently, Portland is 8-6 and fifth in the Western Conference. It's a team that kept its up-tempo identity and gets scoring surges from Lillard and McCollum, along with a talented group backing them up.
"It's different. When you're on the outside looking in, it's like you're watching the show. But when you're there and you're playing alongside it, it's actually you witnessing greatness," Jones said. "[Lillard], that man's different. Him and CJ and Nurk is different. Gary Trent coming off the bench is different. Rodney Hood, [too]. We have so much offensive power that other people aren't relied on to score as much, but if you disrespect their game, then it's different. Like, we have weapons all around the board."
Jones feels plenty good about where the Blazers are right now, as he does with his own offensive game. Despite the shaky shooting start, he's sure that the looks are going to start falling. He also understands that he'll probably get between 8-10 touches a night due to the talent on the floor, and that's just fine.
Portland signed Jones and acquired Robert Covington last offseason to shore up the team's perimeter defense, not to light up the scoreboard. But there are still things that the Blazers working through because they've installed a new defensive system with a lot more help to make sure the opposing player who drives ends up passing it out. That certainly provides some context to the 113.7 points per 100 possessions the team is giving up right now (which ranks 28th in the NBA).
Jones and Covington have been imperative in the early-going on that end especially, as the two have combined for a team-best 107.5 defensive rating. According to NBA.com, Jones has Portland's top net rating (+7) and Covington is just two spots behind him (+5), so it's not hard to see the impact they've made.
"I mean, that's what we brought here with us," Jones said of their defensive nature. "I hope we do make a difference, but this team, they were great -- both offensively and defensively. They won a lot of games and made it to the playoffs. You can't win games and make it to the playoffs just off of offense. Those guys before we got here were great... I feel like we help the team defensively a whole bunch."
Jones always has his head on a swivel. Take his emphatic rejection on Monday on San Antonio Spurs big man LaMarcus Aldridge. He stepped up on Lonnie Walker, who quickly delivered to Aldridge underneath for what was supposed to be an easy two points. Yet Jones had the instinct to race back to erase the big man's attempt off the glass. Knowing where his teammates were, Jones said he just did his job.
NOT IN DJ'S HOUSE pic.twitter.com/l3otx4xfho

— Portland Trail Blazers (@trailblazers) January 18, 2021
When asked to describe what goes through his mind as he's going up for a block, Jones was straight to the point.
"For me, if you not gonna dunk the ball, if you wanna go lay it up, then why would I not contest it? I'm gonna contest it regardless, but if you gonna go up and not tryna force me not to get in your way to stop you from laying the ball up, then it's going the other way," Jones said.
It's that kind of attitude that puts him in the 95th percentile at his position on the defensive end individually. Per Cleaning the Glass, Portland gives up 13.1 more points per 100 possessions when Jones is off the court.
Jones acknowledges that he still wants to bulk up. And while he does have a weight room in his home to better his body and ensure he has a long career in the NBA, he takes exception to those who feel like he's not durable.
"I just wanna get stronger, [but] you don't have to be heavy to be strong," Jones said. "That's the one thing people don't understand. Me right now, I'm not weak. It's different, so people see my frame and think, 'Oh, he's small. He's weak. Post him up.' It doesn't work like that. You try to post me up, then I hold my ground. Then ya'll look at ya'll coach like, 'I thought ya'll said post up?'"
As far as what he wants to work on, Jones points to his decision making as a ball-handler in the pick-and-roll. He works on his handle every day, and he's put a major focus on his reads. He wants to get his teammates involved, yet if the defense shifts over and leaves an opening, Jones will lick his chops and take it strong to the rack.
The Blazers are slated to play on Sunday after their last two games were postponed. Injuries have ravaged them, but they're not going away anytime soon. They're going to get better every day and go about their business as they continue to build on their chemistry together. And even if they ask of a little more from Jones and the others to hold down the fort, they plan on answering the bell.
"If that's what our team needs, that's what we're gonna do," Jones said. "We've always been those type of players that if our number is called, we're gonna be there and we're gonna produce. That's how we are. We've got great firepower.
"Not one team has put together a whole team, different team with each other and jelled overnight. So it's like, the time that we have together to work on the things we need to work on, we gon' take that time and cherish it and get everything that we need to get done, done."