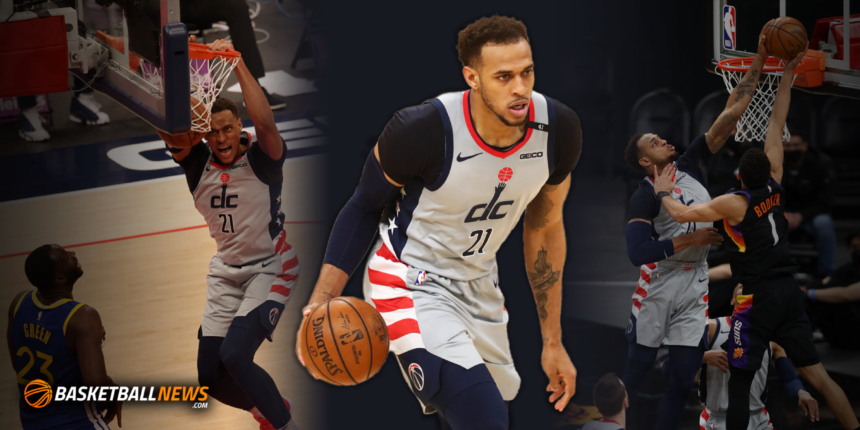 Daniel Gafford, Wizards surging since trade: 'When I got here, it clicked automatically'
"Mind, Body, Game."
Those were the words written on a T-shirt that a high-school-aged Daniel Gafford wore all the time, and its message has permeated his mind ever since.
Gafford is a fast-rising, imposing, rim-running, shot-blocking, posterizing, 6-foot-10, 234-pound sophomore in the NBA who's just getting started, and chances are you've already seen a handful of highlights featuring his high-altitude handiwork.
"Dunking for me, it's therapeutic...I'll always want to try to tear down everything," Gafford told BasketballNews.com in a phone interview.
Gafford's momentum-shifting jams have been on display since he was in junior high. When the Arkansas native leveled up at El Dorado High School, he threw down with such force that he broke a rim at the facility. That intensity carried over to his college career with the Razorbacks, and now, we're seeing it in the Association in 4K.
"Everybody's like, 'Oh, if you dunk too hard, you're gonna hurt yourself.' I'm used to it because I've been doing it all my life... The harder I dunked, the better I felt, throughout life in general," Gafford said. "Every time I was on the floor, I just wanted to do that. I always got the crowd into it. So that being said, my athletic ability has been crazy ever since high school, but I think it's at its best right now, and it's only getting better."
You can ask Kyle Kuzma about that. He'll have no choice but to agree.
Daniel Gafford dunks on Kyle Kuzma 😳

(via @WashWizards)pic.twitter.com/mMm3TWRwE0

— Bleacher Report (@BleacherReport) April 29, 2021
Gafford relays that this dunk was the best highlight of his career thus far. A close second was a cutting alley-oop dunk over a helpless Dorian Finney-Smith. Ironically, he also fed the Mavericks forward a leather sandwich recently, just over a year ago. In addition, as a rookie, he stuffed Serge Ibaka twice in the span of four minutes in a close game.
Miami's Elite Skills Training guru Tony Falce has worked with Gafford since he entered the NBA Draft in 2019. Gafford credits him for his improved work ethic and pushing him to his limits. Falce is close friends with Chris "Birdman" Andersen, a former 15-year NBA veteran who has shared his insight with Gafford and made himself available to answer any questions. Gafford contends that he wouldn't be where he is today without Falce's mentorship, and adds that he would refer Falce to any athlete.
From the moment they met during pre-draft training, Falce told Gafford that being athletic and in shape could lead to great success at the professional level.
"Teams love shot-blockers and rim-runners," Falce told BasketballNews.com. "One of the best things I told him that we could focus on is conditioning. Being in the best shape of his life, it's only gonna help him. He's going to all these workouts. Afterward, most teams, most programs will have a conditioning test, and if you can dominate the conditioning test, that's really gonna turn a lot of heads."
When asked about a time when Gafford really caught his attention, Falce mentioned a 400-meter run on sand. Gafford registered a time of 52.9 seconds, the fastest pre-draft mark in all of the years that Falce has used the particular exercise. Because of Gafford's physical dominance and attitude, Falce referred to him -- along with Ibaka -- as one of the best bigs he's ever had the chance of teaming with.
After two electrifying collegiate seasons in his home state, Gafford followed in the footsteps of previous Arkansas alum who made it to the NBA. He enjoys crossing paths with fellow Razorbacks in the league. He's played against his former teammates, Isaiah Joe and Mason Jones. He's still hoping that Patrick Beverley will shake his hand one of these days, though he chuckles at Pat's ultra-competitive nature and says that's likely why he hasn't. Bobby Portis, on the other hand, has dapped him up multiple times, and Gafford reveals that the Milwaukee Bucks forward was an inspiration and model for his game.
Gafford and Portis both began their careers with the Chicago Bulls, and it didn't go quite as planned for either of them. With three-guard sets and the likes of Thaddeus Young, Lauri Markkanen and Wendell Carter Jr. ahead of him in the pecking order his rookie year, Gafford's minutes were spotty at best, as was his sub-15% usage rate.
While he saw a slight increase in usage and had more consistency in his floor time early this season under Billy Donovan, it sputtered into DNP-CDs and fewer than seven minutes per night in just nine games played from Feb. 12 to March 24.
One day after Chicago's loss to the Cleveland Cavaliers, Gafford was outside with his dog with his phone on Do Not Disturb. Despite the NBA trade deadline looming, he didn't think he would be moved. The thought entered his mind, but he didn't want to cloud his judgment with a road trip coming up on the Bulls' schedule. Gafford finished the walk with his dog and went back home, and that's when his cell rang.
"So I get in the house. My agent calls me [and] the Bulls called me saying I was traded to Washington," Gafford recalls. "I was like, 'Okay, wow.' I didn't know what to think. I didn't know how to react or anything like that. I have a game room; I sat in my game room for about 45 minutes. I just played the game for the rest of the day and got ready to go to Washington."
Chicago sent Gafford (and teammate Chandler Hutchison) to the Wizards as a part of a three-team deal with the Boston Celtics. Gafford does insist that he fit in with the Bulls; he also says "a lot kinda took place in that situation," and that D.C. would be a fresh start.
"Once I got on the plane, it just clicked to me: this is a new opportunity, a new way to be able to jumpstart my career," Gafford said. "Once I landed in Washington, it was boots to the ground. I had to come in and I had to let guys know, 'I'm ready for whatever you guys give me, whatever time you give me on the floor, whatever position you'd be able to put me [in]. Throw me in the fire and I'm gonna cool it off.' So my mentality was just [to] get ready for work. Come out and do the thing that I've always been doing and just be better at it."
Athletic feats are Gafford's specialty, and his hustle plays provide energy. The Wizards are surging in the second half of this season, and Gafford's contributions are part of that. He's always tried to be a defense-first, offense-second player. In his 20 games with the Wizards, it's been a lot of both, as Gafford is averaging 20.0 points, 11.6 rebounds and 3.8 blocks per 36 minutes. Since his arrival, he has the highest net rating on the team as a plus-7.8.
We know about the plays that make the highlight reel, but it's his hunger and fight on the glass that makes him so valuable.
"I just try to get in the best position to do my best when it comes to rebounding. There's a lot of guys that are 10 times my size in this league. It's kind of tough trying to push buildings, so I really just try to outsmart them with the energy I come out on the floor with," Gafford said. "I try to leave it all on the floor and work as hard as I possibly can to be able to help the team win. But I try to play above the rim, I try to finish around the rim, I try to finish most of the things that are thrown my way.
"'Throw it to the moon and I'm gonna bring it back down.' That was just my thing. And it had kind of stuck because I was just getting every lob that was thrown. Other than that, just coming out and just being great in those areas."
GAFFORD HUSTLE! 😤😤😤@Dan_G33 x @russwest44 pic.twitter.com/QnuUTF1UX9

— Washington Wizards (@WashWizards) April 11, 2021
Teaming with Russell Westbrook in the midst of arguably his best stretch since his MVP season assuredly helps his cause. According to NBA.com, Gafford has received 106 passes from Westbrook and is 39-for-58 with those chances (a tip of the cap to The Athletic's Fred Katz). He's also converted 16 of his attempts combined on passes from Bradley Beal and Ish Smith.
As an example of just how increased his role has been in Washington compared to Chicago, he only had 39 made field goals total on passes from the entire team. Since Gafford's arrival, even with a few missed games due to an ankle injury, the Wizards have a 16-9 record (including three 1-point losses in the last nine days), good for the second-most wins in the league from March 29 and on.
"The team had chemistry and stuff before I got here. When I got here, it clicked automatically because you got two point guards who really know the game, and really know how to facilitate and playmake," Gafford said. "[They] know how to get theirs and get their teammates involved as well. That's the main thing. I like that a lot about Russ and Brad. Russ has that leadership role. Brad has that leadership role. And playing with two guys like that, it's just a blessing in disguise because it's been able to show me the things that I can do when I take the opportunity.
"Coming from an All-Star-caliber player with Zach LaVine -- he was a great player. He did everything that he had to do to really show me what it's like in his league to be a facilitator and scorer and everything like that. Being with two guys kind of like Zach LaVine, it's crazy. It changes your mindset for sure... Now you go from having one guy on your ass to having two guys getting on your ass (laughs). [I] really had to step my game up, step up my mentality to where I have to come out and be on the floor and be able to dominate the opposition -- especially as you're traded midseason. Your mentality has to change real quick because if it doesn't, it's gonna be real scary for you."
If you were to tell a teenage Gafford that he'd be teammates with Westbrook, he wouldn't believe it. He understands the magnitude of the history the 32-year-old is making right now (and is thrilled to be a part of it), as Westbrook surpassed Oscar Robertson for the most triple-doubles in NBA history on Monday night in Atlanta with No. 182 of his career.
"It's something that I would have never imagined that I would have been able to experience," Gafford said. "Someone I'm always seeing on TV -- his high energy, his high level of competitiveness. You would never imagine a basketball player and just seeing that in person. And for me to be able to see that in person is a great experience for me because I'm learning. And I'm getting to experience a lot of things from a great player. That's one thing that I really take close to me for sure -- the fact that I'm able to play besides this guy.
"I'm out there just trying to basically pick up the slack. I'm trying to do everything else. He's the leader, he's the playmaker, facilitator and all that. With me, I'm just out there being the cleanup guy."
Then, there's the other multi-time All-Star in Washington's backcourt in Beal, who at 31.4 points per game is in a seesaw affair with Stephen Curry for the honor of being the top scorer in the league. (Curry is leading by 0.5 points as of Monday night, and Beal's hamstring injury will have caused him to miss at least two games). Gafford brings up a recent example of when the Toronto Raptors schemed a box-and-one -- a type of defense Gafford admits he'd never seen until this season -- to slow Beal down. The scoring assassin had 28 points that night, and followed it up with a 50-burger the next game at Indiana. Gafford admires Beal's selfless approach as a human bucket-getter.
"Just seeing a guy like that who can really put numbers on the board and be humble at the same time, it's just a big eye-opener because you got guys out here that are humble, or you got guys that are cocky. I like getting on the humble guy's team, because he knows what he can do, but he doesn't have to talk about it," Gafford said. "He can back it up without talking. That's just my main thing about Brad. And just seeing the things he does night in and night out [with] all the things that they throw at him... being able to score the ball at the rate that he does, he's always prepared."
From an individual standpoint, Gafford is always striving to evolve as a player. For him, that starts as a defender. He's felt on numerous occasions when he's been isolated that he hasn't done a good enough job of staying in front of his man.
"I'm good at blocking shots, [but] at the same time, I can be able to contain the ball up at the key if I put my mind [to it]," Gafford said. "So that's main thing that I really want to get better at -- guarding all positions. That would really just help me excel at my game… [I] got to be better moving my feet. I got to get better at not using my hands to try to defend somebody. It's a lot of things that I would say go into it. But at the same time, it's all a mental thing."
The Wizards have to win two more games to clinch a spot in the play-in tournament. A meaningful contest every night is something that Gafford is excited about, a battle of the best trying to make a push for an opportunity to play past the regular season. Unlike many who have pushed against it, Gafford genuinely loves the idea of the play-in tournament, and looks forward to having the opportunity should Washington get in.
"I can't wait for it," Gafford said. "I always wanted to experience a playoff building, but experiencing a feeling like this -- it's either win or go home, for sure. Reminds me of playing AAU all over again, like you're in the tournaments in that situation... and if you lose, you go home. That's what it feels like. This is bringing back memories and stuff about, like, all the AAU times that I've had with my AAU teams and things like that. I like it a lot."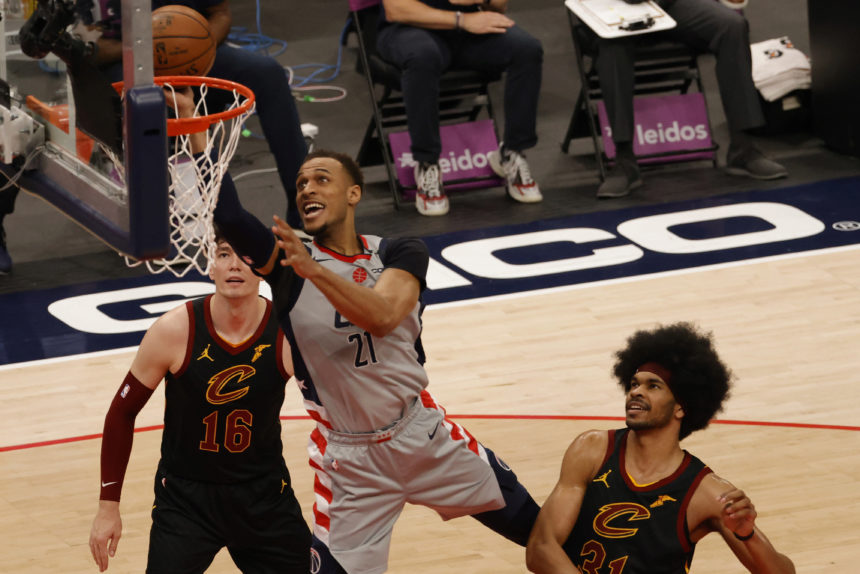 Whenever the team's season comes to an end, Gafford will be onto his third year in the pros. At the beginning of the 2021-22 campaign, his $1.8 million salary will be non-guaranteed until a trigger date of Jan. 17 of next year. If the Wizards decide he's shown enough and guarantee that money, the organization will have to decide on his $1.9 million team option by June 29, 2022.
"If this were to happen to where I get a contract or they take on my contract here, I wouldn't hate it at all. Me just being in Washington and all the love that I've gotten here, and how I've been playing here -- I mean, I would for sure love to stay," Gafford said when asked about the potential long-term fit with the Wizards. "But if it never happens because of the business side, I understand it. But if it does, I would love it."
Gafford's fondest memory in the NBA thus far is when he had the chance to embrace future Hall-of-Famer Vince Carter. He was a rookie in Chicago, and Carter was on his farewell tour as a member of the Atlanta Hawks.
"Vince, he was one of the best dunkers ever in my opinion, and just seeing him on the court for the first time, my eyes were wide open," Gafford said. "My heart was racing; I just wanted to go shake his hand. He gave me the bro hug with a pat on the back and stuff, and the advice he gave me was, 'Keep working. That's how you get paid.' And, that's true. You never can stop working.
"Guys get in the league and some guys, I would say, they get in here and they stop working and are like, 'Oh, this is it.' And boom, they're out of the league. To stay in this league, you always have to work. It doesn't matter if you're on a 10-day contract; it doesn't matter if you're on a regular contract, rookie contract or anything because you never know when your last day is up. [You] always got to keep working because you can always be put in a position where you have to be ready. In my opinion, having a great work ethic -- that's gonna keep you ready."
Since high school, Gafford has tried to stick to the three words on that T-shirt. He shares that he's strayed off that path before, realizing there were times when he was lazy and inconsistent with his mentality. Along this journey, he's met the right people who have made him understand the importance of mindset and work ethic, especially if he wants to play basketball for a living for many years.
"When I finally decided to lock in and stuff, that's when I realized, 'Yeah, I can have a real long career in this league if I can just work out of my comfort zone,'" Gafford said. "Instead of just being a real athletic guy, jumping and catching lobs or things like that, I can expand my game way more if I put my mind to it. I always work on things that take me out of my comfort zone in the offseason -- stuff like ball-handling, shooting threes and things like that. But it's just up to me to have that level of confidence [and] with my level of competence and being better and better as the days go by.
"Just got to keep working."