The term "modern big" gets thrown around a lot these days.
It's typically used to describe guys who can stretch the floor, shoot the ball and play-make, but elite defense-first, rim-running, screen-setting centers that use their size can be just as important based on what their team needs from them. James Wiseman is a highly-touted prospect who possesses a mixed bag of all of these qualities. Unfortunately, we only saw him in a mere three games at the University of Memphis. On Nov. 5, the NCAA deemed him ineligible based on recruiting violations, resulting in his withdrawal from the program soon thereafter.
Despite his departure, Wiseman and Memphis have maintained a positive relationship and they still communicate weekly - true to the school's mantra, "Once a Tiger, always a Tiger." BasketballNews.com had the chance to speak with a Memphis staffer, who wishes to remain anonymous, about Wiseman's stint with the team, how he'll adjust to the next level and which organization would be the best fit fot him in the NBA.
***
"I don't see any scenario where he's not drafted in the top three."
Surveying NBA executives and personnel, the Tigers' staffer sternly says Wiseman's draft stock hasn't changed. Following the 2020 NBA draft lottery, we now know that the first three teams on the board are the Minnesota Timberwolves, Golden State Warriors and Charlotte Hornets.
"I think they're all really good fits for different reasons," the staffer told BasketballNews.com. "With Minnesota, people are totally writing off that he'll go there. They'll do their due diligence. Karl-Anthony Towns shoots a lot of threes. They moved to a five-out system last year that I think was pretty good, and obviously they've got D'Angelo [Russell] there. Depending on who that power forward is [next to him], they can play a little bit bigger. Maybe he comes off the bench behind Karl-Anthony Towns and then they try to slide Karl over to the four and try to play them together a little bit."
The popular thought seems to be that Wiseman will be heading to the Bay Area - assuming the Warriors keep the No. 2 pick - which would keep him from being thrown into the fire.
"They could bring him along slow - not overwhelm him. He's a sixth man, still gets his 20 minutes or so, but you pair him up with somebody," the staffer said. "Golden State is the rare situation where they could be in win-now mode. There's a clear need at his position and an excellent locker room where he can follow and learn, but also win next year with everybody coming back.
"Or we could also see those guys trade out of there if they want a proven veteran to help them with their win-now situation. But what they've done with Kevon Looney leads me to believe that they can do the same thing with James - with James being way more talented. I think that could be an excellent fit."
If he makes it past the first two teams, the Hornets might be the most logical landing spot for Wiseman.
"You talk about a young team with a great young coach in James Borrego," the staffer said. "Playing through the five-out system, alongside P.J. Washington, you've got Miles Bridges in there and obviously Terry Rozier and Devonte' Graham; there's an interesting younger core there and, with James, they could really see a big jump in the next couple of years. That could be really intriguing. If he goes to Charlotte, I think he starts right there and then Borrego might have Bismack [Biyombo] come off the bench."
Wherever Wiseman ends up, there will be high expectations (whether he's ready or not). It's natural for a first-round pick, but there's a whole 'nother level of high hopes when you're selected in the top-three.
"The big thing is that the expectations on the teams are going to be very different," the staffer said. "In Golden State, you're expecting big things. But then, Charlotte or Minnesota, their expectations could be a little bit different. It's not my expectation, it's not yours. That's just the expectation."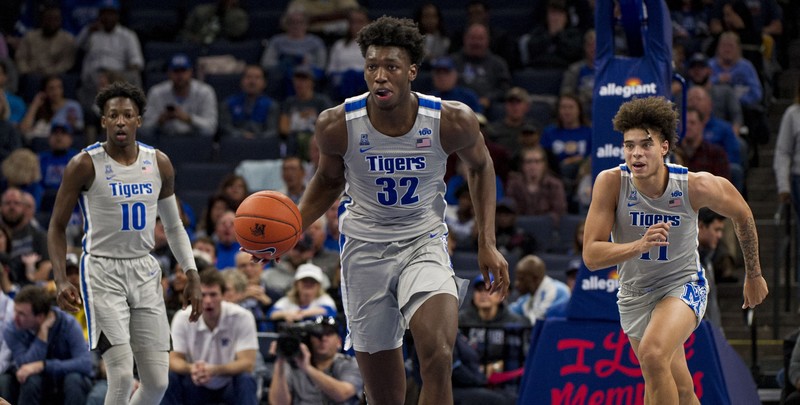 ***
"James is like this canvas, an unbelievable canvas, that's right there."
According to the staffer, one of Wiseman's best traits is his receptiveness to coaching with a great attitude. There's a willingness to listen and bad habits are rare, which is an underrated characteristic of an up-and-comer who desires to continue honing his craft.
He's sat down and studied a ton of film on the league's best big men with his coaches, doing a video review every week featuring specific player skill breakdowns. For example, he's studied Jusuf Nurkic's assists, Bismack Biyombo's dunk-spot relocating, Kristaps Porzingis' roll finishes, a lot of Bam Adebayo, Anthony Davis' dribble hand-offs (DHO keeps, DHO kick-outs, DHO roll scores), Hassan Whiteside's blocks, Steven Adams' rolls, Myles Turner's pop-threes, a little bit of Christian Wood's scoring, and Clint Capela and Dwight Powell's roll lobs (understanding when to restrict a roll and go for a lob).
When people see that Wiseman is 7-foot-1 and 240 pounds, the prevailing thought might be that he's more of a traditional big man. That couldn't be further from the truth.
"I think that James has a great blend of just sheer size, but he is very agile with his size," the staffer said. "He gets into a low stance pretty easily, he has soft hands and he's got a pretty good feel on things like second-side dribble hand-offs and the ability to make passes. So there's no question to me, I see him as an excellent type of big that can play in a five-out system. Through the trail, you can operate him as a playmaker in different hand-off situations, and I have no question that he can do that.
"And what I think that he does so well, too, is on the other side of the floor. It's not a switch one-through-five thing with him. But with that being said, to me, he's excellent in kinda that drop coverage using his length and his agility and baiting mid-range and being able to get back and clean up the defensive glass, as well as rotating for blocked shots."
The staffer compares Wiseman's elite defensive upside to a goalie in net. He's able to cover a lot of ground and disrupt the ball-handlers' plans - whether they want to knife inside or kick-out to the perimeter - by acting as a human barrier in the lane. In pick-and-roll situations, he'll chase in a cat-and-mouse game, yet he will still get back to establish inside position. And in switching scenarios, he is absolutely capable of containing smaller guards in space.
"Honestly, defensively, I can see him being like a Rudy [Gobert] because of sheer size," the staffer says. "I know Rudy's taller, but James is all of 7-foot-1 with that giant wingspan."
Wiseman has the potential to be extremely effective on the offensive side of the ball as well; it just might take some time. Early on, the bulk of his production will come via ferocious finishes in the paint, a soft southpaw hook and off lobs on the catch. He has clean footwork, takes direct angles to the basket and actively looks to seal.
In fastbreak situations, he has a rare ability to push the ball up the floor and find his teammates on the perimeter. In practice, Wiseman displayed great vision when passing out of the post, getting the ball to guys on the outside and dropping bounce passes to cutters.
Concerning his ball-handling acumen, there's plenty of upside. He keeps the handle tight, according to the staffer, who says Wiseman "doesn't skip a beat" in team workouts that include drills alongside guards. That in and of itself will be the catalyst for coaches to utilize his versatility in multiple different sets.
"What he's gonna need to be able to do is not get too cute with it - just keep it simple, attack closeouts, get to the rim, things like that," the staffer said. "Say he picks, pops or whatever and you've got a big man closing out on him or whatever it is, he's a guy who's going to have upside to drive the ball from the perimeter, for sure. He's bigger than a Bam [Adebayo] and I know that's high praise at this particular point in time, but if he can get good in dribble hand-off situations, he'll be a different version of that. A guy who can kinda play a little bit tricky, maybe like a [Ivica] Zubac even with the jump shot. I can see that."
It is important to note that Wiseman is a left-hand dominant player who favors using his strong side. The staffer says he favors it so much that he'll actively seek it out, which opponents could use against him by forcing him to go to his right.
"I think James is gonna need to have the ability to at least receive the ball coming from the left side of the floor and play-make to the right side of the floor," the staffer said. "If that's handling the ball with his right hand, what we've seen from [Jusuf Nurkic] and Bam. These guys are elite passers. They'll activate their dribble and then you'll see these slips and they'll fire these little bounce passes in. So he's gonna have to continue to work on those things because he's just very, very comfortable with that left hand."
A part of Wiseman's game that is a work in progress is his jumper. First and foremost, he likes to shoot the mid-range often, as evidenced by his AAU shot charts and only one attempt from deep over the three games he played in college. However, the staffer says he was able to stretch the floor well during practice sessions with a 56 percent three-point clip on 680 tries.
Wiseman's mechanics are going to need some tweaking, though. While the good news is that he shoots the ball straight, the bad news is that he lacks loft and it isn't quick. The staffer describes this as "catapulting the ball at the rim versus shooting the ball over the rim." Having a flat shot can lead to streaky results.
"It is like a lever," the staffer said. "And basically, it goes forward-and-back, forward-and-back. On a jump shot, the truly great guys are gonna go down-and-up, which is different. It's more like a shotput-type deal where you're pushing up and out as opposed to just throwing a dart. If you go to throw darts, you're gonna go back and forward. You're aiming. The great shooters have a lot of arc on their shot. Part of the reason they're able to do that is when they finish their shot, they're usually gonna have a higher release.
"My big point is 'elbow above eyebrow,' and if your elbow's below your eyebrow, then you're shooting it out and not up. Obviously, you have to be more precise as a shooter because the surface area of the basket is going to be different as the angle coming in changes. The other thing he'll do on the catapult, he'll bring the ball back kinda way behind his head. So we started working on saying, 'Don't bring it that far back. Bring it back above your eyebrow and go down-and-up as opposed to just straight back-and-forward, but control how far you're bringing it back.'"
It sounds like a major drawback, but the staffer insists Wiseman should be able to knock down shots consistently from deep in a few years akin to an Aron Baynes with his soft touch.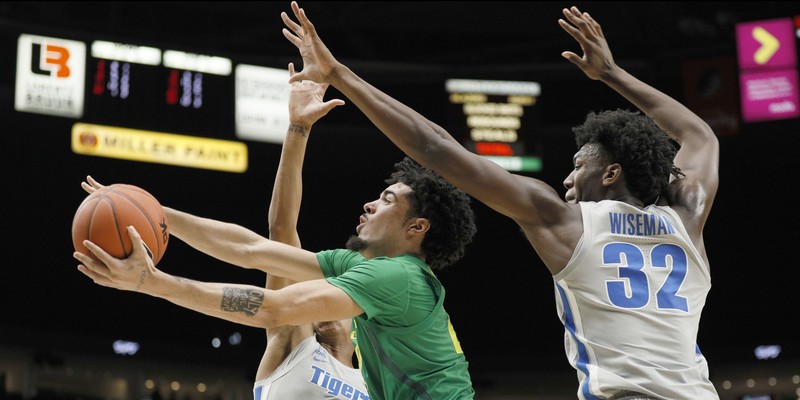 ***
"It's gonna be his killer instinct that's gonna separate him."
In order to maximize his potential, the staffer feels Wiseman will need direction. As a follower at this juncture, he'll be best off around strong leadership and an organization that can "foster his development at micro levels." This is part of the reason why the staffer feels Wiseman should've stayed at Memphis.
"He obviously didn't know the pandemic was coming - none of us did - and maybe his decision to leave would've been different because now he's going to be going a year-and-a-half without playing basketball basically, which is tough," the staffer said.
"He needed the practice reps, he needed the game reps in a five-on-five setting. That's why they have the G League anyways, right? Because these young guys, you can't just do individual workouts and make the same type of leaps. And I think that's the big thing. That's why they send guys to the G League, to get game reps. There's something to be said for just learning to play with game reps."
Wiseman's interests off the floor are typical of any 19-year-old. He has a passion for music, making beats and rapping, and he has a fun doing it. On the court, he has a reserved nature. This can be mistaken for a lack of confidence.
"He is a guy who his mind is telling him he wants to be great, but your mind has to lead to the action portion and he's still learning what that takes," the staffer explained. "I think that's what a lot of young players are doing.
"I think it's gonna take some time; however, he's a guy who could roll out of bed and give you a double-double and not know what he's doing. And then, he shows signs where he progresses and you're like, 'He's kinda figuring it out. Dang, now he's looking really, really good...'"
Only time will tell how soon Wiseman gets acclimated to communicating in the pros.
"I think that's it's gonna be all about the success that he has," the staffer said. "I think as he gets more confidence, based upon positive results, I think that's a big element that he'll get more confident using his voice, more confident commanding the room with his teammates and all that stuff.
"When it comes to James, he'll be better if he gets into a locker room where the vets there are gonna basically not tolerate him being anything less than his best. That's the best way I can put it."
***
"I think he's feeling excited, no doubt."
The bottom line is that Wiseman is going to attract a lot of eyes. He has all of the ingredients to be one of the next big things in the NBA; it's just a matter of how long it'll take for him to put everything together.
"How driven are you to maximize what you can be? My whole thing is the minute you get satisfied, that's kinda when you start to lose your edge," the staffer said. "[You need] that grit, that what-are-you-gonna-do-in-the-face-of-adversity-type element.
"Satisfaction leads to failure. So if we're going off of that right there, and we know he's hungry now, can he find a way to stay hungry? LeBron James has stayed hungry for 17 years. It's incredible to watch these guys and their straight-up drive. That is what the great ones have."