When Aaron Gordon posterized Giannis Antetokounmpo on Monday, the crowd went nuts. It was very genuine, very loud and seemed safe, with everyone cheering while wearing masks and sitting a safe distance apart.
Aaron Gordon's dunk on Giannis

21 PTS, 8 AST, 5 REB, 2 BLKpic.twitter.com/yHEGGsBIb5

— Ballislife.com (@Ballislife) January 12, 2021
The scene inside the Amway Center on Monday night was refreshing as COVID-19 did not cause a postponement and the Magic tried to make everything feel as normal as they could in the 121-99 loss.
Orlando is one of only five NBA arenas still open to fans this season, and there was something comforting about going to a game, sitting in the stands, buying a hot dog from a concession stand and finding something resembling normalcy on another abnormal night in America.
And although games were postponed in Dallas and Chicago because of pandemic-related causes, the Bucks and Magic were neck and neck through more than three quarters before Gordon's dunk with 9:42 remaining, which seemed to light a fire under the Bucks. A two-point game after that especially vicious dunk became a runaway Milwaukee victory that solidified the Bucks' standing as probably the team to beat in the East in a game that ended 121-99 in front of an announced crowd of 3,248.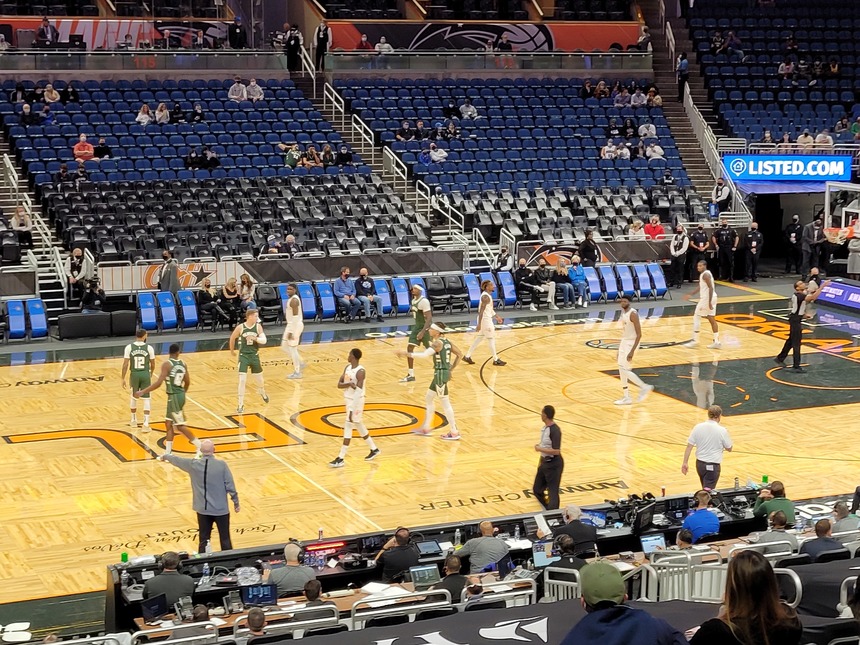 What made this game stand out was the presence of fans, some of whom were sitting courtside in seats averaging $900 a pop, less than 10 feet from the sideline, opposite the scorer's table. All had been tested prior to the game for coronavirus, according to Magic spokesman Joel Glass, who explained that the team had provided testing kits and logistical support for those season ticketholders.
In this season of coronavirus postponements and developments, capacity is 4,000 in the 18,846-seat Amway Center, and fans in central Florida had the opportunity to pre-purchase tickets or walk up to the ticket window Monday night and buy them.
All attendees had to practice social distancing and wear masks at all times (expect when eating or drinking), as well as sign paperwork attesting to not having been in contact with anyone who has tested positive for COVID-19. Those forms were available at the entrances to the arena, where masked staffers were helpful and friendly.
The in-arena experience was familiar to anyone who has attended an NBA game, with the videoboard lighting up with dance cams, mascot appearances and game highlights just like normal.
"Once we understood what the NBA protocols were from the health-andsafety professionals, we sat down and tried to craft what would be an otherwise normal in-game experience for fans while being kept physically removed from what is happening on the court," said Geoff Krohmer, the team's director of live entertainment and production. "We wanted to normalize it as much as we could and still give fans an immersive experience."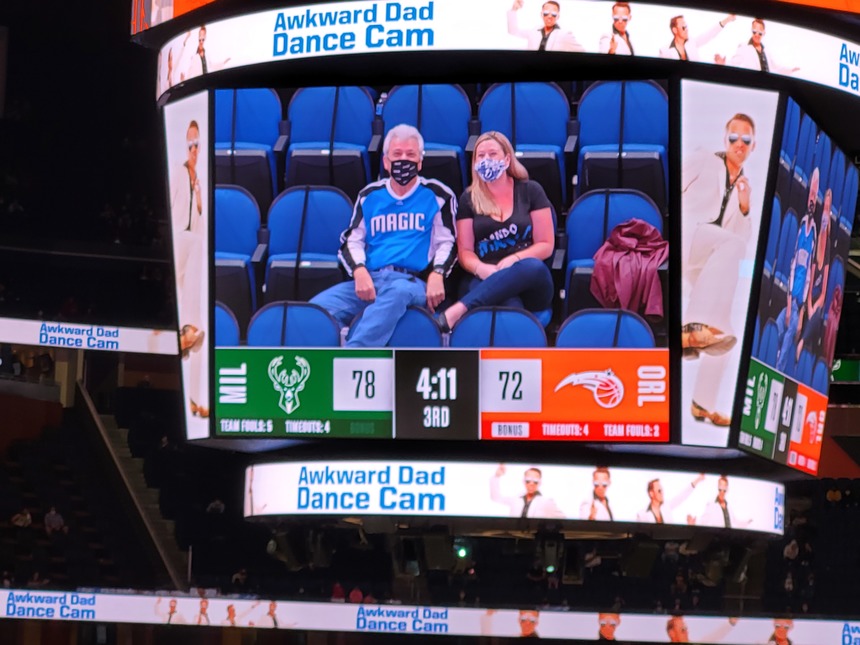 The presence of fans has allowed Orlando's game-night staff to stay away from canned applause and crowd noise that is being pumped in at other NBA arenas. And while the arena is too big and vast for the fans to actually hear the players and coaches, the fake noise is kept to a minimum by design, Krohmer said.
Aside from the Magic, the four other teams allowing fans to attend games are the Houston Rockets, Dallas Mavericks, Memphis Grizzlies and Utah Jazz. The Raptors played their first three "home" games in Tampa in front of spectators, but local officials have changed course and closed off the arena as the number of COVID-19 cases continue to rise.
All of this is happening as teams are reexamining health-and-safety protocols, discussing having fewer practices and shootarounds and taking other measures to abate a spread of the virus as some players are now reportedly becoming re-infected with COVID-19.
Every team is trying to adjust during these tough times, but it is odd to move from one part of the country to another and have a completely different experience at an NBA game. When I attended the Brooklyn Nets' game against the Memphis Grizzlies in late December, fans weren't allowed in the building and media were asked to stay in their seats for the duration of the game. It was night and day from Orlando, where they are trying to experience some sense of normalcy.
We all have choices when it comes to how we live our lives during difficult times. We can become obsessed with COVID-19 news and hide from society, or we can put on our masks and try to live our lives (responsibly, of course). So, props to the Magic for making the best of a difficult situation.
Exiting the arena after the loss to the Bucks, fans commiserated with each other about the fourth-quarter defensive collapse against this new-look Milwaukee team -- the same team that knocked Orlando out of the playoffs in five games last summer. But during the game, and during the halftime act by Russian balancing act Rolla Bolla, the folks in the seats had a blast. It was good to see.
Afterward, it seemed almost normal to walk into the warm evening air and drive away from the arena and be stuck in traffic with motorcycles maneuvering their way around, pondering the mysteries of the universe such as why each NBA team has 15 separate Gatorade containers behind each bench, or why Steve Clifford is 4-for-4 on coach's challenges this season.
Sure beats another night on the sofa in front of the TV.
Hopefully, the other 25 NBA teams will be copying the Magic's model before too long. All we can do is wait and see, and let the NBA be a diversion one way or another. Watching basketball is definitely better in person and with other humans nearby; that's for certain.