BROOKLYN – A security guard with colorful purple streaks in her hair was watching the third quarter of Wednesday's game between the Brooklyn Nets and Atlanta Hawks from an empty concession stand in the concourse at a deserted Barclays Center, then moved inside the upper-level later in the quarter because she wondered what all the noise was about.
Because the noise was quite something. As was the whole experience of covering an NBA game under the pandemic rules and procedures.
There might have been 300-400 people inside the Nets' home arena, but one of those people on the game operations crew had a hand on the fake-crowd-noise dial, and that person was pumping up the volume excessively.
I have covered literally thousands of basketball games all around the world in my three-plus decades as an NBA reporter, and I can honestly say I have never been to a louder arena than the one I was in last night in the borough also known as Kings County.
Tarps covered nearly all of the seats in the lower bowl, and every single concession stand was closed. Concourses usually teeming with people were barren. Usually, the place is an olfactory overload with all of the different culinary choices. But on Wednesday night, there was merely a skeleton crew of security guards, and I did not gain admittance until a pleasant young lady stuck a nasal swab up my right nostril to give me a rapid COVID-19 test. I was negative.
Every single NBA beat writer and national writer and broadcaster is going through this very same procedure every night they go to work at an NBA arena. The rules are clearly spelled out by the NBA, with everyone's safety the foremost concern. Masks are mandatory at all times. You want a sip of water? You have to drink it in the concourse.
"You pick noses for a living?" I cheerily asked the COVID-19 tester (because mirth and levity cure COVID fatigue). She smiled back, a rare moment of levity prior to what would be the game of the night, a 145-141 Nets victory that knocked the Hawks from the ranks of the unbeaten and reaffirmed Brooklyn as perhaps the best team in the East when playing nearly at full strength.
Of the six games on the NBA schedule, it was the only one decided by single digits. There has been a pattern of blowouts developing over the first week-plus of the NBA season, and it is not a good pattern.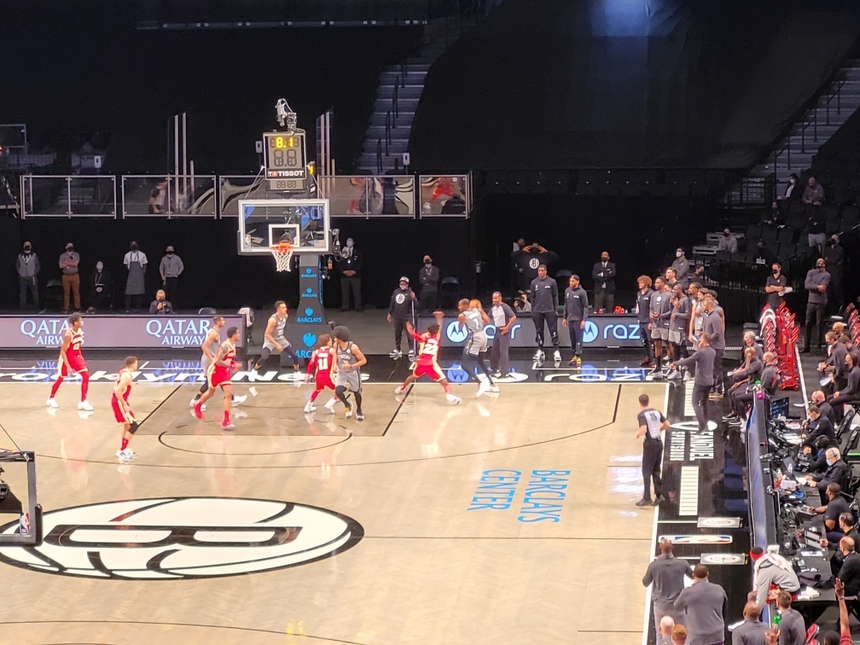 Many of this season's games have not been close, and the sights and sounds that everyone is getting on TV are different from what we all got back in the days of the bubble. Fans are barred from all but a handful of the 29 NBA arenas; large tarps cover huge swatches of the stands (sometimes adorned with advertisements so that viewers will see the team's sponsors). The audio and video quality varies tremendously from game to game (across different networks), and the fake crowd noise – which was kind of welcome in the bubble because it restored some sense of normalcy – is having a different effect this season.
It is too fake, if there is such a thing.
In Brooklyn, it was earsplitting. NBA players should be getting earplugs to deal with it, along with the masks that they and the coaches are wearing on the benches throughout these games during the 2020-21 season.
This is not a criticism of the Nets, who are doing everything they can to host games and accommodate media members working under extraordinary logistical difficulties. They must keep media members socially distanced from one another as well as from players and coaches, and all interactions between media and team members are conducted pre- and post-game via Zoom.
This has the impact of limiting the opportunities that reporters have to interact informally with coaches and players, and the quality of the reporting suffers because media members have fewer opportunities to mingle with coaches, players, scouts and folks sitting courtside as part of the news gathering process. The floor level at Barclays is a no-fly zone, so one cannot even tell if the team has exercise bikes in their usual spot just to the side of the exit tunnel, a place where the Nets have a dazzling array of photographs from games, concerts and events that have been held over the years at the arena.
Media members have no choice but to adjust, and some beat writers are choosing to cover their teams from home -- unthinkable in journalism theory, a necessity at times during a pandemic. Things are going to remain this way for the foreseeable future, and it will not make NBA reporting any easier; simply more challenging. The more intrepid among us can handle it.
New York is generally a grumpy city these days, but it should be noted that every single person I ran into at Barclays Center was cheerful and helpful. It is human nature for 99 percent of us to act that way, and whatever they are putting in the eater in Brooklyn is working.
Getting back to last night's epic game, Kyrie Irving and Kevin Durant combined for Brooklyn's final 20 points over the final five-and-a-half minutes of a contest that left everyone spent. But what it looked like in the locker room afterward -- something reporters routinely describe anecdotally in their coverage -- was a mystery.
"Yeah, I definitely need a beer," Nets head coach Steve Nash said afterwards via Zoom.
A colleague I have known for several years who works for CBS was in attendance, and I gave him a ride after the game back to Manhattan where his car was parked. He has been attending games all over the country in football stadiums where the roofs have been closed and the 80,000-seat arenas have been emptied. He said Indianapolis was boarded up, Las Vegas was dead (both inside and outside the Raiders' new retractable-roof stadium), but absolutely nowhere was the pumped-in crowd noise anywhere near the levels that we both experienced at Barclays Center. This was headache-inducing noise, and one headache in particular did not subside until 5 a.m. this morning after a couple hours of shut-eye.
We drove along 34th Street in Manhattan and spotted exactly one open business – a 24-hour convenience store. There were perhaps 30 pedestrians along that major crosstown thoroughfare, and we marveled at the ghost town aspect of Manhattan during this pandemic. It was eerie, and as Jeff Van Gundy said on The Sheridan Show earlier this week when describing Staples Center in Los Angeles, it was surreal.
Every hoophead in America is getting a taste of this from their sofas each evening, but to witness it in person was different.
Under new media rules, after you pass your COVID test, you go to your assigned seat and stay there. Period. Unless you need a bathroom break. From the Nets' media seats in the 200 level (think "corner of the arena, halfway up") one could see a pair of security guards come onto the court during every timeout, but there was nothing for them to do except go through the motions and look busy. There was no one inside the arena for them to crowd control.
Whatever was being said in timeouts was a mystery. Cameras could catch it for the TV audience, but from 80 yards away, you cannot see much in detail. Within view were the three rows of socially distant seating for the bench players and assistant coaches, a socially distant scorer's table with only a few folks keeping stats and making public address announcements, and perhaps the person with the fake crowd noise controller.
Since the floor level is off-limits to anyone not affiliated with the league or the teams, the usual NBA reporting practice of going to a locker room and mingling with the players and/or spotting which celebrities were in attendance was an impossibility. Not that any celebrities were in Brooklyn on Wednesday, unless they were spirited inside where no one was watching and kept out of camera range. It would not have been impossible, given the building's layout. (I once interviewed Bill Clinton on the loading dock after a Bucks-Nets game. He is buddies with Marc Lasry and likes the Bucks a lot).
The working press room is closed. The interview room is closed too. The luxury club down the hallway from the locker rooms is also closed. The dance team's room and the Team Hype cheer quad rooms are empty. Those folks are not working this season.
Outside Barclays Center on the streets of Brooklyn, there was zero pedestrian traffic. A supermarket across the street was virtually empty. The plaza leading to the subway and the Long Island Railroad station that serves Barclays Center was devoid of people, and even the ever-present pigeons were gone.
Surreal may not be a strong enough word. Again, eerie.
But this is the new normal in these tough times, and as we all should know by now, the new normal is often abnormal. This dynamic is taking place in all 28 NBA cities along with Tampa, the current home of the Toronto Raptors, and there is no way that it is financially sustainable.
Barclays Center was sucking electricity from the power grid in order to heat the massive arena. Inside, every concession stand was closed, which means that all of the people who used to work at those concession stands are now either out of work or have found other jobs.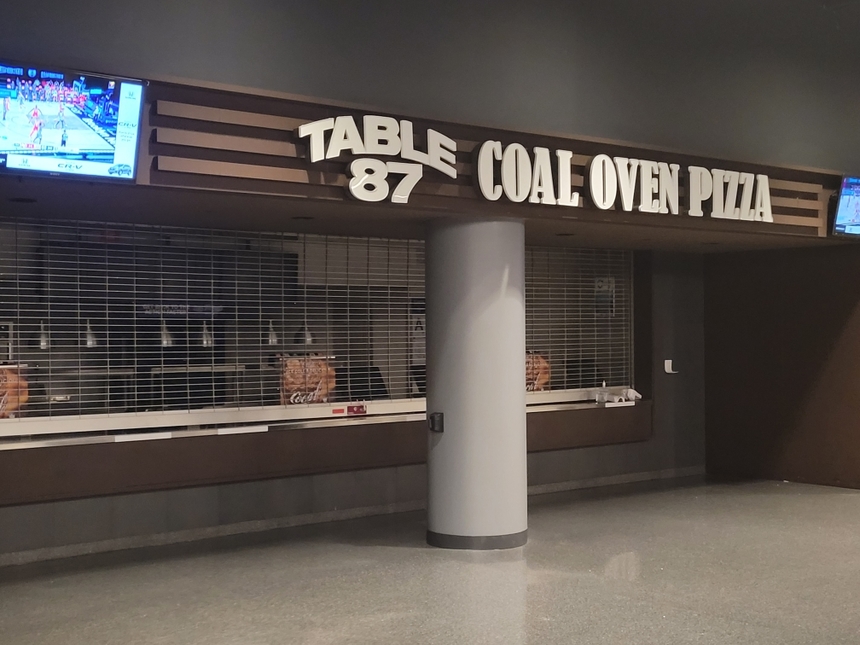 True story: When I was a young sportswriter covering a Utah Jazz-Houston Rockets playoff semifinal in Salt Lake City in 1996, former Commissioner David Stern was in attendance with his wife, Dianne, who was put off by all of the fake noise. Stern got things done, and he ordered one of his staffers, Todd Harris, to keep a decibel meter at courtside and to make sure the sound level did not exceed a certain threshold.
Harris was a dutiful foot soldier, and he followed the directive so closely that the Jazz dancers could not hear the soundtracks that they were dancing to. Odds are that Dianne Stern left the next game without a splitting headache.
Stern passed away exactly 366 days ago, and his successor, Adam Silver, is doing his utmost to have a 72-game NBA season that gives the league's fans at home enduring the pandemic something entertaining and unscripted to watch each and every night. But that manufactured noise is too phony.
Ironically, the Nets were one of the first teams to pop in fake crowd noise, doing it back when they played in East Rutherford before sparse crowds. When news broke of what they were doing, they were ridiculed. Now, it is the norm.
However, it would be interesting to see the NBA test this idea:
Try televising a couple of games with no fake crowd noise.

Put microphones on the players so we can hear their interactions.

Open the broadcast with a disclaimer that there may be some off-color language picked up by the microphones.

Let the viewers experience the on-court noises and what the players are saying to each other as these games are being played. If a cuss word sneaks in, so be it. We can handle it.
Look, there comes a point where the product is too fake. The bubble served its purpose, and the fake noise made it seem familiar. But those games were played in very small arenas in Lake Buena Vista, FL, whereas the current games are being played in empty 20,000 seat-arenas with massive tarps covering the seats. The optics are unnerving, no matter how good or bad the games are.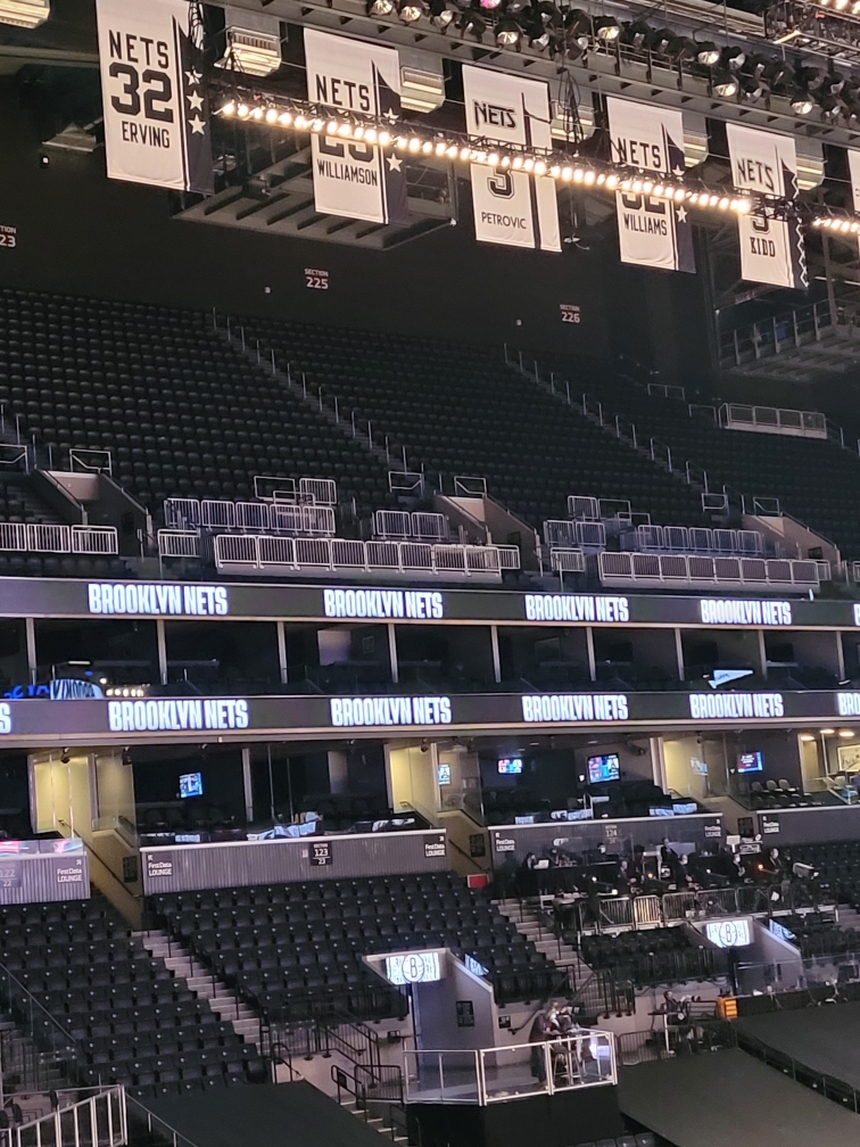 We all want to get bodies back into those seats as soon as possible, but in the meantime, over-faking it is too phony.
The NBA toyed with the idea of playing at G-League arenas and practice facilities, but for a variety of reasons, the idea was scrapped. Those reasons included the economic expense of outfitting new venues for NBA broadcast and other technology. The costs of implementing required health and safety protocol measures were significantly more feasible in the normal arenas – things such as entrance, egress, space for distancing, hand-sanitizing stations, plexiglass dividers, space for players, personnel to be physically distant on benches, locker rooms, weight rooms, etc. Also, it was less desirable from a revenue perspective as it was easier to implement the needed signage elements in existing arena setups, many of which have naming rights deals.
So the NBA will stay in the big arenas, come what may.
But it would be nice to see the NBA try something different at some point this season. You can turn the limited fake crowd noise back on when the arenas have fans in them. But until then, let viewers hear what's really happening.