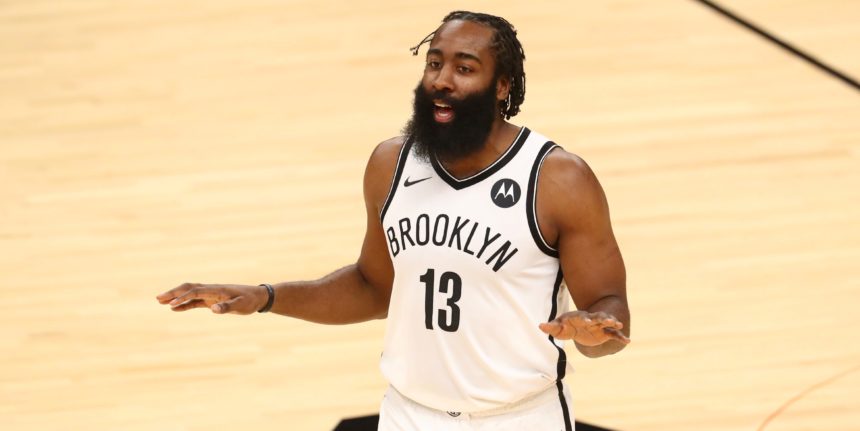 Coaches' NBA All-Star ballots due today; will anyone leave Harden off?
Every Eastern Conference coach not named Steve Nash faces a dilemma today: Should James Harden get my vote as an All-Star reserve after power-playing a trade from Houston to Brooklyn?
The NBA is a players' league, as every coach knows. But coaches also must navigate satisfying the wishes of players with satisfying the desires of ownership along with those of management. They are very much caught in the middle every single day of their lives.
But today is the day they get to cast their ballots for All-Star reserves, which empowers them to a certain degree. Their votes are anonymous, and it is up to each individual coach to decide whether he wants to reveal his choices publicly.
So it will be interesting over the course of Monday and Tuesday to learn whether any Eastern Conference coach left Harden off his ballot as a statement, perhaps a quasi-protest, over Harden forcing the blockbuster trade that altered the balance of power in both conferences.
Harden did the same thing that Anthony Davis did a couple years ago when he left New Orleans for Los Angeles and that Carmelo Anthony did a decade ago when he left Denver for New York and that Kareem Abdul-Jabbar did way back in the 1970s when he left Milwaukee for L.A.
This season, Harden created an environment inside the Rockets organization that was borderline toxic in December, and he got what he wanted in January when the Nets mortgaged their future to pair him with Kyrie Irving and Kevin Durant, both of whom have already been voted in as starters for the March 7 game in Atlanta.
Harden's actions made life difficult for one member of the coaching fraternity, Stephen Silas, along with
numerous Rockets veterans (including John Wall and DeMarcus Cousins) who were trying to get off to a positive start with their new team. But Harden's trade desire superseded everything, and the Rockets are still trying to climb out of the hole they dug over the first month of the season with a disgruntled Harden on the roster.
If you go by the numbers, the selection of Harden as a reserve is a no-brainer. He is leading the NBA in assists, is 15th in scoring and just finished leading the Nets through a 5-0 Western Conference road trip that has left them just a half-game behind Doc Rivers' Philadelphia 76ers in the East.
There will be seven reserves from each conference announced on TNT on Tuesday night, and it would be shocking if Harden is not among them. But anything is possible in this day and age, and every year there is some degree of outrage over somebody not making the All-Star game.
Who will it be this year?
Coaches cannot vote for their own players, and their ballots must include two backcourt players, three frontcourt players and two wild cards. The East starters are Durant, Irving, Joel Embiid, Giannis Antetokounmpo and Bradley Beal, while the West starters are LeBron James, Steph Curry, Kawhi Leonard, Nikola Jokic and Luka Doncic.
In the East, Harden and Trae Young of the Atlanta Hawks would appear to be locks for two of the backcourt spots, but Jaylen Brown of Boston and Ben Simmons of Philadelphia will surely get some votes. In the frontcourt, the likely picks would seem to be Domantas Sabonis of Indiana and Jayson Tatum of Boston.
So there are six names in that last paragraph, but not among them are Nikola Vucevic of Orlando, Zach LaVine of Chicago, Bam Adebayo of Miami, Julius Randle of New York, Khris Middleton of Milwaukee, Fred VanVleet and Pascal Siakam of Toronto, Tobias Harris of Philadelphia, Jimmy Butler of Miami, Clint Capela of Atlanta, Jerami Grant of Detroit, Russell Westbrook of Washington and Gordon Hayward of Charlotte.
In the West, Damian Lillard of Portland is a mortal lock, especially after Doncic himself said Lillard was more deserving of a starting spot than he was.
Other locks are Rudy Gobert of the Jazz and Anthony Davis of the Lakers, with Donovan Mitchell of the Jazz and Paul George of the Clippers a notch below "lock" status. Two members of the Phoenix Suns, Chris Paul and Devin Booker, are certainly worthy, as is DeMar DeRozan of the San Antonio Spurs.
So again, there are seven names in that preceding paragraph.
Among the West names not yet mentioned are Zion Williamson and Brandon Ingram of New Orleans, Deandre Ayton of Phoenix, Shai Gilgeous-Alexander of Oklahoma City, De'Aaron Fox of Sacramento and Mike Conley of Utah. At least the West coaches do not have quite as many worthy candidates as the East coaches. (Ryan Saunders filed his ballot prior to getting fired by the Timberwolves last night, sources confirm.)
So there are going to be a bunch of guys who get squeezed out, because All-Star rosters are what they are: 12 per conference. Period.
It sets us up for an interesting show on TNT Tuesday night, which is no doubt causing much glee at Turner Sports, one of the league's two broadcast partners and the driving force behind the game being held in Atlanta after original plans to go without an All-Star game this season were altered.
By Wednesday, there are going to be a good dozen players feeling both snubbed and motivated… but also able to schedule vacations rather than having to learn the rules of the bubble that will be created in Atlanta for the league's showcase event.
How will those players react? How will they channel those feelings? How will that impact the second half of the season? We will find out soon enough. But for today, the tension surrounds the waiting. There are 35 players averaging at least 20 points, but a bunch will not be going to Atlanta.
And if Harden is one of them and gets snubbed, however unlikely that may seem, it will be a clear message of disapproval from the coaches. Stay tuned.