It was a masterclass in fear mongering.
They crowded the paint against Portland, keeping the Blazers out where their long shots -- even what came expertly sniped by Damian Lillard -- weren't enough to keep the eighth-seed around. The Rockets, already the self-proclaimed savants of the small-ball approach, were not hard to squash underfoot. Against Denver, even with Nikola Jokic's unhurried and imperious presence at both ends, all they had to do was tire him out. And with everyone tired by the NBA Finals, Miami was a challenge -- and the dumb mistakes you make against the Heat will be promptly dealt right back in your face by their speed and efficiency, plus the thumping zeal of Bam Adebayo and the conviction of Jimmy Butler.
But when the Lakers won the title and stood shoulder-to-hulking-shoulder in a hushed, fan-less arena, it was their size -- turned stark by the shrinking sideline reporters angling in from six feet away -- that stood out. With all the talk around whether or not the bubble's title team would have an asterisk slapped beside them, the discourse never caught on to the real-time terraforming that was taking place, the fallout of which would have an effect on the league for seasons to come.
In the triumphant, bullying shadow of the Lakers, the Larry O'Brien trophy made diminutive in the hands of Anthony Davis, Dwight Howard, Markieff Morris, JaVale McGee and LeBron James, big was suddenly in.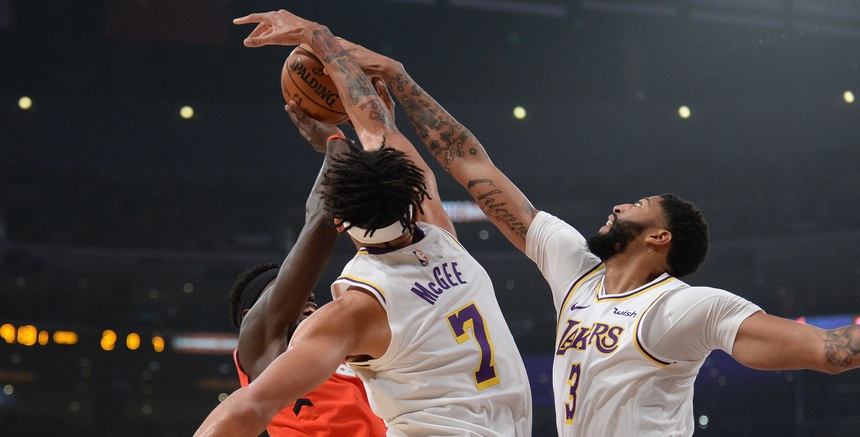 We have the Lakers to thank for this new, hulking landscape, and for the premium that was placed on centers in this condensed free-agency period. With every playoff series they advanced from, the team was able to show: No matter the volume or accuracy of an opponent's outside shooting, the creative range of offensive schemes from smaller lineups stacked against them, or the doubling and tripling of the their best and biggest players, all the Lakers had to do was hold their ground -- and one by one, teams would tire, then fall.
Because really, even if a team was able to slip past Davis, trip up Howard or if James — omniscient as he is — eventually took a break from being everywhere at once, and made it to the paint for close points, the effort of getting there again and again was plain and plainly unsustainable. Rebounding went out the window. The Lakers turned the glass into a table and ate up every second chance, at both ends. Blocks by Davis, McGee or Howard hardly ever seemed emphatic, even against teams with some matching magnitude, all the Lakers had to do was reach.
As the playoffs went on and smaller, faster teams fell out, or teams with better chemistry fizzled, the Lakers winning it all became -- like everything they were doing on the floor -- a kind of brooding eventuality. And they did it all with size.
The NBA already has a short memory. Trades that feel seismic or tear apart the fabric of a franchise are patched over in a season. Possible standings, and narratives of good and evil, exhaust and reorder in months. It's hard to remember what the league even looked like two offseasons ago, let alone before COVID-19 so quickly warped the traditional timelines of the season. For all its upheaval, the league and its fan have learned to be fluid, the side effect of which is a kind of communal zen that settles after short bursts of shock.
Given that, and a truncated offseason bookended by the draft and training camps, this free-agency period was going to feel especially rife. But it's hard to look at the state of things as the dust settles, days before team training camps start, and not see the imposing shadow that the Lakers cast over nearly every move made by teams looking to stay competitive or get into contention.
For starters, it was a bigs market, but the selection was short. For months, this offseason's free-agency window paled even in conversation, with most preferring to look ahead to 2021 when more of the league's superstar contracts will come due. If the Lakers hadn't won the way they did, it's likely a handful of teams' current rosters would still be intact.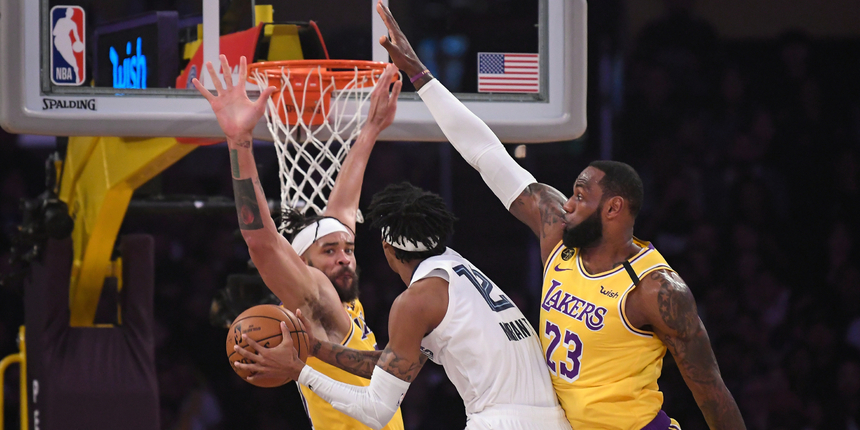 The Toronto Raptors lost two championship-caliber centers in Serge Ibaka and Marc Gasol. The Raptors, hoping to keep their options and books clear for Giannis Antetokounmpo in 2021, weren't willing to offer Ibaka or Gasol two-year deals -- the length of contracts both signed with the Clippers and Lakers, respectively. Left in the lurch, Toronto scrambled to make up for lost size by signing Aron Baynes and Alex Len, while renewing Chris Boucher. But against who was lost, a still-developing Boucher doesn't entirely stack up. Baynes and Len play a more physical game and post up players, rather than the defensively-cerebral capabilities of Gasol or the evolving skill set of Ibaka, who recently added a capable three-point shot to his repertoire.
This demand for standalone size, not necessarily size and versatility, was evident in either conference. The Celtics added Tristan Thompson, who, while a capable defender, doesn't offer the same dexterous stat line as Davis or Adebayo -- players who are evolving the position. But for Thompson, going from a non-contender to a top-three team in the East, the move has instantly improved his own competitive prospects and likely future career trajectory, proof that this abrupt need for bigs will be just as far-reaching for some player's individual careers as well.
The Sixers made a slightly more lateral adjustment, hastily grabbing Dwight Howard, who now represents a larger and more dominating backup than the team previously had in Kyle O'Quinn. With a far less substantial contract than Al Horford's, Howard's presence, even if he's only asked to enforce and help the Sixers' shooter-heavy lineup, is a steal.
A team that felt first-hand the hulking implications of losing to a tyrannically-sized Lakers lineup was Portland, and subsequently, the Blazers have bulked up. Enes Kanter comes back to the team easily, citing the chemistry he had alongside Lillard and CJ McCollum his first time around with the team -- and that Lillard texted him, "Let's go out there and win a championship," when he learned Kanter was returning. Add the 3-and-D versatility of Robert Covington and length and passing of Harry Giles, and the team's primary big in Jusuf Nurkic will get the relief he was missing against the Lakers' imposing menace. Rotationally, Portland's options have also grown; if Zach Collins continues to develop as a rangy defender, then the Blazers will have the option of going big with all three in the lineup at once.
Even rosters that already had size padded it with more, and the teams currently sitting at the top of the free-agency heap that have come out ahead opted to fine tune their lineups without sacrificing stature.
The Pelicans -- whose star player in Zion Williamson is a first of his kind in the league in terms of outright imposition and, in his own physics-warping way, grace -- brought in Steven Adams and Willy Hernangomez, plus the squarely-built and defensively tenacious Eric Bledsoe, to line it all up.
The Clippers, still lacking a clear leader, have at least made an attempt to shore up where games slipped away from them in the restart at the defensive end. They drafted for size in Daniel Oturu, and while Ibaka thrives alongside a capable playmaker, as he did with Kyle Lowry, he also knows how to space the floor for Kawhi Leonard, who looked increasingly stifled in the bubble.
The list goes on: Memphis drafted Xavier Tillman, a stretch forward closer in court presence to Jonas Valanciunas, but fits in with the length and floor flexibility of Jaren Jackson Jr. and Brandon Clarke, and can act as a counterweight to the team's explosive tendencies. Jae Crowder brings the Suns a swing forward with the kind of solid size that can withstand some hacking in the paint, who alongside Deandre Ayton and Dario Saric grows the teams rotational options and stature. The Bucks added Torrey Craig and Bobby Portis; and Robin Lopez, who left Milwaukee to test free agency, found a fast fit with the Wizards (and earned a raise from his 2019-20 salary).
The Lakers, responsible for this big man bonanza in the first place, have further stacked themselves by bringing in Montrezl Harrell; the team's smallest possible lineup could have Harrell at center and still be capably hulking with James and Morris on the floor. And Gasol's addition is going to make everything run intuitively cleaner at the defensive end by virtue of his game IQ and incessant communication, without requiring him to be as athletically dominating.
Tangible league shake-ups like the forced reckoning the Lakers instilled this offseason also have the ability to derail basketball's more aspirational conversations. The discussion around positionless play, let alone the probability of it, seems all but impossible when looking at a roster as colossal the Lakers. As rare as it is for a player with the size, strength and playmaking capacity as Adebayo, or Toronto's OG Anunoby to come along, those ambitious and stretch capabilities are all but swamped against a team that presents more as a wall without any possible windows to sneak through. Whether the demand for size becomes a lasting trend or, perhaps unwieldy in the long-term, it's something the Lakers chose to capitalize on in the accelerated run up to the 2020-21 season.
This year is going to be one rife with giants looking to rattle and subdue whoever gets in their way.