We enter the new week with much changed and much still the same. With the draft behind us and all of the major free agents either signed or committed, a crazy week in the NBA is now over.

Training camps are eight days away, and the upcoming week promises to include the finalization of several trades that have been worked on for quite some time -- and perhaps we'll get some clarity from the NBA office on where games are going to be played.
This site has already reported that NBA arenas may be mothballed for a while with teams playing in G-League and practice facilities, but the ever-changing COVID rules from state-to-state make everything day-to-day.
Thanksgiving is four days away, so let's take stock of went down over the past several days in The Association. The 10 things listed below will be worth watching through the entirety of the 2020-21 season:
1. Will Giannis Antetokounmpo sign his supermax deal?
After the Bucks went down in five games against Miami in the second round of the playoffs, the Greek Freak has been in Milwaukee since draft night working with the front office on which moves the team should consider. The Bucks were not all that good in the bubble, losing five of eight games, and they had dropped three in a row before the season was suspended in March. Wes Mathews, Eric Bledsoe, George Hill and Robin Lopez are gone, but a starting five comprised of Giannis, Jrue Holiday, Khris Middleton, Brook Lopez and someone else (perhaps Donte DiVincenzo) is not all that bad.
What is worrisome is the lack of bench production that Hill provided, so they have a lot riding on D.J. Augustin, Bobby Portis and whoever else is added as the backup center (currently, they do not have one). It is noteworthy that the Miami Heat, Dallas Mavericks and New York Knicks have kept max cap space available for the 2021-22 offseason. If Giannis does not sign his supermax by the Dec. 21 deadline, all bets are off in terms of him playing his entire career with the Bucks.
2. Gordon Hayward and Bogdan Bogdanovic were free agency's biggest winners.
Hayward landed a four-year, $128 million contract to join LaMelo Ball and the Charlotte Hornets as Michael Jordan continues his years-long quest to become relevant as an NBA owner. Terry Rozier is coming off the best season of his career, as is Devonte' Graham, and P.J. Washington is clearly a keeper. They still look like a .500 team, but if Hayward is super productive as a featured scorer, that changes.
Regarding Bogdanovic, folks thought he was nuts when he turned down a chance to join the Bucks and make $60 million over the next four seasons. But he got $12 million more than that with the Atlanta Hawks, who now can field a starting five of Trae Young, Bogdanovic, Danilo Gallinari, John Collins and Clint Capela, with Rajon Rondo leading a second unit that includes Cam Reddish, Kris Dunn and Kevin Huerter. The Hawks will still be good even if Bogdanovic's offer is matched by Sacramento. When was the last time we could say this this team is good?
3. The Lakers are probably going to the NBA Finals again.
Nothing is ever certain in the NBA, as we learned two seasons ago when LeBron James was injured, keeping him out of the NBA Playoffs and Finals for the only time in the past decade. But they now have Montrezl Harrell at center (backed up by Marc Gasol) instead of the JaVale McGee/Dwight Howard duo that split time at the position a year ago, and Avery Bradley and Rajon Rondo have been replaced by Dennis Schroder and Wes Mathews, both of whom should be considered upgrades notwithstanding what Rondo did in the Finals to close out the Miami Heat.
4. The Brooklyn Nets are a monster.
Those James Harden rumors may have some legs, but Sean Marks would be nuts to bring in a ball-dominant player to use alongside Kyrie Irving and Kevin Durant... unless Irving was one of the players going out. As it is, the Nets are stacked with a starting lineup of Irving, Durant, Caris LeVert, Joe Harris and Jarrett Allen, with a second unit that includes Spencer Dinwiddie, Bruce Brown, Landry Shamet, Jeff Green and Taurean Prince. If Steve Nash's team is not performing well by midseason, maybe then is the time to take a harder look at Harden. But for now, these guys are legit 10 deep. If it ain't broke, don't fix it.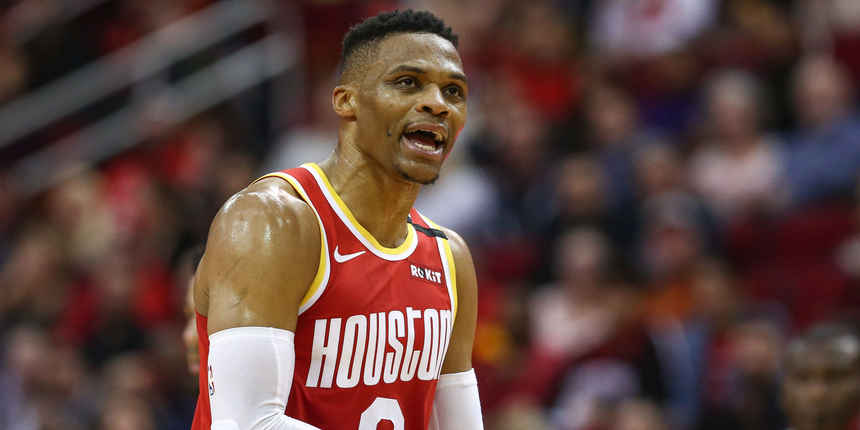 5. It looks like Russell Westbrook is staying in Houston.
He may want out, but teams who watched him in the playoffs saw a player who struggled with his shot and struggled to co-exist with Harden in Mike D'Antoni's super small-ball system. Westbrook is on the books for $132 milllion over the next three seasons, and new Rockets general manager Rafael Stone may just be stuck with him until the trade deadline at the very least. There is a saying in the NBA that nothing ages faster than a point guard in his 30s; that may or not apply here -- let's not forget that Westbrook was coming back from coronavirus in the bubble.
6. The Clippers will be OK despite losing Sixth Man of the Year Montrezl Harrell.
That's what happens when you bring in Serge Ibaka, a proven playoff performer who will share time with Ivica Zubac and give the Clippers some maturity at that position, if not the energy that Harrell provided. But first and foremost for coach Ty Lue is getting superstars Kawhi Leonard and Paul George to get over this "load management" nonsense. When you are getting paid to play basketball, you have to play basketball. Doc Rivers did not stand up to those two superstars and used 33 different starting lineups last season, and in the playoffs the Clippers did not look like they were familiar with each other... because they weren't. Luke Kennard may or may not replace Landry Shamet's shooting, whether it's in the starting five or off the bench. He certainly has had enough time to rest after sitting out most of last season with the Pistons.
7. Is Hassan Whiteside going to find a job?
He has been the forgotten man in this year's free-agency class after having a dominant regular season pre-bubble, averaging 15.5 points and 13.5 rebounds in his best season in four years. He went to the bench for the first couple games in the postseason, as Jusuf Nurkic was coming off an "All-Bubble" performance. Enes Kanter has been brought in as the backup, and Zach Collins can play that position, too. 3-and-D expert Robert Covington is on the wing and Carmelo Anthony is back, presumably as a scorer off the bench. Gary Trent Jr. is a known commodity, and we shall see what they got in Derrick Jones Jr., who was kept on the bench in the Finals by Miami coach Erik Spolestra (when he should have been out there intentionally fouling LeBron James). Whiteside has a tarnished reputation, which is why he was playing in Lebanon not so long ago. For now, 29 NBA teams seem uninterested. Perhaps that changes in the next day or so, but he will only get mid-level money.
8. Who will be the worst team in the NBA?
This looks like a toss-up between the New York Knicks and Oklahoma City Thunder. Leon Rose had a good draft in getting A-10 Player of the Year Obi Toppin and SEC Player of the Year Immanuel Quickley, but struck out in free agency and ended up getting Austin Rivers, Alec Burks and Nerlens Noel. And so the rebuild continues, presumably with Antetokounmpo as the target. As for the Thunder, Chris Paul, Danilo Gallinari and Steven Adams are gone, and there are three guys in their 30s – Al Horford, Trevor Ariza and George Hill -- who may or may not get traded as the season moves along. This team is being built around Shai Gilgeous-Alexander, Luguentz Dort and all of the future No. 1 picks that Sam Presti is squirreling away, and a final preseason judgment on them cannot be made until Presti is finished dealing.
9. Can Doc Rivers do what Brett Brown could not?
Daryl Morey had a terrific week in bringing in Seth Curry, Terrance Ferguson and Dwight Howard along with drafting DePaul sleeper Paul Reed, but the true test will come when he and Doc Rivers are in the locker room trying to motivate Joel Embiid and Ben Simmons -- and getting them to run plays correctly. At a certain point, both of those players have to lose some of their immaturity, and it is unclear who on the roster will play the role of locker room leader. J.J. Redick and Robert Covington did that in years past, but they are long gone.
10. How good will the New Orleans Pelicans be?
Load managing Zion Williamson's bubble minutes was ridiculous, but it was what it was and it helped cost Alvin Gentry his job. New coach Stan Van Gundy is armed with Williamson, Lonzo Ball, Brandon Ingram (assuming he re-signs), Steven Adams, Eric Bledsoe and an array of young players with potential including Kira Lewis Jr., Jaxson Hayes, Nickeil Alexander-Walker and Frank Jackson.