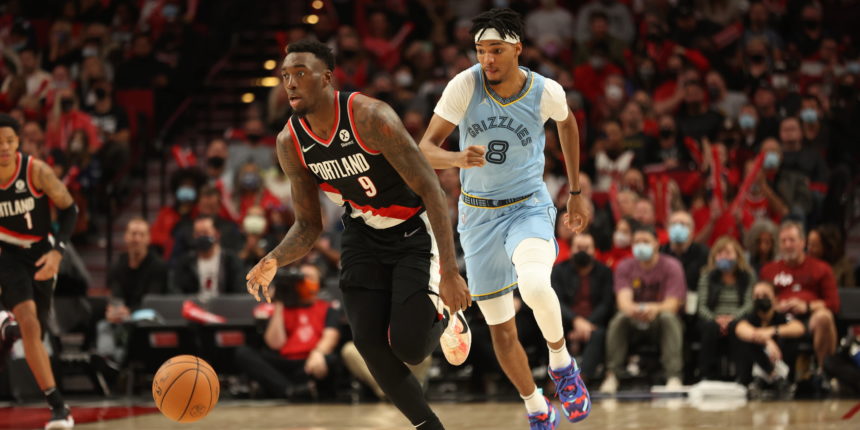 Nassir Little's sheer will, intensity give Blazers a boost
Beginning his third season in the NBA, experience has been Nassir Little's greatest teacher.
He admits that, as a young player, being out on the floor was exciting and fast-moving. Getting used to such an environment with reps over the last two seasons, he agrees, has made him feel more comfortable over time.
"With anything in life where you do it over and over, it becomes more second nature, less thinking, more instinctual," Little told BasketballNews.com prior to the Portland Trail Blazers' 107-104 defeat in Cleveland on Wednesday.
Unfortunately, this was a contest in which Little saw a season-low in minutes played (10:55), and one that resulted in Portland's third straight loss.
On the bright side, though, Little is determined to make his presence felt by controlling what he can control. This all started with a conversation he had with new Blazers head coach Chauncey Billups prior to training camp. It was an open discussion on the team's expectations of him with two particular focuses — offensive rebounding and "playing extremely hard."
"He's accepting everything. All the coaching that we give him," Billups said. "Very coachable. I think a lot of players in the league, especially young guys, when their shots are not going or when they're not getting shots, their enthusiasm changes. They don't play as hard. I told him very early on, 'We don't know. You might get two shots tonight, you might get eight, depending on how the game is flowing. That can't change how hard you play, how focused you are. And he's done a good job with that.
"I think it's something that you expect from him. When you see a guy playing that hard, that's how you build trust. You know that you're gonna be able to trust him every time you put him out there. He's gonna play extremely hard, he's gonna give you all he has. He doesn't have off nights with that. You can have off nights shooting and this and that. When you're playing hard, you don't have off nights with that part of it. So that's something that as a coach, you love to have."
Message received. Even with the recent anomaly, Little ranks 17th in the NBA in offensive-rebound rate (9.7%). Giving a quick tip of the cap to Stevie Cozens on Twitter, dig some more and you'll see something quite notable; There are only three players at his position who are in the top-20 of the category.
"Offensive rebounding is huge, man. It's getting extra possessions, you know what I'm saying? In a sense, it's like getting turnovers," Little said. "So just getting extra possessions, getting extra points... It's one of the best ways to get open three-pointers; we got really good shooters. And that could be like six, nine points a game. That could be a huge difference. So just me trying to impact the game, some way, somehow, and just trying to make myself be assertive. So that's what I do."
It seems pretty simple to secure the basketball and provide second chances, but don't think for a second that there isn't strategy involved in doing so.
"Rebounding is a skill. It's a talent just like scoring the ball, dribbling the ball. It's a talent, and it's more so just having a knack for like where the ball's gonna go," Little explained. "I'm familiar with my teammates. I can tell how the ball's gonna come off [the rim], or even if I don't get it, I know what type of positioning I need to get, and I can just have a good sense of tracking where the ball's gonna go based on who's shooting it.
"Or even if they make it, I know where it would go probably if they miss. It's just kinda like a feel for it, and yeah, it's effort. It's crashing, waiting 'til a guy turns his head and then taking another route to the basket. They shoot a three, kinda staying out towards the perimeter, things like that. That type of stuff all plays a part."
Billups credits Little's will to outwork the opposition.
"Those balls are coming off and he's just going after it. He's a gifted athlete. He's quick, he's fast. Obviously, when he jumps, he's very explosive," Billups said. "Most people in the NBA, even us [coaches], when a ball is shot, most people look at the ball. And that's when he starts to do his work. If you're looking at the ball, you can't be hitting me. So he's figuring that part of it out, and he's just beating guys to those opportunities."
"Just his intensity," added Blazers teammate Larry Nance Jr. "He comes out, grabs a rebound... he hypes himself up. So he's kinda screaming and yelling, and it's impossible to watch him fight that hard for an offensive rebound and be that intense about his play and us be lackadaisical about it. We've got to lift each other up."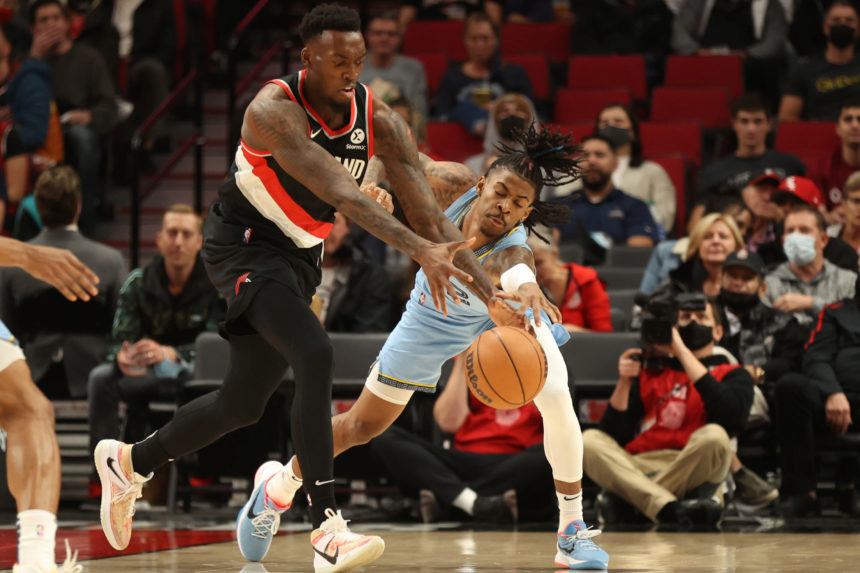 Along with Nance, Little is a part of a Portland bench that leads the NBA with a 50.9% field-goal percentage, and a unit that's boosting the team with just over 37 points per game. Typically when one member of the Blazers' All-Star-caliber backcourt of Damian Lillard and CJ McCollum has gotten a breather, Portland has suffered in the past. This season, not so much.
Anfernee Simons is turning up his volume and cashing in on shots with a career-best 64.6% True Shooting percentage, while the newbie frontcourt of Nance and Cody Zeller has clicked seamlessly on both ends. Then, there's Little's corner catch-shooting success (5-for-8) and aforementioned hustle that makes it all work together.
"When Dame and CJ aren't on the court... those guys have the ball in their hands a lot, they make big-time shots," Little said. "I think for us, with the coaches being so straightforward with what they want from us, or just getting better looks. You know, we don't have a lot of guys breaking guys down 1-on-1. Ant's coming off screens wide-open just shooting it. Myself, I just shoot it if I catch it. Larry's finishing in the paint, hitting open shots. So we just take good shots as a unit, and I think that's why we have such a high field-goal percentage.
"I think Larry and Cody have been great, man. They play hard. Myself, I play hard. We all play hard together. When you have a unit like that out there together, there's no letdown from when the starters come off. So I think it's been very helpful. On the offensive boards, they've been great. Defensively, they've been great. The hustle plays. All the little things. I think we've all done a good job of just chipping in, so it's been good."
Among Portland's four-man lineups to play at least 40 minutes together, the quartet is easily tops on the team with a plus-12.9 net rating.
"Energy. I think that's it," Nance said. "Nas comes in and plays with so much energy. Obviously, Ant plays with a lot of energy. Cody getting after every ball and myself, that's a lot of what I've prided myself on for the past few years. I think playing with a certain level of intensity. I think we've got some rangy defenders as well. So that group is looking to provide a spark every time we check-in and so far, we're doing a pretty good job of it."
"I do expect for that to continue to happen," Billups added. "I think when you have a starting unit like ours, you expect to be playing just as good or close to any other starting unit. I feel like we have an advantage coming off of our bench with the pace that they play at, with the speed, with how hard they play. Our two bigs that come off play with great IQ out there; they're ball-movers. Ant's having a great season. Nas. So I expect to have an advantage there most nights coming off the bench."
Expand the combination to five with Lillard, and it's far and away the Blazers' best. Compared to all other lineups in the NBA that have shared a minimum of 20 minutes, the Lillard-Simons-Little-Nance-Zeller mix has the highest rebounding percentage (66.7%) and second-highest net rating (38.9).
Keep in mind that this success is with a currently-struggling Lillard, too. Despite his jump shot continuing to plague his scoring load, however, his assist numbers are high and he's taking care of the basketball. There is also the fact that Lillard is dealing with a core injury.
But Lillard refuses to use it as an excuse.
"I always look at struggles as an opportunity to show my true character," Lillard said to start his long-winded, open-ended response to his slump. "...So personally, I embrace it."
It's to no one's surprise to see Lillard take ownership of his own shortcomings — especially not Little, who's gotten to know the superstar guard and has already heard what was just publicly said behind closed doors.
"It ain't nothing new. I've had the pleasure of knowing Dame for a few years now," Little said. "I remember even before this, before the season had started, I was just asking him, 'How do you handle bad games?' And the same things that you guys are hearing now, he told me when he was playing some of the best basketball of his life. That's how I know he's such an authentic guy; that, when he was killin' like we all know he does, he was telling me the same things that you guys are hearing now — how it's part of the game.
"You can't want one side of something and then get rid of the other because it's impossible for anything to exist like that. You need to miss in order to make shots, and vice-versa. So it's just a part of the game, and I respect how you don't ever, like, see it on his face with how he interacts with everybody. It definitely is a struggle. He's gonna get through it. But as he's going through it, he doesn't let it affect the way he moves."
Stumbling back to the Northwest at 3-5 following a winless road trip out East, the Blazers are looking to right the ship with some home cooking the next two games. Little will do his part, as will the rest of the team, to pick up its loyal, fearless leader as he's done so many times in the past.
Now that the roles have been reversed, Portland can't wait to see Lillard get back to "Dame Time" to see this group's true potential.
"At the end of the day, Dame, he's our guy," Little said. "For us to be as good as we can be, we just need him to be himself. Not to say that he's not, but once he gets that groove, I think we're gonna be good, and I think when we all get going and all get flowing together, I think we're gonna be a really good team."