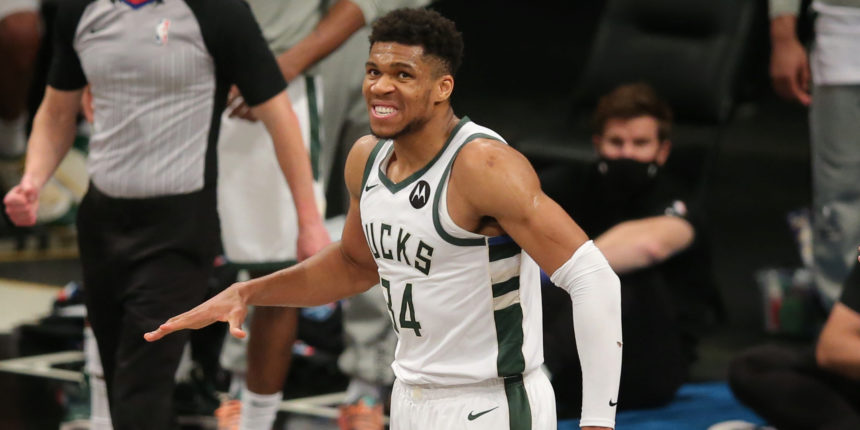 What the Buck? Giannis, Bud on verge of another self-inflicted playoff collapse
The Milwaukee Bucks tricked y'all, man.
They had you believing in them as legitimate title contenders. Giannis Antetokounmpo had you thinking that he was ready to be the first option and "the guy" on a championship team. Head coach Mike Budenholzer convinced some of you that he would make the proper adjustments to put this team in a position to win their pivotal series against the Brooklyn Nets.
Instead, the Bucks are on the brink of elimination and it's been mostly by their own doing. Kevin Durant turning in an otherworldly performance in Game 5 doesn't negate the fact that the Bucks had a chance to win the series, and ended up blowing it because they refuse to get out of their own way.
Here are a few reasons why the Bucks are squandering this series, and ultimately, their best chance to win a title in the foreseeable future.
Bud's Stubbornness and Ineptitude
You might think that a two-time NBA Coach Of The Year like Budenholzer would have the ability to adapt and make adjustments to his game plans, and you would be right. Budenholzer does have the ability to make adjustments, just like every coach in the league does. The problem is that he doesn't want to adapt and adjust.
In Game 5, Budenholzer presented a masterclass in coaching malpractice. Instead of double-teaming Durant with their best defenders in Jrue Holiday and Giannis Antetokounmpo, Budenholzer deployed Khris Middleton and PJ Tucker.
Notice the first two Nets possessions in this video. At the four-second mark, the Bucks are in man-to-man coverage. Tucker can't fight over the Joe Harris screen, and Durant gets a switch to go against Middleton. Durant crosses Middleton up, and before Giannis and Brook Lopez could get in a position to contest, Durant scores.
Instead of utilizing drop coverage in the first possession, Budenholzer should have made Giannis the help defender for Middleton and trapped Durant while Holiday could play the passing lanes with Lopez rotating to the corner.
At the 17-second mark in the clip, Tucker is defending Durant, while Lopez appears to be in drop coverage. Durant swipes to the right and pulls up for a mid-range jumper over Tucker.
In this example, it should have been a Middleton/Tucker trap while Giannis could roam the passing lane while looking for an easy steal and opportunity to score in transition.
This was a recurring theme in the game, and it was the way the Nets battled back despite the rest of the team not shooting well and James Harden being severely compromised: Man-to-man "defense" and ineffective drop coverages.
Sometimes you don't guard a player, you guard their habits and tendencies. In Durant's case, it's either an isolation or a pick-and-roll situation. Tucker, Middleton and even Giannis individually had no chance against Durant. However, why not deploy traps? Why not switch up the coverage from man to zone? Budenholzer has a penchant for being stubborn and doing things the hard way. Those two Coach Of The Year awards gave him that leeway, but after this series, that leeway might not be there anymore.
Lack of Ball Movement and Suspect Shot Selection
Another thing that cost the Bucks in Game 5 -- and possibly the series -- is the abandonment of ball movement. In the second half in Brooklyn on Tuesday night, the Bucks stopped moving the ball and became caught up in iso situations that led to turnovers. The Bucks had 12 assists on 28 baskets after a Holiday assist to Lopez, a three that pushed Milwaukee to a 17-point lead with 7:09 left in the third quarter. When Brooklyn seized a 99-98 lead with a little over five minutes remaining in the game, the Bucks had just three assists, finishing the game with 18 total on 41 field goals.
If the Bucks' offense would have been more patient to get the best shot possible instead of settling for stepbacks and air-balling them (Holiday), or settling for a fadeaway 12-footer on the block over Harden rather than driving to the lane for a score or free throws (Giannis), they probably could have won Game 5 and gained momentum for possible close-out Game 6. Now, they are down 3-2 and looking at another second-round exit in the postseason.
A Big Freaking Problem for Giannis

There is no doubt that Giannis Antetokounmpo is great. He's won two NBA MVPs for a reason. However, there are legitimate questions about his readiness to become the unquestioned and undisputed number one option on a title team. Despite having a solid series statistically, Giannis' weaknesses, and his own inability to change, have been exposed.
Despite shooting a lowly 24% from deep, Giannis continues to force the issue. He still doesn't have a consistent reliable jumper to justify that. He also doesn't have post moves to diversify his skills offensively.
Giannis may be classified as a "wing" in the vein of a Durant, for example, but it's time for him to embrace the possibility of being a 5-man. If Budenholzer would move Giannis to the 5, it's conceivable that the Bucks would be in a better position to win the series. If Giannis is willing to lean into being a big, he should call up Hakeem Olajuwon and work with him during the offseason to help the Greek Freak develop his footwork and touch in the paint.
Imagine Giannis with post moves like this!
Enough said.
The Milwaukee Bucks have been a team that's been "almost there" for years. The inability to change has been the culprit of their inability to get over the hump. In prior seasons, Giannis avoided the harsh beams of the light of scrutiny, and Budenholzer had avoided the unemployment line.
After this series, niether of them may be so lucky.