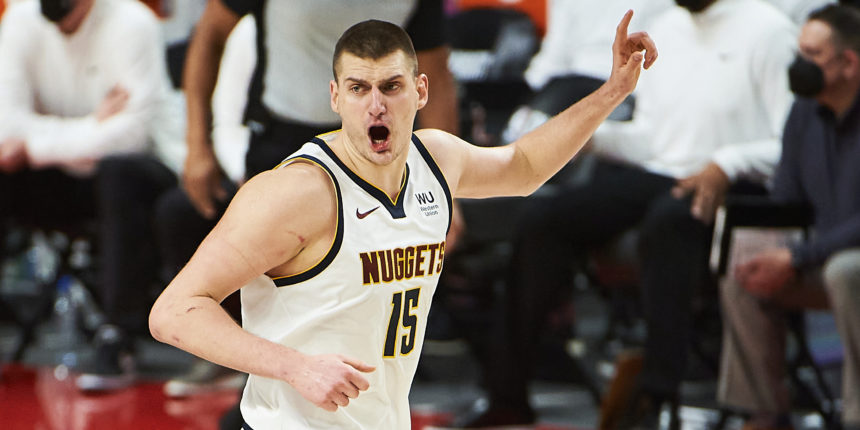 Nikola Jokic wins 2020-21 NBA MVP, is lowest draft pick ever to win award
Nikola Jokic has won the 2020-21 NBA MVP award, according to Shams Charania of The Athletic. He becomes the lowest draft pick in league history to win this award, as Charania noted.
Jokic was drafted with the 41st pick in 2014 by the Denver Nuggets, and has ascended to the upper echelon of the NBA. The 26-year-old averaged 26.4 points, 10.8 rebounds and 8.3 assists per game in the regular season. He also shot 56.6% from the field and 38.8% from beyond the arc.
Jokic led all players by a wide margin in Win Shares (15.6), PER (31.3), Value Over Replacement Player (8.6) and Box Plus/Minus (+11.7).
Also, he managed to play in every single game this season, making him the first MVP to do so since Kobe Bryant back in 2007-08, as noted by HoopsHype. Jokic was the only 2020-21 All-Star to appear in every regular-season game this season.
As if Jokic's case for MVP wasn't already strong enough, he led Denver to a 13-6 record after Jamal Murray went down with a torn ACL (couting the playoffs). The Nuggets were still able to secure the third seed in the Western Conference without their second-best player.
"At the moment he's the best player in the world. And he's a guy that should continue to raise all of our bars," said Tim Connelly, the Nuggets president of basketball operations, to the AP. "We're doing right by him because he's certainly doing right by the organization with his play.
"There are a lot of teams that have the ability to go win it all and I'd like to think we're one of them."
The Nuggets currently trail the Phoenix Suns, 1-0, in the second round of the playoffs.