Mikal Bridges flying under the radar isn't a new development.
He's typically the fourth name you think about when it comes to these Suns. His defensive prowess may still be undersold; it remains baffling that he's on track to make his first All-Defensive team this season. We gotta watch more games, folks.
His Game 4 showing, however, was one of the rare times that his quiet nature was objectively a bad thing. With Chris Paul being pressed into oblivion, more was needed from the perimeter options. It would've been nice to see Bridges step up in the moment, especially since his defense — primarily on Brandon Ingram and CJ McCollum — was well below his usual level. You can't have the off night defensively and score 8 points in the same outing.
To Bridges' credit, he completely flipped the script in Game 5. His defense was otherworldly: insane screen navigation, timely help, strong contests and 5 stocks (4 blocks and a steal) to boot. NBA.com's tracking data had Ingram and McCollum shooting a combined 2 of 15 — 2 of freakin' 15! — when defended by Bridges.
But then, there was the offense. A playoff career-high 31 points while knocking down all four of his threes, and converting 8 of 13 (61.5%) shots inside the arc.
That kind of two-way dominance is impressive enough, but doing so while playing all but [checks notes] one minute and six seconds is phenomenal stuff. There are players with the "iron man" tag, and then there's Mikal Bridges. Dude doesn't miss games — no, he literally hasn't missed one in his career — and can scale up the minutes when necessary.
Baller.
The scoring from Bridges was fun to track because the Pelicans clearly couldn't track him. There were on-ball reps sprinkled in from Bridges, and you'll see some clips of them, but Tuesday night's showing was a masterclass in staying light on your feet — reading the floor, moving with your teammates and sliding into spaces that defenders have either vacated or simply can't get to.
He was a moving target.
Take Bridges' second bucket for example.
Bridges has been doing that all year — listen to Steve Jones Jr., and listen to The Dunker Spot, folks.
After forcing a miss, the ball finds Aaron Holiday, who pushes down the right side of the floor and is tasked with attacking or setting up an early offense look. Bridges steps up for a screen, then slips that sucker. McCollum does his best to rotate down from the opposite corner, but there's only so much he can do with the size difference.
In the half-court, Bridges is one of the NBA's deadliest players from the corner. He's a darn good shooter — he's converted roughly 42% of his corner threes over the past three seasons — but he's also an instinctual mover.
He knows when to slide down into the corner to stress a help defender, like here:
Herb Jones is one of the best defenders in the sport already. The Pelicans trust him with tough on-ball assignments, but he's also a menace off the ball. His combination of length and awareness allows him to be two places at once sometimes. Bridges burns him here, though, sliding deeper into the corner at the same time that Jones provides help on the drive.
Bridges can also backdoor you if your attention is elsewhere. Ingram found that out the hard way.
And then, there are the lifts from the corner. It's a weapon to complement a pick-and-roll when Bridges is isolated on a side. In theory, that puts his defender in a pick-your-poison situation: Do I tag the roller and leave Bridges open for a shot, or do I stay home and allow the big man to rumble into an open lane?
It's a tough choice, and Bridges compounds that with his growing ability to create off the bounce. You're not guaranteed to shut him down if you take away a three-point opportunity anymore.
Bridges is isolated on the right side, putting Ingram in that pick-your-poison spot. But with Paul snaking the screen, Bridges stays home. Jones does a great job of sticking with Paul and forcing the retreat, but there's Bridges running into a handoff and flowing right into an elbow middy.
If that isn't annoying enough to account for, Bridges can also lift to the wing then backdoor you when necessary.
That's a fun cat-and-mouse game between Paul, Jose Alvarado, and Larry Nance Jr. to kick things off. But look at the strain Bridges puts on Ingram.
Bridges lifts to the right wing around the same time that Deandre Ayton slips to the free throw area. Then, he begins his cut as soon as Ayton catches the ball.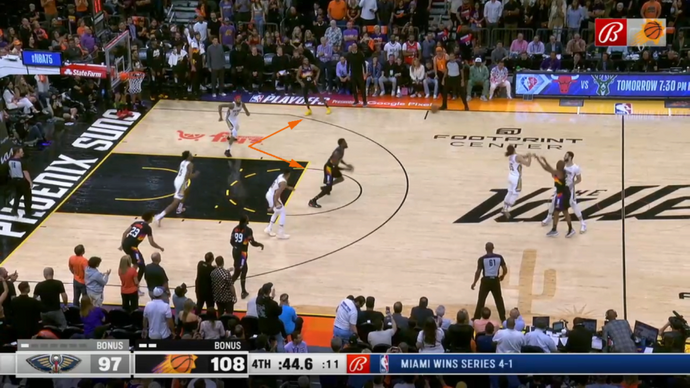 Ingram thinks Bridges is still at the wing, so he jumps towards that area when Ayton begins to survey the floor. Bridges is... not in that area anymore.
I'm cracking up, man.
There may not be 31 points for Bridges every night, but it also doesn't have to be that way. His level of activity and aggression was a much-needed boost to the Suns' offense. They'll need it in Game 6 and beyond.