Tennessee def. Texas A&M 65-50, wins SEC Championship
The Volunteers won their first SEC tournament in 43 years this afternoon, led by Santiago Vescovi's 17 points and 5 assists. Josiah-Jordan James continued his hot streak as well, with 16 points and 10 rebounds. They look to be a No. 2 seed in the NCAA Tournament, although Bracketologists seem to be split between the 2-3 lines for them.
Purdue def. Iowa 75-66, wins Big Ten Championship
This one went down to the wire, as the teams were within one point of each other at the 3:15 mark. Keegan Murray then took over, and quickly extended the lead to 72-64 with less than a minute to play. Ten different players scored for the Hawkeyes today, to cap off a terrific run at the end of this season. They are as hot as any team in America, you don't want to run into them next weekend.
Houston def. Memphis 71-53, wins American Athletic Championship
After losing their last two meetings to the Tigers, Houston gets its revenge with a win today in the title game. Fabian White Jr. has been solid all year and posted 20 points today. The Cougars are ranked No. 5 nationally in Adjusted Efficiency and will look to secure a top seed in the NCAA Tournament. A fantastic ending to the season for Kelvin Sampson and co.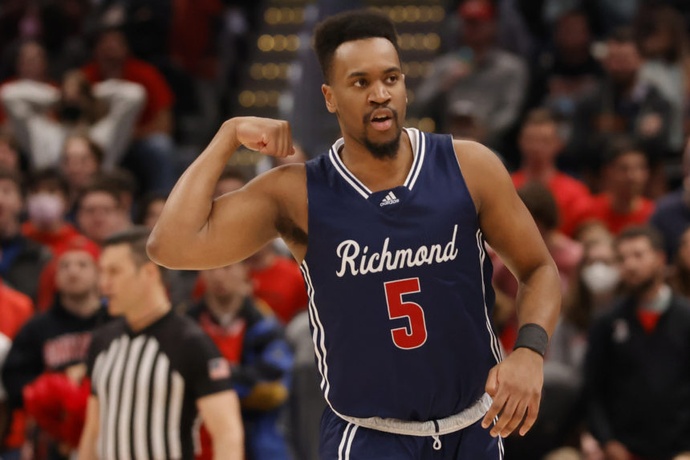 Richmond def. Davidson 64-62, wins Atlantic 10 Championship
The Spiders needed a win if they wanted a shot at the Big Dance, and that's exactly what they pulled off against a strong Davidson team. They trailed by six points with 1:35 to play, but battled back behind Jacob Gilyard's 26 point outing. Richmond steals an auto-bid from the bubble teams nervously waiting today, securing its first tournament berth in 11 years.
Yale def. Princeton 66-64, wins Ivy League Championship
Yale took a 7-4 lead early in the first half and never gave it back, although it did get dicey at the end. Azar Swain had a tremendous outing for the Bulldogs with 23 points, 6 rebounds and 2 assists in 36 minutes. The team enters the NCAA Tournament for the sixth time in program history and should not be overlooked, no matter the seeding.