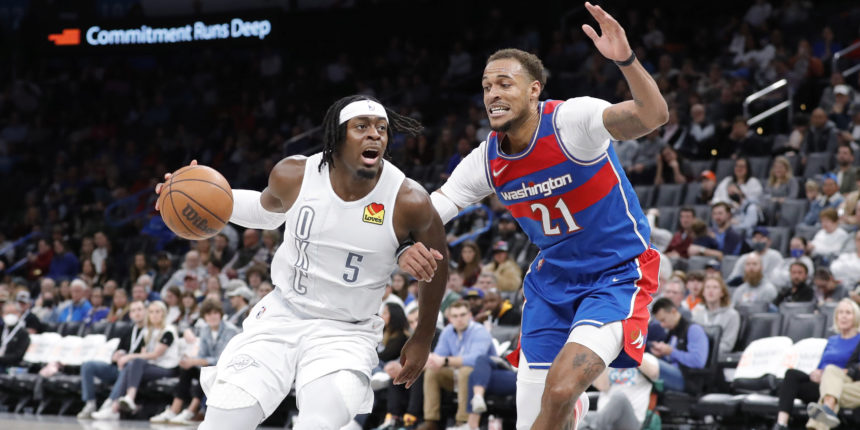 Lu Dort is spreading his wings
The beauty is in the misses, sometimes.
It's a mantra you have to take when evaluating young teams. The results won't be there right away; heck, they aren't supposed to be there. Great ideas will fall to almost-but-not-quite execution, lost forever in the "missed shot" or "turnover" section of the box score if you aren't watching closely enough.
This was true of last year's Oklahoma City Thunder team, a squad that finished 22-50 and ranked dead last in net rating (-10.6). It was especially true after late March, when Shai Gilgeous-Alexander and Al Horford were shut down for tanking maintenance purposes.
With no SGA or Horford to hold down playmaking responsibilities, the mantle was increasingly passed to Lu Dort. The bag was mixed, to say the least. From April onward, Dort averaged 19.5 points while shooting 39.3% from three on north of seven attempts per contest. He also converted 38.5% of his twos — including a paltry 37.1% conversion rate on drives — and barely racked up more assists (24) than turnovers (21) with his increased workload.
It was dope to watch Dort knock down jumpers, though a lot of those were of the "sure, I'll take this if you're going to duck this far under a screen" variety. Important, of course, but not a ridiculous degree of difficulty.
The downhill reps were more intriguing. Dort was still trying to figure out who he was as a driver and, from there, what opportunities would arise based upon his relentless rim pressure. Winning with strength would always be there; doing so with craft was something he was learning on the fly.
It's why reps like this, while ending poorly, were important.
The Thunder go to a variation of "Pistol" action — the cue here is the guard/guard exchange between Theo Maledon and Dort in the corner — to get Dort downhill. Mikal Bridges, an all-world wing defender, jumps out to switch the exchange, and is simultaneously in position to ICE the ensuing ball screen.
But Dort counters with a quick spin, slows up a bit to put Bridges on his hip, then snakes the screen to force the late switch with Deandre Ayton. Dort proceeds to misfire on the kick-out — my guess is he didn't expect Aleksej Pokusevski (Poku!) to lift as quickly as he did — but you can see the processing on display.
Here's another "good process, bad result" rep from last season.
You see the theme: Dort coming off the screen patiently, putting a defender (Steph Curry this time) on his hip as he snakes the action. This time he explodes off one foot and glides, and simply misses the shot. A 37.1% clip on shot attempts after drives is U-G-L-Y, but you see the glimmer of hope as you dig through the film.
Now we fast forward to this season, where Dort is in the midst of a career-year. It's not just the 17.3 points — a 3.3 point increase from last season — but the boost in efficiency as well. He's converting a career-high 55.5% of his twos on 6.6 attempts; that's way up from last year's mark (43.2% on 6.0 attempts).
You can attribute the jump to his finishing. After converting 56.4% of his shots inside of three feet last season, Dort is up to 70.6% this season, per Basketball-Reference. Some of that is due to playing off of SGA and benefitting from some wild passing from rookster Josh Giddey; Dort has been assisted on 47% of his twos so far, up from 45.5% last year.
But a lot of it is Dort just looking more comfortable. Strength has always been his ideal weapon, but he's doing an even better job of dislodging guys on the drive this year. More importantly, he's finding different angles to finish if he does opt to decelerate and proble. After getting blocked on 7.5% of his shots last season, that number is down to 5.2% this year.
We're also starting to see some hints of playmaking shining through. It's not true manipulation or anything advanced, but that's perfectly fine. What Dort is doing is making the right read more often. More importantly, he's making the right read quicker than he did last year.
As a result, his passes have been more fruitful despite the actual volume not changing much.
2020-21 season: 23.5 passes per game, 3.5 potential assists
2021-22 season: 23.7 passes per game, 4.6 potential assists
The final frontier for Dort will be his jumper. His 32% clip from three (on 7.3 attempts) underwhelms, though his willingness to fire is a positive. As mentioned earlier, he's comfortable setting up shop behind screens as defenders go under. Oddly enough, Dort is hitting half of his pull-up threes on the highest volume of his short career (1.6 attempts).
After knocking down roughly 37% of his catch-and-shoot triples last year, Dort is down to 27.5% on 5.7 attempts this season. Here's some profound analysis for ya: that number has to come up in order to pose more of a threat to the defense.
The Thunder are banking on Dort being their version of Marcus Smart for now; that his willingness to shoot when open, despite his percentages, are enough to force closeouts. Give an NBA player enough shots in rhythm and they'll eventually find one. To that point, Dort is shooting 40.3% from deep (8.4 attempts) in his last eight games.
If the jumper proves to be reliable — not even a 40% ratchet, maybe 36ish — we're talking about an entirely different player. The defense alone makes Dort a valuable player. Becoming a threat off the catch — as a shooter, driver, and keep-the-chains-moving passer — would place Dort into a different tier.