The Las Vegas Aces just can't stop winning.
They finished the regular season with the best record in the WNBA (26-10). They snatched the Commisioner's Cup, an in-season tournament the league introduced during the 2021 season, in convincing fashion this year. Their playoff run has been a successful one thus far, with a two-game sweep over (what's left of) the Phoenix Mercury and a thrilling 3-1 series win over Breanna Stewart's Seattle Storm.
Then, there are the awards.
Kelsey Plum, who's done a little bit of everything, won All-Star Game MVP with a record-tying 30-point performance. Chelsea Gray, in the midst of one of the most ridiculous shot-making runs in basketball history, was named MVP of the Commisioner's Cup championship game. WNBA legend and first-time head coach Becky Hammon was awarded Coach of the Year earlier this month. Two-way forward Jackie Young, who came up huge during the Aces' series-clinching 97-92 win on Tuesday night, won the Most Improved Player award.
Future Hall-of-Famer A'ja Wilson won her first Defensive Player of the Year award — she'd probably have my vote for Most Valuable Defender if the award existed — and was named to the All-Defensive First team (her second All-Defensive selection of her career).
And now, you can add another MVP to Wilson's trophy case.
Wilson — with per-game averages of 19.5 points (fifth), 9.4 rebounds (second), 1.4 steals, and 1.9 blocks (first) — received 31 first-place and 24 second-place votes for the award. She edged out Breanna Stewart and teammate Kelsey Plum to round out the top-three.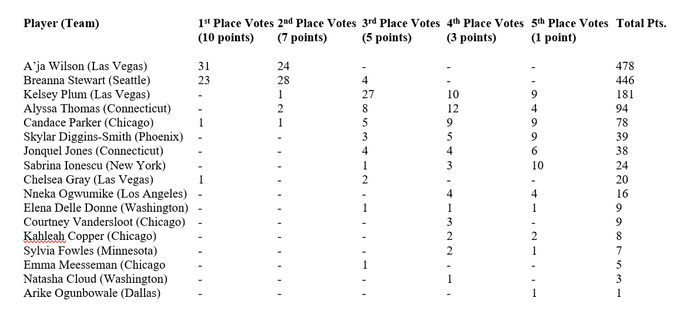 With her second MVP award (first in 2020), she becomes the seventh player in WNBA history to win multiple MVPs. Look at the legends she finds herself in the room with now:
Cynthia Cooper, Houston Comets (1997, 1998)
Sheryl Swoopes, Houston Comets (2000, 2002, 2005)
Lisa Leslie, Los Angeles Sparks (2001, 2004, 2006)
Lauren Jackson, Seattle Storm (2003, 2007, 2010)
Candace Parker, Las Angeles Sparks (2008, 2013)
Elena Delle Donne, Chicago Sky/Washington Mystics (2015, 2019)
It doesn't stop there. Wilson joins Jackson (2007), Leslie (2004), Swoopes (2000, 2002), and Yolanda Griffith (1999) as the only players to win MVP and DPOY in the same season. Suppose the Aces are able to finish the job against the Chicago Sky or Connecticut Sun in the Finals (we'll have the matchup late on Thursday night) — Wilson could join Swoopes (2000) as the only players to win MVP, DPOY and a championship (and possibly Finals MVP) in the same season.
Naturally, Wilson was the engine that made the Aces go on both ends of the floor. While it's easy to point to the Aces finally embracing modern basketball offensively — and Wilson played a role in that, shooting 37% from three on moderate volume — their spread, read-based offense wouldn't work without Wilson as a presure point.
Wilson's work as a roller and popper in ball-screens helped unlock Gray, Young and Plum. Her ability to self-create in the mid-post or lower put defenses in a bind. She could overpower smaller frontcourt players, or blow past larger ones. Defenses either had to let Wilson cook 1-on-1, or send help and open up opportunities for her teammates to attack tilted defenses in the process.
The Aces posted a 109.6 Offensive Rating during the regular season, the best mark in the league and second highest clip in WNBA history (112.9 by the 2019 Mystics). They were even more prolific when Wilson was on the floor, with their scoring efficiency rising to 114.3.
They were more diverse offensively, but their versatility really stood out defensively. They were comfortable playing at the level of ball screens, or outright trapping them. Zone was sprinkled in. Switching was something they went to often during the second half of the season. Drop coverage was utilized, but higher up to take away obvious pull-up pockets for opposing guards.
That versatility wouldn't have been possible without Wilson holding things down at the 5. With the departure of Liz Cambage, Wilson slid down a position and didn't see a meaningful hit in field goal percentage allowed at the rim (64% last season, 63% this season) or defensive rebound rate (75.8% last season, 74.5% this season). The box score stats — 7.6 defensive rebounds (second) and a league-leading 1.9 blocks per game — tell a bit of the story, but Wilson unlocked so much more than her basic stats would indicate.
It's fitting that Wilson receives this award now. Though MVP is a regular season award, Wilson is on one heck of a postseason run. After a subpar Game 1 against the Storm, Wilson averaged 30.0 points, 12.3 rebounds, 1.3 steals, 2.3 blocks in three straight victories to punch a ticket to the Finals. Oh, and Wilson played roughly 123 (122:44 for the nerds) of a possible 125 minutes during that stretch.
What. A. Baller.