"The media's the most powerful entity on earth. They have the power to make the innocent guilty and to make the guilty innocent, and that's power. Because they control the minds of the masses. The press is so powerful in its image-making role." - Malcolm X
I didn't want to touch on any of this. I even tweeted that I was going to mind my business on this.
However, since Kwame Brown posted that first video on his IG account (plus additional videos on IG Live and his YouTube page "Bust Life"), there have been multiple media outlets that have reached out to me to inquire if I would come on their show. They wanted me to get in the middle of what was going on with Kwame and Stephen Jackson and Matt Barnes, and my answer has consistently been an adamant, "No." I told them that they were not going to use me to fan the flames of this beef. When I first caught wind of it, I immediately tweeted that I hated seeing good Brothas beef to this level over something that could've (and should've) been fixed with a phone call, and I still stand by that.
I also have a lot of respect for all of them. I am still amazed at all of the work that Stephen Jackson has done around the world after George Floyd was murdered. I've interviewed both Stak and Matt for my show, "The Rematch," and for my new book on white supremacy and police brutality that I'm currently putting the finishing touches on (shout out to Haymarket Books). Kwame and I have been friends since we were teammates with the Washington Wizards for four seasons, so I have always been in his corner. I immediately ordered some shirts from his clothing line for me and my son. (We got "Momma's Cooking" and "My Momma's Son" shirts).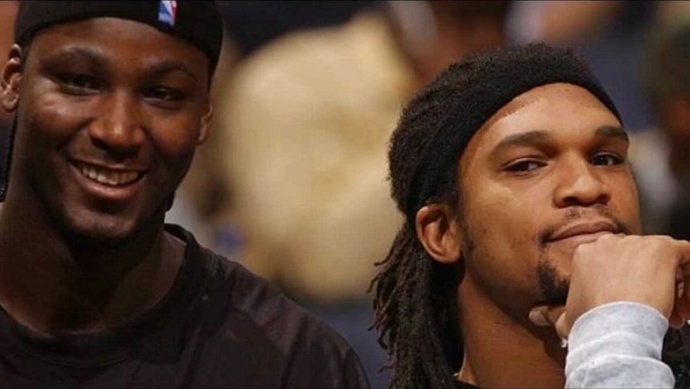 I support all of these Brothas. I do believe they will eventually reach peace in their own time and show all of the world how Brothas can resolve differences peacefully, and then, maybe even work together and achieve something that Pac and Biggie never got the chance to do. Again, I fully believe that will happen in time. And when they do squash the beef and make peace, I want to hear all of the media who have been fanning these flames to be just as loud as they are now... but I doubt we will hear a peep out of the media about that. They love to promote drama and infighting, especially with Black people. It gets ratings and that's why I emphatically told them all, "No." I'm not coming on any of your shows to join you in fanning these flames.
In addition to the media, a lot of NBA executives and former Wizards executives started reaching out to me, saying, "Hey, we know you and Kwame were always friends. You should talk to him." My answer to all of them was, "And say what, exactly? Kwame is a grown man, and y'all are just worried that he's coming for y'all next. So, no, I am not interested in speaking to Kwame on your behalf."
Kwame has a long list of people in the media who have consistently degraded his image, his family and his reputation. They have attacked him as a man for two decades and he has finally had enough.
It's like the movie "Kill Bill" when Uma Thurman had the list of all the people who tried to kill her and was crossing them off one-by-one. Well, that's what Kwame is doing right now. So Stephen A. Smith, Skip Bayless and all those other media people who have assassinated his character for literally 20 years are now feeling the wrath of Kwame Brown.
Many people have asked why I keep bringing up the media and why I'm so anti-media. They say it's the media's job to report, and Kwame, Stak and Matt are doing all of this themselves on their own platforms. People say to me, "What about sticks and stones?" and, "Kwame is being too sensitive," and, "The media criticizes all athletes," etc.
Yes, the media's job is to critique athletes' play. So for instance, if they report that a player isn't rebounding the ball the way they should or that their defense is lacking or their shot is off or they aren't playing up to their potential, that's all fair game.
But when the media attacks someone personally and creates a false narrative about a person's character and manhood, that's an entirely different subject. It is done far too often now that media personalities are treated like celebrities and paid salaries comparable to professional athletes. It seems the louder they are and the more negative they are, the more they are rewarded.