I'll never forget Game 5 of the 2022 Eastern Conference Finals.
On a personal note, it was one of the best days of my professional life. The arena itself was buzzing in anticipation of a series-shifting game. For a fan base that's (mostly wrongfully) berated for not being on time, the arena filled up pretty quickly with Miami Heat fans.
Before the game, I got to meet the legendary duo of Doris Burke and Mark Jones, Yahoo's Chris Haynes and other giants in the industry. It was a surreal stretch of meet-ups considering my wild journey to this point.
And then there was the game itself: a knock-out, drag-out fight until the Boston Celtics turned up the sliders late in the third quarter. A 59-58 Celtics lead with 2:44 left in the third turned into a 77-60 lead with 9:35 left in the fourth. A work of mid-range mastery from Jayson Tatum pushed the lead to 17, forcing Erik Spoelstra to call timeout at the 9:35 mark. Poor Max Strus couldn't do much about it.
I found myself marveling at Tatum's game that night. It wasn't his most efficient scoring outing; he finished with 22 points on 20 shots (5-of-12 from two, 2-of-8 from three). He coughed up the rock five times — two offensive fouls, two (tough) passes that went out of bounds, and a live-ball turnover where he tried to thread a needle into paint congestion.
But I quickly found the fun of a young superstar figuring things out on the fly against an elite defense.
Here was Tatum, a natural bucket-getter, not just being forced to make playmaking reads. No, no, no. He had to set up the chessboard. Because of the Heat's personnel, and because of their aggressive help principles and occasional pre-switches, Tatum was often tasked with setting up a pick-and-roll before actually running what he wanted.
Tatum starts the possession defended by Caleb Martin. A handoff between Tatum and Jaylen Brown invites Jimmy Butler into the fray. A ball screen, this time with Al Horford, calls up Bam Adebayo. Tatum calls for another ball screen to target Duncan Robinson, his ultimate goal from the beginning.
The Heat don't want to switch this one, so Robinson executes a show-and-recover. Derrick White slips into open space with Robinson and Adebayo focused on Tatum. But because Adebayo is involved above the break, the Heat's backline help is pretty small.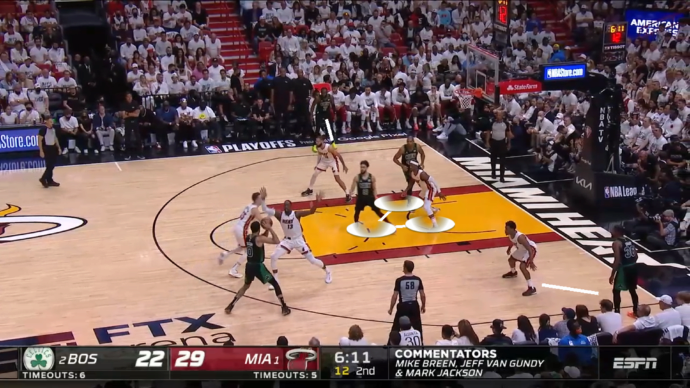 Butler is an All-World defender, but he's stuck between two players in the paint. Robinson hasn't gotten back to White, so Butler has to hold. The issue becomes Horford. Martin can't drop down to pick up Horford like he normally would because Brown is in the weakside corner.
Tatum simply waits to see who Butler commits to. Butler drops back to Horford once he senses Robinson is nearly back to White; in that moment, Tatum fires a bounce pass to White for a layup.
All of that happens within an eight-second span.
To be frank, Tatum wasn't nailing all of that, to this degree, at the beginning of the season. He certainly wasn't doing it with a level of consistency last year. But strides have continued to be made. Even when the result wasn't great, you could see the process improve. He became smarter. The decisions were made quicker, and with more nuance.