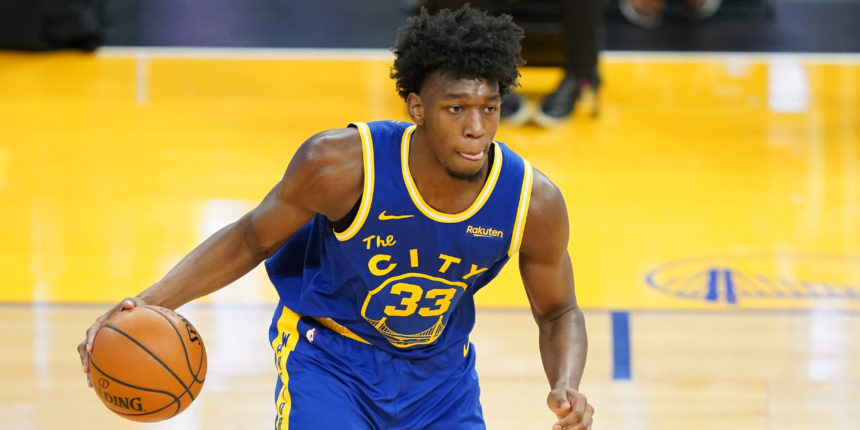 James Wiseman ready to make big strides: 'I'm going to be way better'
When James Wiseman looks back on his rookie season, the 20-year-old describes it as "weird."
"We were in the pandemic, we didn't have fans and I got thrown right into the fire," Wiseman said at the Golden State Warriors' Media Day. "This year is going to be way better because I learned a lot. And then, having a young core is going to be way better too, in terms of our development. I can't wait for that."
The No. 2 overall pick in the 2020 NBA Draft played 39 games as a rookie, averaging 11.5 points, 5.8 rebounds and 0.9 blocks, while shooting 51.9% from the field, 31.6% from three and 62.8% from the free-throw line. Then, in a game against the Houston Rockets on April 10, he tore the meniscus in his right knee and needed season-ending surgery to repair it.
"It was a crazy moment, that game," Wiseman said of the injury. "I was down in tears, and I was out of it because I wanted to be out there playing. That's life, and that's part of the game. Sometimes you get thrown a lot of curveballs, but you have to keep going with the flow and keep moving forward."
Nearly six months later, Wiseman says that his knee is "great" and he's "taking it day-by-day," but there's currently no timetable for his return.
"We don't have a timeline," Warriors head coach Steve Kerr said. "He's doing great with his rehab. We are going to be very careful. Obviously, he's a young player, incredibly talented. We have a great training staff that is going to be cautious and really walk him through every step of the rehab process, so we'll just see how it goes. But [we're] very comfortable with the development process that we have in place. Our development staff is really doing a great job of already employing a lot of the structure that's going to happen in between games. All of our young players will be getting a healthy amount of playing time; even if they are not playing in games for us, they are going to be playing a lot of basketball."
Even though he missed a significant portion of the 2020-21 season, Wiseman has remained in good spirits.
"I'm proud of still going and not giving up; I'm proud of that," Wiseman said. "I learned a lot from last year. Even though the injury sucks, it happens — but none of that gets me down because I'm strong. I can withstand anything... Without adversity, you can't grow. I just took that [injury], ran with it and made a positive out of it. And I'm going to be way better this year because I learned all that last year."
When asked what he learned from his rookie campaign and how he will apply it during this upcoming season, Wiseman rattled off some specific areas where he can improve.
"Just reading the pattern on defense, making sure I call out the patterns on defense earlier and just staying out of foul trouble. So just defending [without] fouling and just using my verticality more because I can be a threat at the rim if I use that correctly," Wiseman said. "I'm just pounding it every day, just watching film and doing stuff like that so I can improve.
"Nobody on this earth is perfect. So really, I just go day-by-day and just want to work hard. I have a courageous mind and I ask all the questions, and that's going to help out a lot too... I want to be better, I want to learn and I want to be the best I can be as a player. I just ask as many questions as possible."
Wiseman was inconsistent throughout his rookie season, which isn't surprising since young centers often have a harder time getting acclimated to the NBA and take longer to develop. Still, the big man received quite a bit of criticism from fans and media — particularly on social media. In April, Coach Kerr noticed that the social-media negativity was getting to Wiseman, so the two made a pact to stay off of Twitter and Instagram for the near future.
"[My Twitter hiatus] actually started as an agreement with James Wiseman," Kerr said. "We were on a road trip somewhere, and I asked James how he was doing. It's obviously a long season, and he had his ups and downs. We were in a conversation about life in general, and I asked him about social media. We started talking about it. I said, 'What do you say we take a break, we both take a break for a few weeks? Get off Twitter and anything else we're on.' He said, 'Yes, let's do it.'"
This break from social media seems to have helped Wiseman.
"Negativity sells in today's society, so I don't associate myself with that," Wiseman said. "I look at a lot of inspirational videos to keep myself uplifted, so I can go out there and play my best... You can't go through life trying to impress other people, so make sure you impress yourself and stay uplifted and stay confident. And make sure you don't let nobody tell you what you can and cannot do because you can do anything that you put your mind to; that's a fact."
Now, he's excited to take the next step in his development during his sophomore season. While his injury has limited what he's been able to do on the court, he has still been working hard behind the scenes.
Wiseman said he's been watching a lot of film, working on his footwork and lateral movements, and improving his upper- and lower-body strength. He has also been meditating and finding ways to "keep his mental sharp." He has spent a lot of time putting up shots and working on his form too.
"I've focused on my technique in terms of my form [when] shooting, and I've been working on that every day for the past three or four months," Wiseman said. "It's come a long way."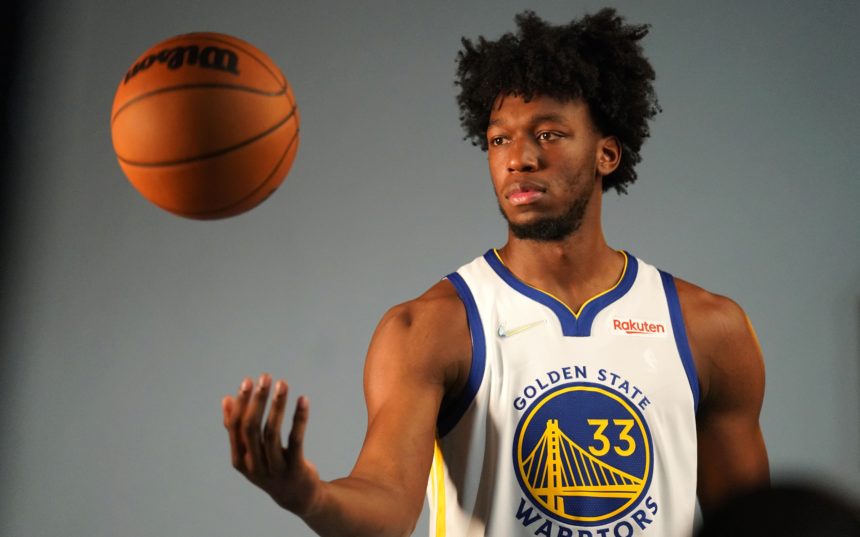 The big man has been working with Warriors assistant coach Dejan Milojevic, who was hired this offseason mainly to help with Wiseman's development. Prior to becoming a coach, Milojevic was a three-time Adriatic League MVP who had a 15-year career overseas. He previously coached Nikola Jokic in Serbia from 2012-2015, and he "has been credited with some of Jokic's foundational basketball grooming," wrote Anthony Slater of The Athletic.
"He's great," Wiseman said of Milojevic. "I love everybody on the staff, but really [Milojevic] is teaching me the basic fundamentals of the game and details of the game. [He's] telling me things that I need to work on, and then we work on them in the gym. We're just working every day."
Wiseman knows that he still has plenty of room for improvement and a lot of work to do in order to realize his full potential. When asked him if he feels like a veteran now that he's no longer a rookie, he gave an honest response.
"I'm not a veteran yet; I have to earn my stripes," Wiseman said. "It's my second year and I just turned 20, so I'm still learning as well. But I [did] get the body of information from what I had to go through last year, so I get a lot of advice and just keep getting a lot of encouragement."
One teammate who has been providing advice and encouragement is Klay Thompson. Since they were both sidelined toward the end of last season, the two spent a lot of time together and ended up watching a number of NBA playoff games together.
"I've been bonding with Klay a lot," Wiseman said. "We've just been going through a lot of games — especially when the playoffs were on — we were watching it together and he was telling me stuff that I can do to be a better center in terms of my role. Yeah, we were talking a lot."
The teammates have been hanging out away from basketball too. Recently, Thompson took Wiseman out on his boat, which the big man enjoyed.
"That was fun," Wiseman said. "He was teaching me the waves, so one day if I get my boat, I'll [know] how to drive it. He taught me a lot of stuff like that. We were talking and vibing and having a great time. I actually enjoyed myself. I was also his deckhand, so I was doing all that stuff. Man, it was crazy!"
While watching the playoffs, Wiseman was studying Phoenix Suns center Deandre Ayton, who is only three years older than him. While Wiseman was with the Memphis Tigers, one of his coaches was Cody Toppert, who had coached Ayton the year prior as a Suns assistant. Wiseman took some lessons away from Ayton's success during Phoenix's postseason run.
"[He was] really just simplifying his game," Wiseman said of Ayton. "I say simplify his game in terms of like the usage rate and really just him being able to read the floor and being able to call out patterns early."
Wiseman is entering this season with a similar approach to his game and role.
"Just like, simplifying my game and just playing my role — keeping it simple, not putting too much pressure on myself and just going out there and doing what I do best," Wiseman said. "Basically, just not forcing everything. Just going with the flow of the game, going within the flow of the system and just staying confident within myself and just playing my goal and just simplifying — keeping it simple for myself."
Ayton, like Wiseman, took some time to become the two-way threat that he is today. Toppert recently spoke to Basketball News about why young big men tend to take longer to develop.
"They can almost impose their will on the game [at a young age], as opposed to reading the game — two entirely separate schools of thought," Toppert said. "And so essentially, the bottom line is when you get to a level where you can no longer do those things, now you're gonna be forced to actually learn the game... James is pretty well built. Deandre was pretty well-built. But the game is so much more physical at the NBA level, and legal physicality, especially big man on big man — you can get away with a lot more in the NBA than you can in college without getting called for a foul. Getting used to that everyday physicality, pounding, beating, is not easy."
Wiseman seems to be doing all of the right things to become a significant contributor for Golden State — such as getting stronger, watching film and expanding his game. Now, he just needs to get as many reps as possible. Typically, a sophomore has been through two NBA Summer Leagues and two training camps by now; Wiseman has missed both in back-to-back years.
"It's not ideal, obviously," Kerr said of Wiseman missing training camp again. "But he's in good spirits, and our coaching staff is doing a great job of working with him every day on the things that he's able to work on. DeJan, in particular, has been with him every single day and, in some ways, it's been healthy. It would be nice if James were out there playing, but because he's not playing, he's focusing on little details. As a young player with so little experience, he needs to work on those details. So, he's getting some good work in now that I think will pay off as he gets healthy and gets back on the floor."
It remains to be seen when Wiseman will take the floor for the Warriors, but he's doing everything he can to prepare for the upcoming season, and all signs point to him making huge strides when he returns.
"Wiseman had such an interesting year last year, not having a Summer League last summer [or] this summer, missed most of training camp, dealing with injuries, and then a season-ending one," Stephen Curry said. "He never really got a full run of games where he could put some momentum together in the right direction, so he was always kind of chasing and feeling like he had to prove himself. Hopefully this year — I know it's not an ideal start again — but hopefully he can kind of simplify the game and understand how he's going to help us win and that will hopefully get him in the right position where he can develop his skill set even more."