Calm. Cool. Collected.
Those are three of the first words that come to mind for me when someone asks about Tyronn Lue. Whether it was the NBA Finals against the Golden State Warriors, or a game where much less was on the line, Ty never lost his cool. It's one of his best qualities, and even though his Los Angeles Clippers ended up losing to the Phoenix Suns in the Western Conference Finals, he deserves a round of applause for the job he did this past season.
Ty took over a team that had championship aspirations, and he had to earn the trust of his players. Even with the challenges of this condensed season and the Clippers' injury issues, he was able to lead the team to its first-ever Western Conference Finals. They fell down 0-2 to the Dallas Mavericks and Utah Jazz and still managed to win those series, despite being without Kawhi Leonard for the last two games against Utah.
Maximum respect.
I consider myself fortunate to have had the opportunity to coach under Ty in Cleveland, and helping bring a championship to my hometown is an accomplishment I'll always cherish.
It's funny how we ended up together. After my playing career ended, David Griffin got wind of me wanting to coach. Griff reached out to me to see if I'd be interested in an assistant coaching opportunity with the Cavs' D-League affiliate, the Canton Charge. I'd just had my youngest son, though, and I really wanted to be around him at that time. But I told Griff that if the same opportunity existed the following year, I would be in.
Knowing what I know now, I realize how lucky I was. There are a lot of guys out there who are looking for an opportunity, and most of them would've jumped at that chance when Griff presented it. But my family is very important to me and the timing just wasn't right. I turned it down, even though some guys wouldn't have.
Fortunately, Griff called me back the next year! And this time, I was happy to take on the challenge of beginning my coaching career. So, I took my talents to the D-League.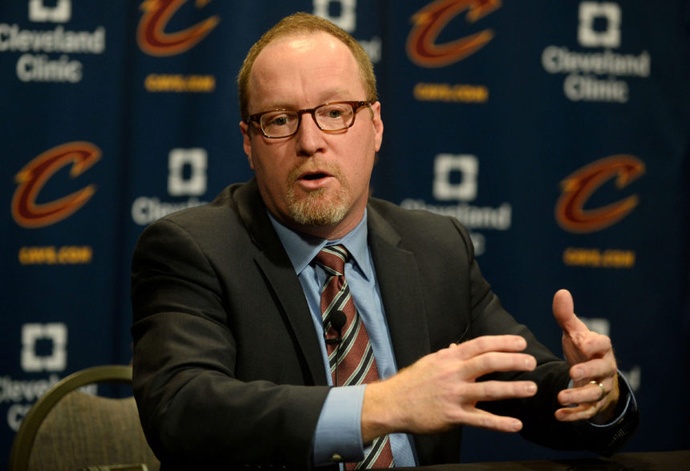 Ty, on the other hand, had already been an assistant coach in the league for a few years. He started out in Boston with Doc Rivers, then followed Doc to the Clippers. By the time I got involved with the Cavs, Ty had been hired as David Blatt's associate head coach in Cleveland. I eventually got called up from the D-League to join Blatt's staff along with Larry Drew, Jim Boylan, Phil Handy and Vitaly Potapenko. That's where it all started, and things worked out for the two of us while we were together there. So it was all thanks to Griff, to be honest.
I think most people assume that me and Ty were friends going back to our playing days, and it makes sense. He came into the league one year before me and we were contemporaries, but we weren't close at all. I mean, I knew who he was and I respected the hell out of him. We were similar in that we were role players, played tough defense and seemed to have similar values, but it wasn't until Griff brought us together that we really became friends. Our friendship developed naturally because I respected Ty and everything he brought to the table.
As a coach, he's extremely knowledgeable. He's well-prepared, he's creative and he just has a level of understanding for the game and how to make things work on the basketball court. As a player who played for great coaches, it's easy for me to recognize that Ty was coached by amazing basketball minds, including Phil Jackson. I think what most people appreciate about him, though, is the fact that he is someone who never, ever loses his cool. Even in 2016, when we were down 3-1 to the Warriors in the NBA Finals, we all knew that no team had ever come back from that deficit to win the championship, but Ty didn't change anything about his preparation or about his delivery.
Of course, we made some minor adjustments, but there was zero panic in this man. It's fair to say that he just exuded so much confidence that our plan would work that it was contagious.
I'll never forget, after Game 4, when Ty was doing his press conference with the media, he repeated to the press what he said to the team right after we lost the game: "If you don't think we can win, don't get on the plane."
Before you knew it, LeBron James was saying the same thing. Tristan Thompson was saying the same thing. It became a rallying cry.
Ty basically said, "Hey look, we gotta go to Oakland to play a game. Then, whether we win or lose, we all gotta come back to Cleveland, right? So if we're going to Oakland to play a game and then coming back to Cleveland, we might as well play a game in Cleveland, too."
It might sound silly, but Ty being such a calm and collected person was what helped the team through, I think. That and, of course, LeBron and Kyrie Irving.
So I wasn't surprised at all to see the Clippers climb out of the 0-2 hole they found themselves in against Dallas and Utah, and even when they fell down 3-1 to Phoenix, I didn't count them out.
We all hear people talk about how much a player's confidence affects their ability to perform on the court (and yes, it is true)… I can tell you from experience that players who believe in their coach also play harder and play better. If they don't think you know what you're talking about, or if they don't think you're prepared, they're just not going to go out there and give you 100% effort.
But if they do? They'll run through a wall for you. That's why I'm not surprised by what the Clippers were able to do this postseason, even without Kawhi Leonard. And I definitely wasn't surprised that they were able to go into Phoenix and win Game 5 of that series.
I'll also tell you this: Ty is a realist. He doesn't try to sell you B.S. or give you any false advertisements. He'll admit to you when your opponent made some big plays and did a few things that exploited some of his own weaknesses or his own team's weaknesses, and I think players respect that accountability.
But let me tell you this: By the time Ty comes to talk to you to tell you he recognizes an area where he or the team fell short, he already has a solution to the problem and a counter-solution to however he thinks the other coach is going to respond. At the same time, he doesn't walk around with his chest puffed out acting like he's the smartest guy in the room, or making others feel like he doesn't respect them or their opinions. He gives everybody a voice, even though he knows that at the end of the day, the route his team takes is going to be his decision.
Some coaches are good at making speeches and doing all the "rah-rah" stuff with the storytelling and the fables and the morals and all that; that's not Ty.
Ty never tried to be Pat Riley or Doc or any of those coaches. His thing has always been planning and showing guys the result of great preparation. He's always been about practicing hard, studying in film sessions and preparing his team for success by getting them on the same page and getting them to believe in a game plan. He's definitely more like Hubie Brown and Byron Scott in that regard, and he's always done things his way.
Being a former player, especially one who's experienced the highest level of success, Ty has been in those shoes before. He knows what pressure feels like, he's been in some tough locker rooms, he's been rattled and has overcome it all. There's nothing he hasn't already seen.
Unfortunately for the Clippers, Chris Paul just refused to be denied when it came down to it. He's been waiting 16 years to get to the Finals, and without Kawhi, Ty and the Clippers just didn't have enough. Even with that being the case, I'm happy that Ty finally seems to be getting his just due.