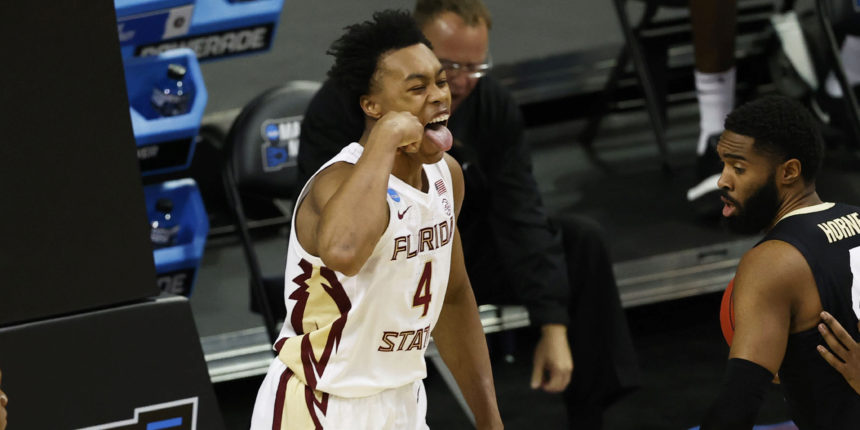 Scottie Barnes brings unique versatility to the 2021 NBA Draft
Scottie Barnes' name continues to gain steam as the 2021 NBA Draft inches closer. With a unique blend of athleticism, court vision and defensive prowess, the Florida State freshman believes he can suit a number of different roles in the NBA.
"[I'm] just a person that's very versatile," Barnes said during media availability at the NBA Draft Combine. "I like to play multiple positions on the floor, offensively and defensively. [I'm] a person that can do multiple things with the ball in their hands, that can make plays with a high I.Q., [and] defensively, just use my length to just guard multiple positions on the floor."
Barnes averaged 10.3 points, 4.1 assists, 4.0 rebounds and 1.5 steals per game during his freshman season at FSU. The 6-foot-9 playmaker thinks his one year of college ball helped him "mature" on the floor, while also highlighting his broad set of skills.
"I will say it helped me a lot, just being able to showcase my talents. On the defensive end, just being able to guard full-court, pick up most point guards, being able to guard multiple positions and switching everything, different things like that. So I will say it was very productive for me to be at Florida State doing those different things."
BasketballNews.com's NBA Draft Analyst Matt Babcock noticed Barnes' strong season as well. Babcock has the 19-year-old going early in his latest mock draft, at No. 6 overall to the Oklahoma City Thunder.
"At 6-foot-9, Scottie Barnes is an effective defender, facilitator and finisher at the rim, giving him extremely unique versatility on both ends of the court," Babcock writes. "Although his footwork and outside shooting are certainly swing skills at this point, Barnes has a ton of upside nonetheless. Don't expect him to remain on the board very long come draft night."
Barnes addressed concerns about his jumper at the Combine, saying he's been constantly putting in work in the gym.
"It's just been a constant thing -- just trying to be a consistent shooter [and] find out where my shot is developing from. My upper half is very good, but it's more now just realizing where it's coming from with my legs. Get my hips, my legs involved into my shot," he said.
"But every day, I'm just getting tons and tons of reps to where it just feels really good -- where I know if I miss a shot, why I miss the shot," Barnes added. "It's about really realizing the 'why' in every shot now, so I can just fix it and adjust it in a game, or if it feels good, it feels good."
Barnes frequently draws comparisons to Golden State Warriors forward Draymond Green. He sees the similarities, with Green's role as a defensive tone-setter and point forward of sorts in Golden State. But Barnes also appreciates the fire Green plays with on any given night.
"I would say that's something that you can compare as well," he said. "Just that competitive nature, that willingness to try to win, and just not gonna give up. Trying to do those little things that people don't recognize on the floor when you're just at home watching the game."
When Barnes gets to the NBA, he plans to provide that same spark on both ends.
"I'd like to introduce myself by just coming in, making an impact on the program, the team right away," he said. "Just coming in, being myself. Showing who I am when I step on the floor: my pride, my love for the game, my energy, all the things that I do when I step on the court."