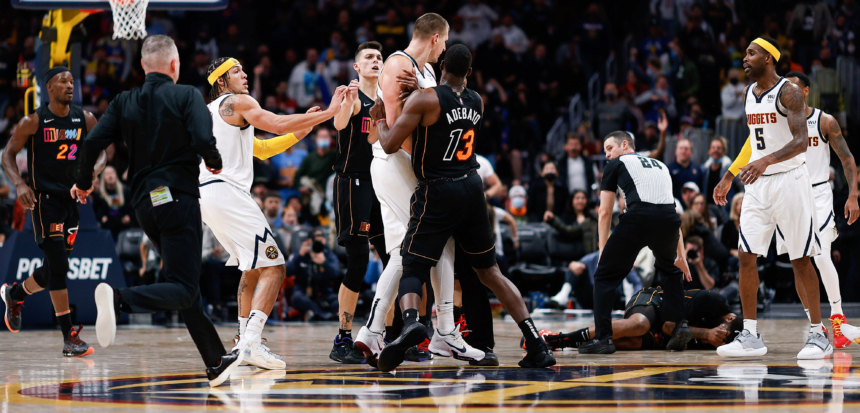 60 days later: Revisiting the Nikola Jokić-Markieff Morris incident
In case you missed it, Markieff Morris had this to say last night.
Ain't shit wild about it! It's a real injury! Imagine having a 300 pound sloppy fat boy run full speed and make direct contact with your spine! I'll be back soon like I said. https://t.co/jMdySrLxuw

— Keef Morris (@Keefmorris) January 7, 2022
Yeah, so, about that.
It's been 60 days since Markieff Morris last played an NBA game. The reason... we all know by now, don't we?
It was common to hear reactions from NBA Twitter, "Inside The NBA" and others that suggested Jokić was in the right and/or Morris deserved it. While Morris can't entirely be absolved because of the needless take foul beforehand, the entire ordeal and aftermath are worth revisiting precisely two months later.
Let's preface the rest by saying, coming from someone who also covers combat sports and asks for your favorite kerfuffles on his profile for this website, I think fighting in non-combat sports isn't as bad as the pearl-clutchers think. It honestly shouldn't even always warrant a suspension — depending on the context — but I understand why it often does. Some sh*t goes too far, but more than often, guys don't even want to fight to begin with. (Kenyon Martin even addressed that here on BasketballNews.com in an article.)

And there's shared blame here, which we'll navigate through as one, big, happy-ass family.
First of all, the video of the fight itself: Bleacher Report having as their headline, "Nikola Jokic INJURED Markieff Morris & ALMOST ENDED HIS CAREER 👀" is pretty wack. Eyeball emojis shouldn't come after ALMOST ENDED HIS CAREER in all caps – that's mad insensitive to still have up there after two months.
Secondly, the comments embody what we're talking about. People saying a variation of Morris getting what he deserved, applauding Shaquille O'Neal and Charles Barkley for defending Jokić's right to obliterate Morris from behind — we'll get to that momentarily.
Not too many combinations of jokes were directed at Morris, who apparently was faking his injury, right? So much so that he still hasn't played since.
Now, the "Inside" guys.
The first thing Charles Barkley said was, "I love this."
Less than a minute later, O'Neal added, "I like what The Joker did."
Asked by Ernie Johnson to expand, Barkley emphatically interjected, rhetorically asking, "What did Joker do?"
Johnson replied, "Gave him (Morris) a shot in the back and whiplashed him."
And Shaq contributed, "First of all, Ernie, it's called retaliation. When you hit me, don't turn around. Don't turnaround, Brad Miller, because I'm swinging," with a laugh.
Kenny Smith attempted to provide a more levelheaded take, saying, "We would hope that Joker could have some self-restraint." He was then immediately shot down by O'Neal and Barkley, and the segment continued.
There's absolutely something to what O'Neal and Barkley said regarding retaliation, self-defense and sending a message. Additionally, there's some arrogance in leveling someone and immediately turning around, thinking you're untouchable as a result. Not great from Keef, there.
And as bad as the neck injury has been for Morris, it could've been worse — a stretcher was even brought out as a precaution. Luckily, he was able to walk off.
And, look, we've all been to an emotional point where the subsequent actions we took were regrettable, so this ain't finger-wagging more than an observation and reevaluation.
Jokić, at 6-foot-11, 284 pounds, has a distinct size advantage over Morris' listed 6-foot-9, 245-pound frame, so throwing his entire body weight into an unsuspecting Morris from behind is especially threatening. You'd probably say Morris put himself in that danger, but even Jokić — clearly not being in his right mind at the time — has to know that he can't charge into Morris from behind like that, which he admitted after. It isn't like the foul was from behind, either.
"It's a stupid play," Jokic said, seemingly with regret. "I feel bad. I'm not supposed to react that way, but it's in the middle of the game. I got hit, I saw him, but I just thought it was gonna be like a take foul... I thought [what Morris did] was a dirty play, and I just needed to protect myself. I fouled him bad, and I'm not supposed to react that way."
He later added, insisting his feelings were genuine, "No, I felt bad, for real... his head snapped back, so I feel really bad."
In regards to the unusually physical Morris take foul, that was mad unnecessary at that point of the game, and when NBA games are out of reach, that's typically when things like this happen. As many people have indicated, Keef has a history of NBA dust-ups — including with DeMarcus Cousins, OG Anunoby, James Ennis, and whatever this was with Buddy Hield among others.
But if his reputation preceded him, Jokic's should too.
Just four months earlier, Jokić was ejected for a reckless-ass frustration foul against 6-foot-1, 180-pound Cameron Payne, then going head-to-head and exchanging words with Devin Booker. Two months before that, Jokić punched Terrence Ross in his arm out of anger for not getting a call he felt he deserved. Ross gave him a receipt later in the half, but not an overly rough one.
In the Orlando Bubble, and in similar fashion, Jokić was upset about a non-call against 6-foot Patrick Beverley, and frustration fouled him on a break by... trying to Rick Flair chop him? In the Nuggets-Blazers 2019 playoff series, he elbowed the sh*t out of Enes Kanter. (Depending on who you ask, he might've been ahead of his time. Lots of people would, and I.... I understand.)
Jokić also had a bumping/shoving match with Marcus, Keef's twin, two years ago.
This isn't to say Jokić is a bad dude or an a**hole. Things happen, and different athletes have different ways of expressing themselves. But if people are going to hold up Morris' past, this should go both ways. And all of these things can co-exist — this doesn't have to be some tribal, side-taking nonsense.
Revisiting all this is not to say we should retroactively ban Jokić for an extended period, but we should reevaluate how we process these things both in the moment and afterward. Morris still hasn't played. I don't care how much you don't like the dude and the misguided, non-productive nature of his foul — he didn't deserve to get hurt and obviously hasn't been faking an injury. (In the moment, I thought Jokić would get suspended 3-to-5 games, so one game appeared light at the time, for what it's worth.)
A question lingers in my mind: How would people have reacted if this were reversed? I'm not even going to Black and white, but more specifically: What if Morris did this to Jokić? Clearly, people would've been coming for Morris' head since he's a role player, Jokić is a superstar, and plenty of y'all don't like the Morris twins to begin with.
On Christmas Eve, Morris said he was "coming soon." He said it again last night.
Well, it's been eight weeks since the encounter with The Joker. At 32 years old, hopefully, he'll be able to reclaim what he established earlier, which has turned out to be his best season in three years. And ideally, Jokić could, as he himself indicated, collect himself a tad better before endangering someone else in this fashion.