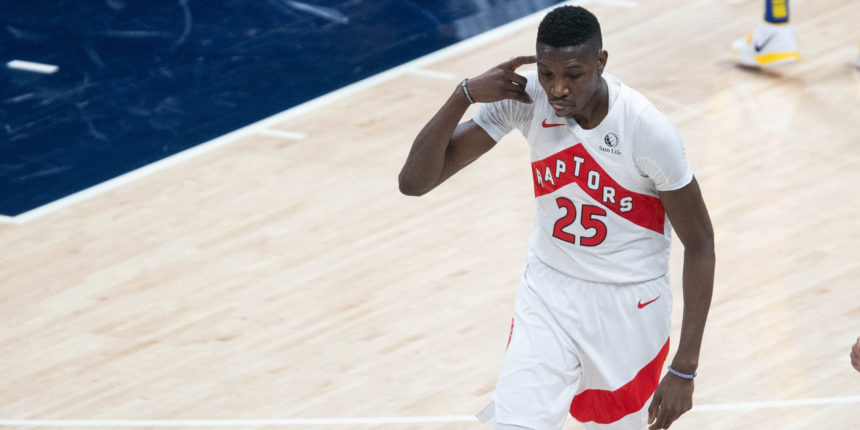 Is Raptors' Chris Boucher worth a flyer For Most Improved Player?
No Eastern Conference team has had a worse year than the Toronto Raptors when it comes to living up to preseason expectations, which is understandable when you consider the fact that the entire organization relocated to Tampa, Fla. because of cross-border travel coronavirus concerns.
Yes, they beat the Golden State Warriors by 53 points Friday night, but that came after losses in 13 of their previous 14 games. They are currently 11th in the Eastern Conference, two games behind the Chicago Bulls for the No. 10 spot that would ensure them at least one play-in game.
But they have taken a deep drop since winning the NBA championship two years ago, and their fans back in Ontario are entering a month-long government-ordered lockdown today. It is going to be a long April in Toronto, but the thing about the NBA is… You just never know.
The Raptors were 5.5-point favorites against the Warriors on Friday night, so they covered by a mere 47.5 points on a night when the oddsmakers set the over/unders so high that eight of 10 games finished under. The game between the Dallas Mavericks and New York Knicks was under by 28 points, although the Phoenix Suns and Oklahoma City Thunder went 22.5 points over the number the oddsmakers had set for total points.
This all goes to show that gambling lines can be way off in this most uncertain of seasons, and that brings us back to the Raptors and, specifically, big man Chris Boucher.
Boucher grew up in Quebec and three years ago, he was playing part-time for the Raptors' G League affiliate. (Neat factoid: As a rookie with Golden State in 2017-18, he played one minute of one game and missed his only shot, a three-point attempt).
The fourth-year veteran has improved his scoring from 6.6 points per game to 13.2, and his shooting percentage has gone from 48.2% to 52.7%.
Much improved, eh?
But Most Improved?
That is debatable, but if there has been one constant throughout this strangest of NBA seasons, it has been the debate over who will win a bunch of the postseason awards. Those awards are selected by a panel of about 120 writers and broadcasters who cover the league on the regular basis (the fans also get a vote for Most Valuable Player).
One writer has gone 12-for-12 with his votes, picking all of the correct award winners over the last two seasons: Zach Harper of The Athletic. On Thursday, he made the case that – at this point of the season – he sees Boucher as most qualified to get his vote. According to him, Boucher beats out Detroit's Jerami Grant and Houston's Christian Wood.
From Harper's column:
"I do think Chris Boucher has been the Most Improved Player, and not entirely just because he's played 48 games to the 24 of Christian Wood. The Toronto Raptors have been slowly bringing Boucher along for a couple of seasons now, and we've seen a vast improvement in everything he's doing. He's a legitimate Sixth Man for the Raptors. He's a defensive presence, especially around the rim. He's turned himself into a real threat around the rim, a real 3-point shooter, and someone who has a good in-between game, as well. Boucher has been great for the Raptors, even though their season has been less than. His improvement from last year is tops for me at the moment."
Boucher is 80-1 to win the award at DraftKings and PointsBet, and 100-1 at FanDuel and BetMGM. Every sportsbook that has a line posted on Most Improved has Julius Randle of the New York Knicks as the heavy favorite. Randle has gone from averaging 19.5 points, 9.7 rebounds and 3.1 assists per game last season to 22.8 points, 10.8 rebounds and 5.9 assists this season. Although they fell below the .500 mark with Friday night's loss to the Dallas Mavericks, the Knicks currently sit poised to make the postseason after a seven-year drought. If they do, that may give Randle an edge. But nothing's promised.
At DraftKings, just 1% of the total money bet on Most Improved Player has been on Boucher and he has 6% of the Sixth Man of the Year handle, spokesman Parker Winslow said.
At PointsBet, Boucher has taken just 0.85% of the handle, which is 12th among all players. Meanwhile, Grant has taken 27.5%, Wood is at 26% and Randle is at 14%, according to spokesman Wyatt Yearout.
We still have one-third of the season left, and as veteran NBA writer Brian Mahoney of the Associated Press noted in my most recent podcast, there has been an above-average amount of debate over postseason awards this season. So we shall see where Most Improved goes the rest of the way.
With so many new faces populating NBA rosters, along with so many teams resting superstars regularly and so many MVP candidates injured, the actual Most Improved Player may come out of nowhere as the season rolls toward its conclusion.
There are a couple Porter, Jrs. out there – Kevin in Houston and Michael in Denver – who are sitting at 150-1. Perhaps they're worth some consideration, as well.
The field is obviously open, but as of right now, Boucher – for several reasons – is an interesting flyer opportunity for people who have wagering legalized in their states.