Early in the first quarter, Michael Porter Jr. once again finds himself stationed on the right wing.
Jamal Murray flies off a Nikola Jokic screen at the free throw line. Porter Jr. misfires the pass to Murray, the ball practically falling at the feet of Clippers forward Marcus Morris. Morris pushes the ball and chaos ensues.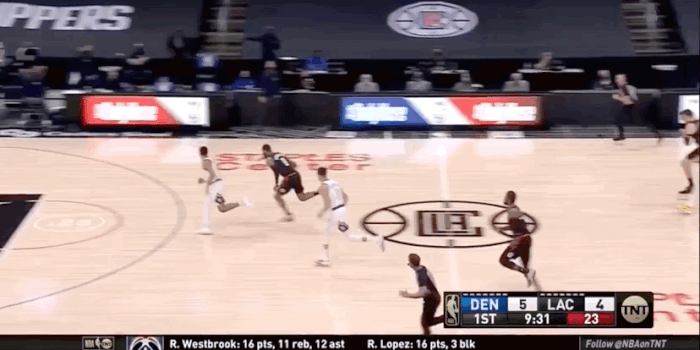 We get a failed chasedown block, then a recovery, rotation, and a block from Porter Jr. He rim-runs after the swat and Aaron Gordon, filling the same right wing that Porter Jr. did to kick off the action, fires a dart inside to get the 6-foot-10 forward a dunk.
There's something fitting about the exchange, an entertaining blip in the middle of a 101-94 victory. The play begins with Porter Jr. operating as an initiator, and it fails miserably. It ends with Gordon piecing things together; not just filling the slot, but sliding an extra couple of steps to create a wider passing window so Porter Jr. could cap things off.
This is what the Nuggets want out of Porter Jr: multiple efforts on defense and efficient bucket-getting on the other end. The transition sequence is a basic view of what the Nuggets want out of Gordon: fill the space created from the gravity of their top two, and help branch things together when necessary.