The NBA is often deemed a copycat league, and a trend doesn't truly become popular until it surfaces as a buzzword in our NBA lexicon.
When bully ball was deemed the route to success, big, bruising centers were at a premium. Centers like Roy Hibbert were highly coveted and "verticality" became the buzzword du jour. However, these centers were often too slow-footed to keep pace with the new era.
In fact, this next era demanded mobility. Pace-and-space came to be in direct response to the lumbering center, with the hopes of playing them off the floor.
This was spearheaded by the three-point revolution and the small-ball revolution (which are often conflated for one another).
The three-point revolution boils down to a simple math equation: 3 > 2. The small-ball revolution exists to attack the limitations of a traditional roster construction. It does so by targeting a position that often struggles to guard in space: a plodding center.
Trends in basketball are no different than trends on the runway, in that they're cyclical and must come to an end (bye bye skinny jeans). While most teams are busy copying the latest fad, the most innovative teams are taking risks by developing their counters in search for the next trend.
The three-point revolution is unique in that the math makes it difficult to solve for. As long as a three-pointer is greater than a two, the NBA will never do away with a healthy reliance on the outside shot.
Small ball, however, is finally beginning to see it's counter. A new iteration of basketball is materializing, having been born out of a generation of big men who grew up watching the Golden State Warriors' affectionately nicknamed "Death Lineup" make their traditional role obsolete.
To understand this next iteration of NBA basketball and the emergence of modern bigs, we must first understand the specific advantages that made small ball so successful and their necessary counters.
Small ball as a concept is easier to understand than to define. In the most simplistic terms, it is a style of play with a single big as opposed to two. A more granular definition is ripe with overlapping concepts that evolve with each new season. Buzzwords like "positionless," "5 out," "pace-and-space" and "switchability" have made up our understanding of small ball in recent years.
The base idea is by playing without a traditional two-big-man lineup, what you lose in size, strength and interior presence, you more than make up for in speed, agility and shooting. Seeing as centers are often the least mobile and fleet of foot, they're usually replaced by sliding a smaller player up.
For example, in 2012, while "verticality" was the buzzword that was taking the league by storm, Hibbert's Indiana Pacers faced the Miami Heat in the Eastern Conference Semifinals. After Chris Bosh got injured, the Heat were forced to play 6-foot-8 Shane Battier, a career wing, in Bosh's place at the 4.
That nerdy love child of necessity and innovation gave way to big-time small-ball success. This would grow and take shape over the next decade, playing big men off the floor and reaching it's pinnacle with the Warriors dynasty.
Trading size and a domineering interior presence for shooting and speed is not a new concept. Offensively, it has not only existed but thrived for a long time, most notably with the 'Seven Seconds or Less' Phoenix Suns from the mid 2000s. However, for the better part of the last decade, we've also begun to see it succeed defensively, and that's when teams all over the NBA started trying to imitate it.
As the old saying goes: Defense wins championships. Even the poster child of the NBA's small-ball era, the Warriors — who featured two of the greatest three-point shooters of all-time — won on the back of the most versatile defense in the league. The most successful small lineups aren't just a menace on the offensive end with their elite shooting; they must also wreak havoc defensively.
As teams in the three-point era attack with heavy diets of pick-and-roll, switching defenses became a necessity. On the flip side, traditional centers being switched onto crafty guards around the perimeter usually spells doom. And with an extreme emphasis on floor spacing and three-point shooting, this mismatch can do serious damage quickly. In order for small ball to succeed in keeping the big man off the floor, smaller defenders who can more than hold their own against bigger guys are essential (à la Draymond Green).
It's easy to understand why small ball took the league by storm. But while most teams have conformed, trying to play smaller with an emphasis on floor spacing, a few teams have gone in another direction: banking on length and hoping that "long ball" is the answer to the league's small-ball reign.
Though colloquially "long ball" refers to spacing the floor, in this case it refers to long players replacing small players to shrink the court. This next iteration features lengthy wingspans and wreaks havoc in the best way. It's built out of wings with the dimensions of a center (and centers who have ditched the weight room for a skills clinic). A perfect example is Anthony Davis.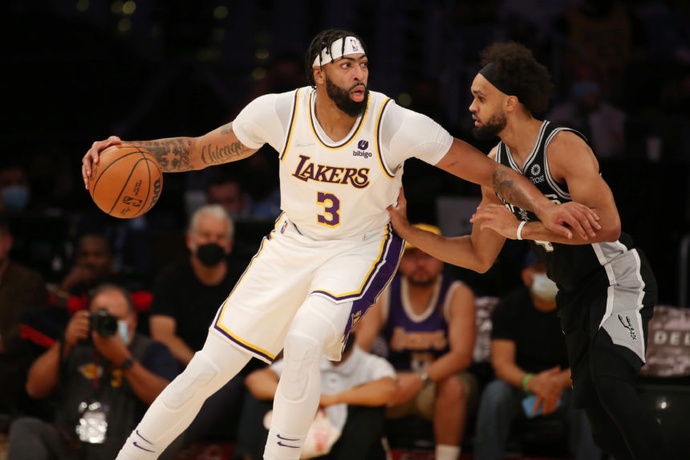 In 2020, the Houston Rockets took small ball to an extreme, trading away center Clint Capela and having no one taller than 6-foot-8 on their roster. In the regular season, they punished bigs by playing an inverted pick-and-roll, using guard James Harden as a screener and pretend big man Jeff Green as the ball-handler.
Though the experiment was successful in the regular season, it didn't work as well in the playoffs, as the Los Angeles Lakers eliminated the micro-ball Rockets in five games in the Western Conference Semifinals. The Lakers won because of Anthony Davis, who prefers to play the 4 but moved up to the 5 without fear of getting beat up down low. Unable to punish Davis in the pick-and-roll, Houston floundered.
Davis is unique in that he has the skills of a guard and the body of a big. This is because he was a 6-foot-3 guard up until his growth spurt to 6-foot-11 over the span of a year-and-a-half.
And now, we have a whole generation of future centers who are training to be like Davis. This is the revenge of the bigs, who have heard take after take about how the NBA is disposing of them and seen one too many small guys replace their role. The once foundational piece to every team's wardrobe has been left to either adapt offensively (à la Davis and Nikola Jokic) or be relegated to rim-runner duties.
With this archetype of big man disrupting the advantages of small ball, the question that innovative teams are asking is: How would a team fare with multiple Anthony Davis types? How about multiple Giannis Antetokounmpos? Would several tall, long men whose wingspans eat up inches on the court be able to suffocate the dimensions and disrupt passing lanes?
The Cleveland Cavaliers are testing this question out with their extra tall lineup, which many are referring to as "tall ball."

I'm hesitant to call this tall ball, because it's not about height as much as it is length. The same can be said of the Toronto Raptors, who are also bucking the small-ball trend despite not having a single player who's taller than 6-foot-10 on their roster. Instead, Toronto has six players with a wingspan of 7-feet or greater.
Height doesn't matter; length matters because it measures how far out you can guard. Basketball isn't played on the ground or above your head, it's played in the space in front of you and what's necessary is the arm length to guard it.