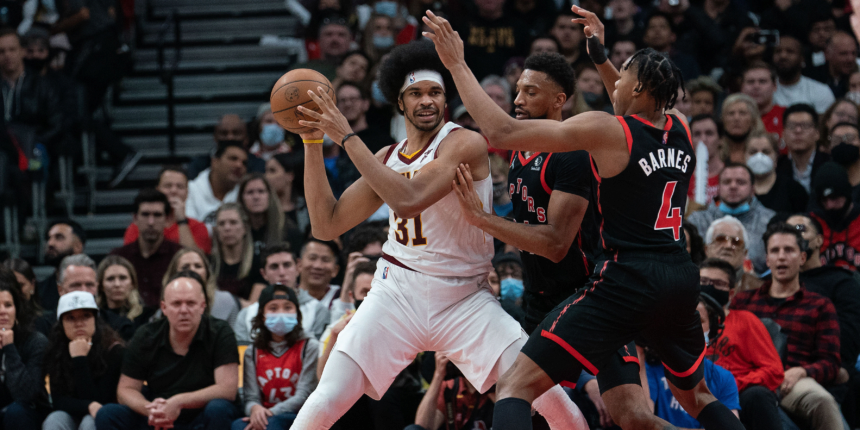 Length matters: The NBA's long-ball revolution may be coming
The NBA is often deemed a copycat league, and a trend doesn't truly become popular until it surfaces as a buzzword in our NBA lexicon.
When bully ball was deemed the route to success, big, bruising centers were at a premium. Centers like Roy Hibbert were highly coveted and "verticality" became the buzzword du jour. However, these centers were often too slow-footed to keep pace with the new era.
In fact, this next era demanded mobility. Pace-and-space came to be in direct response to the lumbering center, with the hopes of playing them off the floor.
This was spearheaded by the three-point revolution and the small-ball revolution (which are often conflated for one another).
The three-point revolution boils down to a simple math equation: 3 > 2. The small-ball revolution exists to attack the limitations of a traditional roster construction. It does so by targeting a position that often struggles to guard in space: a plodding center.
Trends in basketball are no different than trends on the runway, in that they're cyclical and must come to an end (bye bye skinny jeans). While most teams are busy copying the latest fad, the most innovative teams are taking risks by developing their counters in search for the next trend.
The three-point revolution is unique in that the math makes it difficult to solve for. As long as a three-pointer is greater than a two, the NBA will never do away with a healthy reliance on the outside shot.
Small ball, however, is finally beginning to see it's counter. A new iteration of basketball is materializing, having been born out of a generation of big men who grew up watching the Golden State Warriors' affectionately nicknamed "Death Lineup" make their traditional role obsolete.
To understand this next iteration of NBA basketball and the emergence of modern bigs, we must first understand the specific advantages that made small ball so successful and their necessary counters.
Small ball as a concept is easier to understand than to define. In the most simplistic terms, it is a style of play with a single big as opposed to two. A more granular definition is ripe with overlapping concepts that evolve with each new season. Buzzwords like "positionless," "5 out," "pace-and-space" and "switchability" have made up our understanding of small ball in recent years.
The base idea is by playing without a traditional two-big-man lineup, what you lose in size, strength and interior presence, you more than make up for in speed, agility and shooting. Seeing as centers are often the least mobile and fleet of foot, they're usually replaced by sliding a smaller player up.
For example, in 2012, while "verticality" was the buzzword that was taking the league by storm, Hibbert's Indiana Pacers faced the Miami Heat in the Eastern Conference Semifinals. After Chris Bosh got injured, the Heat were forced to play 6-foot-8 Shane Battier, a career wing, in Bosh's place at the 4.
That nerdy love child of necessity and innovation gave way to big-time small-ball success. This would grow and take shape over the next decade, playing big men off the floor and reaching it's pinnacle with the Warriors dynasty.
Trading size and a domineering interior presence for shooting and speed is not a new concept. Offensively, it has not only existed but thrived for a long time, most notably with the 'Seven Seconds or Less' Phoenix Suns from the mid 2000s. However, for the better part of the last decade, we've also begun to see it succeed defensively, and that's when teams all over the NBA started trying to imitate it.
As the old saying goes: Defense wins championships. Even the poster child of the NBA's small-ball era, the Warriors — who featured two of the greatest three-point shooters of all-time — won on the back of the most versatile defense in the league. The most successful small lineups aren't just a menace on the offensive end with their elite shooting; they must also wreak havoc defensively.
As teams in the three-point era attack with heavy diets of pick-and-roll, switching defenses became a necessity. On the flip side, traditional centers being switched onto crafty guards around the perimeter usually spells doom. And with an extreme emphasis on floor spacing and three-point shooting, this mismatch can do serious damage quickly. In order for small ball to succeed in keeping the big man off the floor, smaller defenders who can more than hold their own against bigger guys are essential (à la Draymond Green).
It's easy to understand why small ball took the league by storm. But while most teams have conformed, trying to play smaller with an emphasis on floor spacing, a few teams have gone in another direction: banking on length and hoping that "long ball" is the answer to the league's small-ball reign.
Though colloquially "long ball" refers to spacing the floor, in this case it refers to long players replacing small players to shrink the court. This next iteration features lengthy wingspans and wreaks havoc in the best way. It's built out of wings with the dimensions of a center (and centers who have ditched the weight room for a skills clinic). A perfect example is Anthony Davis.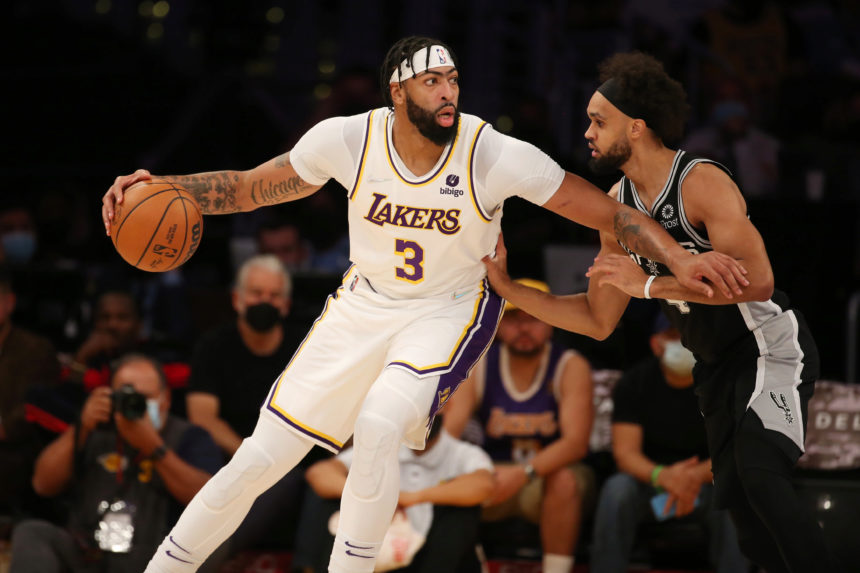 In 2020, the Houston Rockets took small ball to an extreme, trading away center Clint Capela and having no one taller than 6-foot-8 on their roster. In the regular season, they punished bigs by playing an inverted pick-and-roll, using guard James Harden as a screener and pretend big man Jeff Green as the ball-handler.
Though the experiment was successful in the regular season, it didn't work as well in the playoffs, as the Los Angeles Lakers eliminated the micro-ball Rockets in five games in the Western Conference Semifinals. The Lakers won because of Anthony Davis, who prefers to play the 4 but moved up to the 5 without fear of getting beat up down low. Unable to punish Davis in the pick-and-roll, Houston floundered.
Davis is unique in that he has the skills of a guard and the body of a big. This is because he was a 6-foot-3 guard up until his growth spurt to 6-foot-11 over the span of a year-and-a-half.
And now, we have a whole generation of future centers who are training to be like Davis. This is the revenge of the bigs, who have heard take after take about how the NBA is disposing of them and seen one too many small guys replace their role. The once foundational piece to every team's wardrobe has been left to either adapt offensively (à la Davis and Nikola Jokic) or be relegated to rim-runner duties.
With this archetype of big man disrupting the advantages of small ball, the question that innovative teams are asking is: How would a team fare with multiple Anthony Davis types? How about multiple Giannis Antetokounmpos? Would several tall, long men whose wingspans eat up inches on the court be able to suffocate the dimensions and disrupt passing lanes?
The Cleveland Cavaliers are testing this question out with their extra tall lineup, which many are referring to as "tall ball."

I'm hesitant to call this tall ball, because it's not about height as much as it is length. The same can be said of the Toronto Raptors, who are also bucking the small-ball trend despite not having a single player who's taller than 6-foot-10 on their roster. Instead, Toronto has six players with a wingspan of 7-feet or greater.
Height doesn't matter; length matters because it measures how far out you can guard. Basketball isn't played on the ground or above your head, it's played in the space in front of you and what's necessary is the arm length to guard it.
The unfortunately-named Ape Index measures your height minus your wingspan. The majority of us average citizens have a neutral Ape Index, meaning our height and wingspan are identical in length.
Most NBA players have a positive Ape Index. The Raptors' starting frontcourt of Pascal Siakam, OG Anunoby and rookie Scottie Barnes have an absurdly long Ape Index, with an average of +5. What they lack in height, they more than make up for in length.
While having a long wingspan has its offensive benefits — as it allows you to get your shot up and score over your defender with relative ease — the main benefits are seen defensively.
It's no surprise that big men are slower than smaller guards; just Imagine Kyrie Irving and Jonas Valanciunas in a foot race. Taller men also have slower reflexes. This is because our reactions stem from electrical signals that travel along our nerves to our brain and then back to muscle that reacts. The longer the distance, the slower our reaction time. This would explain why a big man can never keep up with a guard's first step.
What length provides is additional leeway — the extra inches help you recover from a slower response time. Longer limbs provide better lateral movement and, not to mention, it's easier to block and contest shots without ever moving your feet.
The Raptors' length affords them the ability to gamble a ton on defense, as their long limbs allow them to recover quicker than most. Toronto leads the league in deflections per game (20.9). Gary Trent Jr. leads all NBA players with 4.4 deflections per game, while Fred VanVleet ranks third (3.9), Siakam comes in at 10th (3.3) and Anunoby is 12th (3.2). That's four of the Raptors' starting five currently placing in the top-12 of the NBA's deflections leaderboard.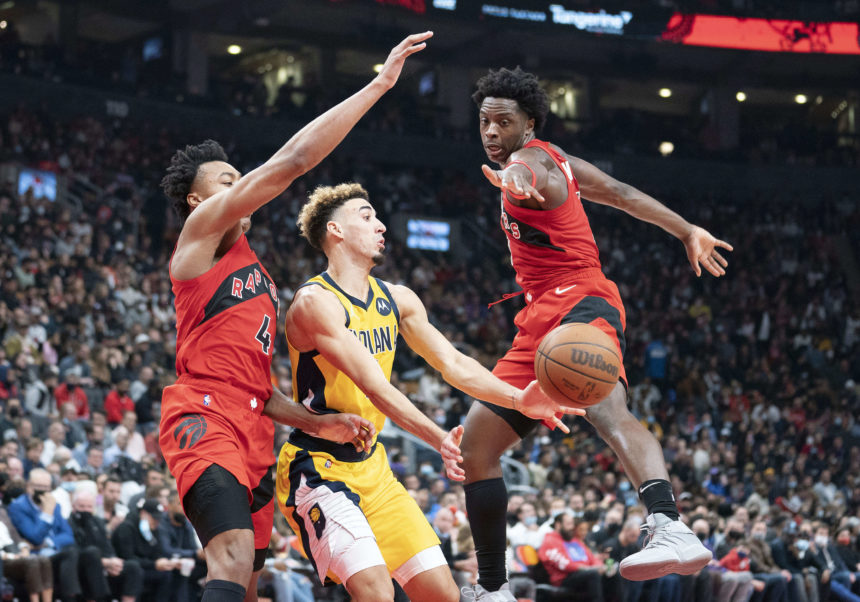 This is a direct result of the aggressive, blitzing style of defense that head coach Nick Nurse deploys, which uses a flurry of limbs to rattle opposing offenses. Toronto's defense is still a work in progress, but it shows great promise.
Curiously, the NBA doesn't measure the in-seam. With more and more teams looking for the next Giannis Antetokoumnpo, you'd think that most teams would want to know whether a prospect can dribble the length of the court in three giant leaps.
Contact length measures the space between each step. Usain Bolt is often thought to be the fastest man in the world because of how he towers over his competitors. More than his height, it's his long legs that give him an advantage. The longer your legs, the longer your gait. Bolt only requires 40 strides to run 100 meters whereas his competitors require at least 45 strides.
In the NBA, that translates to the distance you can cover and ground you can make up scrambling on the court. While small ball creates space, long limbs fill the gaps. Shrinking the court allows guys to close out with plenty of recovery time to spare. It can be the added advantage in beating your man out to loose balls, and it makes getting out in transition a breeze. The Raptors rank first among all teams in loose balls recovered (7.6) and fastbreak frequency (with 20.3% of their possessions in transition).
No position has seen a shift in duties quite like centers. Prototypical centers of the 2010s like Dwight Howard, Andre Drummond and DeMarcus Cousins had to shed weight to stay in the NBA and play in this pace-and-space era. And no team exemplifies this shift in duties for seven-footers more than the Cavaliers.
After a couple years of drafting up-tempo guards, Cleveland has gone all-in on big men, becoming home to the biggest starting lineup in the NBA. The Cavaliers start three near seven-footers Evan Mobley, Jarrett Allen and Lauri Markkanen.
What would once be considered an outdated and slow-footed trio is actually the most innovative starting lineup in the NBA. And it's all centered around the duo of Mobley (the No. 3 overall pick in the 2021 NBA Draft) and Allen (the fifth-year center). Mobley is 6-foot-11, with a 7-foot-4 wingspan and +5 Ape Index. Allen, who stands at 6-foot-11, has an impressive +6 Ape Index, with a 7-foot-5 wingspan.
The third big man in this gargantuan lineup is Markkanen. Despite Markkanen's 6-foot-11 frame, he only has a 6-foot-10 wingspan, which is the shortest Ape Index on the roster at -1. Markkanen is also far and away the worst defender of the trio (mentioned solely to stress the correlation between wingspan and good defense).
The Cavaliers' starting lineup features all three modern-big-man archetypes. Markkanen is the three-point specialist who spaces the floor and prefers to play on offense like a wing. Allen is the prototypical big who's an elite rim protector and excellent on the boards. And Mobley is the unicorn who makes this all work as a Swiss-army knife that can guard multiple positions, including hanging with quick guards on the perimeter.
The Cavaliers have a top-five defense despite the fact that their starting five features three poor defenders. The length of both Mobley and Allen more than makes up for the defensive liabilities at the other three positions. With Allen protecting the rim and Mobley guarding the perimeter, the two have been phenomenal, proving that multiple bigs can be on the floor together. Their length and ability to recover quickly mean a lot fewer bail-out fouls too. And despite being able to get to the rim, teams are having a very difficult time scoring there, as they'll always run into a seven-footer.
The defensive rating for the Cavs with Mobley, Allen and Markkanen on the court is 99.0 through eight games, which would be good for second-best in the league behind only the Warriors. Teams are shooting 58.5% within five feet of the basket, which is good for fifth-best in the league, per NBA.com.
Since the dawn of NBA time, giants have ruled the game. From Bill Russell and Wilt Chamberlain to Kareem Abdul-Jabbar and Hakeem Olajuwon, centers were the foundation of a franchise. Within the last decade, the small-ball revolution and three-point revolution have made them an afterthought. Even All-Star ballots did away with the position, opting to keep it open to any frontcourt player.
Meanwhile, a new generation of seven-footers have been waiting in the wings and they are finally emerging. These big men were taught the value of pace-and-space and trained to exploit the lack of size in small-ball lineups, while not giving up anything in terms of speed and quickness. And now these long-legged bigs are ready to step onto the runway, with teams like the Raptors and Cavaliers going all-in on them and playing several together for the first time in a long time.
This is an era where seven-footers are long, slender and skilled, and just as adept at guarding along the perimeter as they are at protecting the rim. A new era, where seven-footer is now defined by wingspan rather than height. It's also an era certain to dictate the next NBA trend because, in the NBA, size still matters.