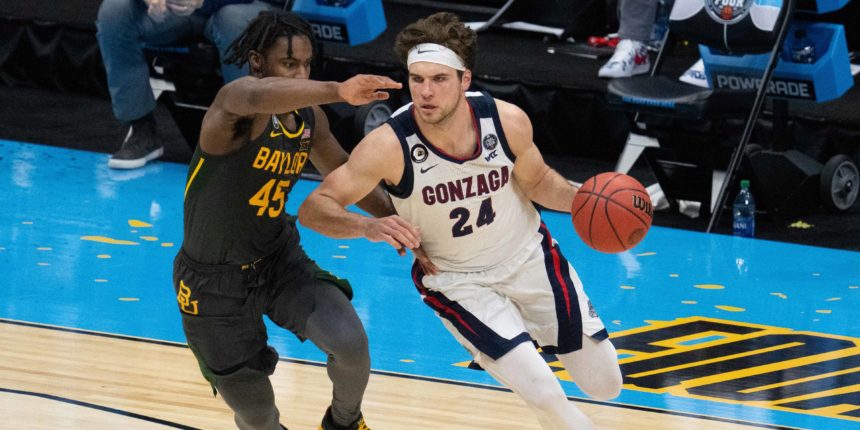 Corey Kispert treated senior year as 'a runway to my rookie season'
When Corey Kispert sits down and watches film from his freshman and sophomore years at Gonzaga, he doesn't recognize himself in some ways. He was still a solid marksman from beyond the arc, but not nearly as on-target as he's been as an upperclassman with the Bulldogs, and there's another element of his game that's really matured as well.
"I've grown my game so much off of the dribble over the last two years," Kispert said at the NBA Draft Combine in Chicago last week. "That's kind of a testament of how much I can improve in that time, and I can't wait to see how much I improve from here on out."
At the Combine, Kispert interviewed with the Boston Celtics, New Orleans Pelicans, San Antonio Spurs, Minnesota Timberwolves, Cleveland Cavaliers, Golden State Warriors, Chicago Bulls, New York Knicks, Oklahoma City Thunder, Los Angeles Lakers and Los Angeles Clippers.
A New Orleans reporter asked him about the Pels, to which Kispert replied that he is "tailor-made" to play with Zion Williamson and Brandon Ingram, guys who need the ball in their hands and driving lanes to score.
"I'm able to put the defense in constant motion, move the furniture around to give those guys opportunities to make plays," Kispert said. "I'm a great complement as well just to take pressure off of 'em. Those guys need to go out and score 20-25 a night; that's the kind of players they are. But I'm definitely able to step in and take that scoring load off of them, too, with obviously my shooting and playmaking."
The majority of Kispert comparisons are to his good friend Joe Harris, and he welcomes the honor; however, that's not who he pays the closest attention to in studying the tape. His favorite player to watch is Klay Thompson, whose 60-points-on-12-dribbles game is Kispert's main go-to highlight when he is coming off a tough night on the court.
"The guy that has been the gold standard for me forever," Kispert said. "The way he plays the game, the way he impacts their team... you see how much [the Warriors] miss him since he's been out. I want to be as close to that as I can."
Coming off a steadily-ascending, four-year-long career that nearly culminated with a national championship, Kispert is champing at the bit to show what he's made of at the next level. After all, this isn't the first time that he's declared for the NBA Draft.
Following an abrupt end to his junior campaign due to the pandemic, Kispert threw his name into the hat as an early-entrant junior in April 2020. Three-and-a-half months later, he chose to withdraw and finish things out in college.
As a senior, Kispert produced by posting career-high averages almost across the board: points (18.6), rebounds (5.0) and, most importantly, True Shooting percentage (66.3%), free-throw percentage (87.8%) and three-point percentage (44.0%).
In addition, Kispert boasted a 23.1% usage rate, expanding his role from shooter to multi-tool scoring threat.
"I treated all last year as kind of a runway to my rookie season," Kispert said. "I went through the draft process last year and was able to get feedback from teams and kinda took their advice to heart, and was able to implement those things right away."
Though the last three rounds of this year's NCAA Tournament may not have gone as planned individually, and his team coming up short in the title game will leave a bad taste in his mouth, he looks at the overall experience as a plus going into the pros.
"Being in a pressure situation in the Final Four and the National Championship game is gonna be able to [help me] translate right away into those big games, especially when the fans come back into those arenas in those packed playoff environments. If I'm blessed enough to play in the playoffs next season, I'll be able to draw back on that," he explained.
"It helped me understand what it takes to win a game like that. I've played in a National Championship [game] before and we came out a little bit flat and it cost us the game, so being able to come out for a game with enough energy to take on a team like Baylor was huge. I had a great year. I grew a bunch as a person. Having to navigate through COVID and all the protocols we had to work with was not an easy task. Putting a team together with [those] kind of obstacles is tough. I had a lot of fun playing this year though, [with] all that being said. It was one of the most enjoyable years of basketball I can remember. A lot of good and a lot of bad."
There's still more work to do in utilizing his all-around game. For example, Kispert realizes he needs to do a better job of consistently putting the ball on the deck when defenders over-close on him near the perimeter. It'll make guys pay for guarding with too much aggressiveness.
"It's reading guys out of the corner of your eye," Kispert said. "You're looking at the ball coming in; I think you can feel the defender, and that's something that I'm really thankful to have thousands and thousands of reps doing, just being in games. That's kinda the situation I find myself in a lot. So just continuing to work on that, kinda sharpening the tools in my toolbox in every way I can."
While he didn't participate in any scrimmages (like most projected lottery picks to avoid injury), Kispert helped himself a ton in the Combine testing drills. He tied for the runner-up in the shuttle run among his peers (2.99 seconds) and placed 10th in lane agility (10.91 seconds).
And although he was in the middle of the pack in the three-quarter sprint (3.12 seconds) and both of his measured vertical leaps (30.0 inches standing, 37.5 inches maximum), Kispert believes he did enough to dispel the common misconception that he's unathletic.
"I think I get pegged as a guy who people can take advantage of on defense, and for whatever reason, a guy who can't run, can't jump, whatever," Kispert said. "The numbers I had in the Combine were a great start to proving people wrong, and I can't wait to get on the floor and continue to do that."
BasketballNews.com's latest NBA Mock Draft currently has Kispert slotted at No. 14 going to the Golden State Warriors, and most others have him being selected in the lottery-to-mid-first range. Standing at a solid 6-foot-7 with 223 pounds on him, he's got the right size to flourish in the pros.
"Whoever I'm fortunate enough to play for, I want to be there and play significant minutes and make an impact right away. I want to impact winning and I want to be able to call that place home for a while," Kispert said. "I want to have enough impact to be able to play for long periods of time, hopefully for the same team, and I think this is a really good start and the kind of Combine I've had is a good start towards that."
Wherever he ends up going, Kispert has his goals in mind, and with the loyalty he displayed to Mark Few and the Bulldogs, it's not surprising to find out he wants to find a place to stick.