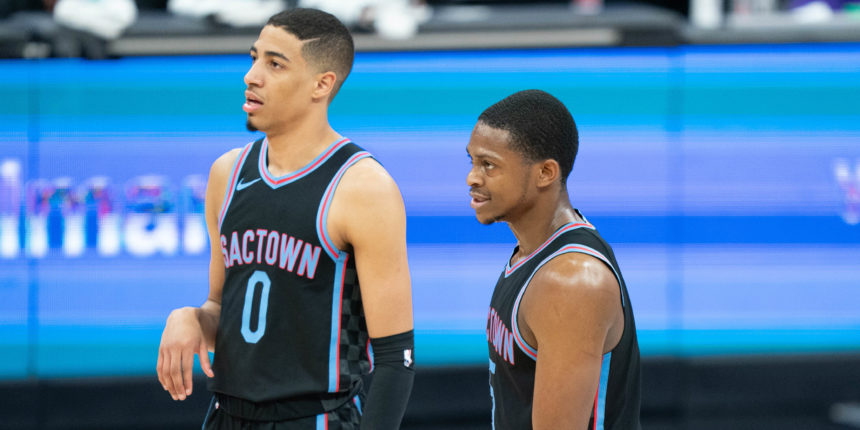 How will the Kings successfully escape the abyss?
For 15 consecutive seasons, the Sacramento Kings have missed the playoffs. The last time Sacramento was a postseason squad, Mike Bibby, Ron Artest and Brad Miller were their primary contributors.
Far and away the longest streak in the NBA, Sacramento has become the proverbial cellar-dweller. Stuck in a rudderless cycle of mediocrity, how can the Kings finally escape this position? With how loaded the Western Conference currently is, it's going to be a massive task to break through as a top-eight team in the 2021-22 season.
However, the cupboard isn't totally bare in Sacramento. De'Aaron Fox's five-year rookie max extension officially kicked in this offseason. Tyrese Haliburton immediately proved to be an integral piece to their core as a rookie, averaging 13.0 points, 5.3 assists, 3.0 rebounds and 1.3 steals while converting 40.9% on three-pointers. Richaun Holmes, who proved to be a legit starting center in the Association, is now locked in on a new four-year, $55 million deal. Davion Mitchell, the No. 9 overall pick in the 2021 NBA Draft from Baylor who was lauded as one of the most pro-ready prospects, will slot in as the Kings' third guard.
Outside of those four pieces, there are questions about the rest of Sacramento's rotation and whether they are actually in the team's long-term plans.
Buddy Hield was almost traded on draft night to the Los Angeles Lakers for Kyle Kuzma and Montrezl Harrell, proving he's more than available in discussions this offseason. Marvin Bagley III, who was drafted No. 2 overall in the 2018 NBA Draft ahead of Luka Doncic and Trae Young, has not fared well in his first three seasons due to injuries and inefficient play. Rumors have also circulated around Bagley III being floated in trade talks entering into the final year of his rookie-scale contract. Harrison Barnes is a very solid, reliable two-way wing who has revamped his career in the purple and white, but will he be in Sacramento once his contract expires after the 2022-23 season? The rest of Sacramento's roster is filled with unproven young players yet to make a dent in their rotation.
So, the Kings are truly in an interesting spot. What direction should they go in? Do they make an aggressive push in an attempt to reach the seemingly impossible playoff threshold or continue playing the waiting game for years to come?
The Kings should try to find the best fits to surround their backcourt duo of Fox and Haliburton. If that's a win-now move or continuing to add young prospects, it's the best bet to make this longstanding postseason drought rewarding once it ends.
Bringing back Holmes on a long-term deal was a great start, because he was the only player in three-man lineup combinations to carry a positive net rating (+5.8 NetRtg) alongside the budding young backcourt throughout last season. In a career-best season for Holmes, the 27-year-old big man averaged 14.2 points, 8.3 rebounds and 1.6 blocks in only 29.2 minutes per game. When Fox, Halliburton and Holmes shared the floor in 43 games, Sacramento's record was close to .500 at 20-23.
Meanwhile, on the opposite end of the spectrum, swapping out Holmes for Bagley III alongside Fox and Haliburton caused their lineup metrics to plummet. Sacramento was outscored by 20 points per 100 possessions when this trio shared the floor, over a 25-point swing in the wrong direction compared to Holmes. Sacramento would be wise to move off Bagley III to open up more minutes elsewhere, but his value is at an all-time low. Simply salary dumping Bagley III is a possibility, but there's a better way to maneuver this tumultuous situation.
Hield and Bagley III's 2021-22 salaries combine to be $33.7 million. With both players in trade talks, Sacramento can slyly become a sleeper team in the Western Conference by making one big swing for the fences: Ben Simmons.
Sacramento is missing more defensive versatility and playmaking to help anchor an already promising foundation led by Fox and Haliburton. Insert Simmons into the mix and Sacramento is cooking with gas on, immediately taking a huge leap forward. Simmons and Haliburton would become one of the most entertaining one-two playmaking punches in the NBA, while Fox takes on a primary scoring role with the easiest buckets he's been fed throughout his career. Barnes would be a terrific floor-spacer, while Holmes' efficient rim-rolling will excel while being tossed picture-perfect lobs.
Sacramento becomes a playoff contender, potentially even a lock to make the big dance, if they were to land Simmons. The No. 1 overall pick from the 2016 draft has needed a situation where he can run the show with optimum spacing around him, similar to the ecosystem Milwaukee Bucks superstar Giannis Antetokounmpo is thriving within. The Kings present an intriguing situation to make those dreams a reality. Fox and Haliburton can play off the ball with no issue, which we saw throughout last season as they shared playmaking duties.
NBA insider Marc Stein reported last month that Sacramento is one of five teams to have expressed interest in acquiring Simmons from Philadelphia. The Sixers' asking price for Simmons is quite simply outrageous — four first-round picks and an All-Star player. Nobody is going to send Sixers GM Daryl Morey that much in return for the 25-year-old point-forward, but Sacramento does stand out as the one team desperate enough to cobble together an enticing package to make it happen.
In the organization's current state, no star-caliber free agent will ever consider making their next long-term home in Sacramento. Making an aggressive trade is the only way to make it happen. Rolling the dice is tough, because it could all blow up in their face down the road, but risks need to be made in order to break the curse in Sacramento.
If the Kings refuse to go all-in, they will continue to stay in neutral. Eventually, the button needs to be pushed in order to become a well-respected playoff threat.