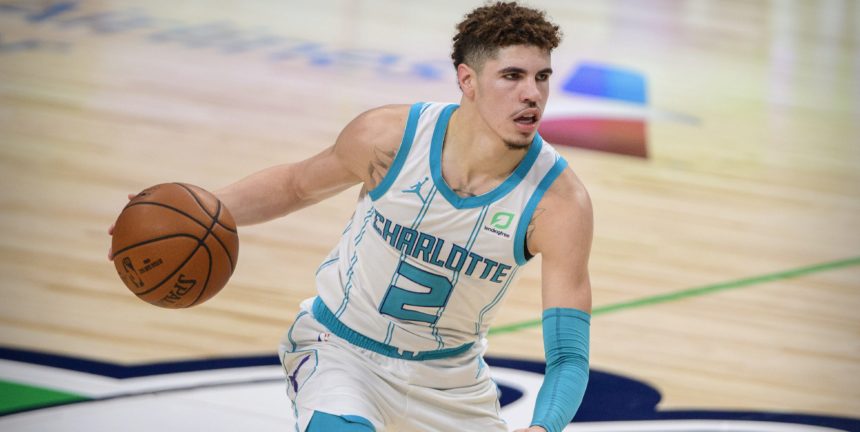 How LaMelo Ball hit the jackpot with his NFTs: 'Nobody's done it this way'
Charlotte Hornets star LaMelo Ball has had a terrific month.
Not only did the 19-year-old win the NBA's Rookie of the Year award and headline the All-Rookie First Team, he became the first athlete to launch a dynamic NFT (and made a ton of money as a result).
For those who don't know, NFTs (Non-Fungible Tokens) are essentially digital collectibles. And a dynamic NFT is a digital collectible that can evolve and unlock additional perks based on real-world events. In Ball's case, his dynamic NFTs are tied to his NBA stats and achievements.
Ball has one of the best-selling athlete NFTs of all-time, behind only Patrick Mahomes, Rob Gronkowski and Francis Ngannou. Mahomes, Gronk and Ngannou launched their NFTs in March, when the market peaked. In the months since, LaMelo's NFT has been the top seller in the sports space, beating out NFTs from Floyd Mayweather, Damian Lillard and Major League Baseball among others.
Many athletes have released NFTs, but Ball found several ways to differentiate his. Not only is he the first athlete with a dynamic NFT tied to his stats, Ball attached real-life perks to his digital collectibles. LaMelo is giving away autographed memorabilia, 500 NBA tickets, his high-school championship ring and more, and anyone who bought one of his NFTs is entered to win.
Because each token essentially serves as a raffle ticket for these giveaways, they appeal to all of his fans (even those who aren't particularly interested in NFTs).
"Creating a community with as much reach as Melo's, we're using NFTs to segment his fans with token-specific perks and then rewarding those fans throughout his career to make a gamified experience like never before," said Sher Chaudhary, the co-founder of Playground, the NFT design studio that's working with Ball.
There are four tiers of LaMelo's NFTs: Red Mars, Blue Neptune, Silver Moon and Gold Sun. They are each tied to a different NBA stat or achievement.

For example, Silver Moon is tied to LaMelo's real-life assists. So, every time Ball records an assist in an NBA game, the NFT updates in real-time and (presumably) becomes more valuable. This will also allow Ball to celebrate certain accomplishments with his fans. For instance, he could do a giveaway or unlock certain perks when he records his 1,000th assist.
Think of it like a trading card where the stats are always up-to-date and, if the player succeeds, the collector reaps the rewards.
"This is the first dynamic NFT issued by an athlete — or the first NFT to include a player's statistics in its metadata," Chaudhary explained. "Those stats update in real-time without any manual entry. Melo can issue rewards to fans based on milestones he sets, like passing a set number of triple-doubles in a season or receiving a specific NBA award."
Gold Sun, the most-expensive tier, was tied to Ball winning the NBA's Rookie of the Year award. It basically allowed fans to place a predictive bet that Ball would win the award. Once Ball was officially announced as the Rookie of the Year, the NFT evolved and unlocked additional perks.
The idea is that as Ball continues to succeed on the court -- racking up more stats and achievements -- his NFTs will update, unlock perks and become even more highly coveted.
"When I found out that my tokens could 'know' my stats and awards over time and update themselves, I just knew that was something I never heard before, so I got interested," Ball said in a statement to BasketballNews.com.
"Nobody's done it this way, and I'm big on doing things differently. I've been learning about what Chainlink does with real-life data and stats as well as how popular NFTs are. People reached out to do NFT art with me, but it seems way more fun to put my stats on the blockchain instead."
24 HOURS LEFT 🛸💕

rookie of the year nfts

on sale👇🏼https://t.co/9GGbyVl5BW

— Melo (@MELOD1P) June 25, 2021
It's paying off in a big way. Looking at the sales on Ball's NFT website, it's unclear exactly how much LaMelo has made, but it's safe to say it's over $1,000,000.
Gold Sun #1 was auctioned off for 30 ETH (worth approximately $80,640 at the time of the sale). The winner also received the autographed pair of shoes that Ball wore when he recorded his first NBA triple-double (becoming the youngest player in NBA history to do this).
Ball sold over 100 Gold Suns (around $6,000 each) as well as hundreds of Silver Moons (around $2,600 each), over 1,100 Blue Neptunes (around $260 each) and all 6,500 Red Mars (around $26 each).
"All credit to the fans, really; they've supported me at every step, even since high school," Ball said. "I think it's really cool that thousands of people are joining the NFT world to be a part of this community."
In the future, will we see more celebrities and athletes use dynamic NFTs to interact with their fans and give away exclusive memorabilia and experiences?
"I hope so," Ball said. "[For] athletes, definitely; everybody follows our stats and awards."
"I think we've created a clear model for athletes," Chaudhary added. "But now I'm even more excited to see how celebrities outside the sports world can bring real-life data to their NFTs — maybe musicians and stream counts, or movie studios and box-office sales."
After NBA Top Shot exploded in popularity earlier this year and introduced many basketball fans to NFTs, it briefly piqued Ball's interest. Ball's moments are some of the most-highly-coveted and expensive on NBA Top Shot's marketplace. Hornets guard Terry Rozier tweeted about purchasing several of his teammates' moments (including LaMelo's), so Ball asked what it was. "Put me on," Ball tweeted.
About an hour-and-a-half later, Ball sent a second (and final) tweet about NBA Top Shot. He quote-tweeted a post about a LeBron James moment selling for $208,000 and asked, "What LeBron get off it?"
To answer Ball's question, players don't receive much money from Top Shot. For every sale, Top Shot takes a 5% fee, which they split with the NBA and NBPA. The NBPA's portion of the revenue is divvied up evenly among the players. So, stars like LaMelo and LeBron get the same revenue check as a bench player with a cheap moment. (Revenue generated from NBA-jersey sales is divided in the same way.)
Perhaps that's when LaMelo decided to venture into the NFT space on his own. If he was going to get involved in crypto collectibles, he would do it his way and benefit from his popularity.
"I feel like NBA Top Shot made everybody know what NFTs are," Ball says, "and my team is helping me take NFTs to the next level."