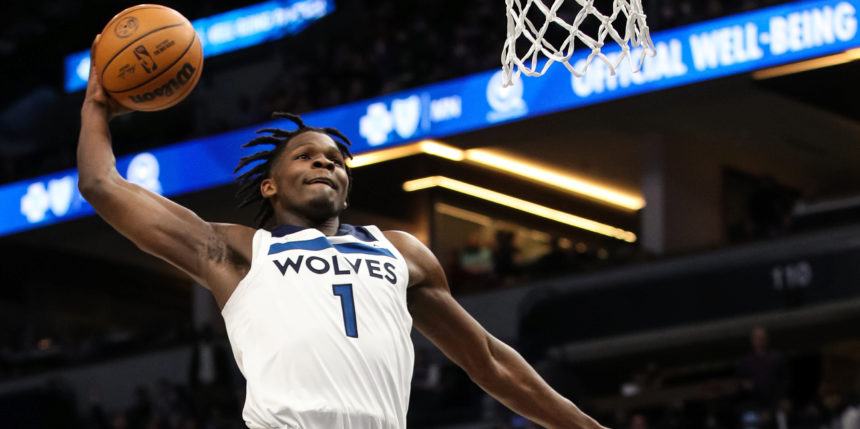 How high can Anthony Edwards fly? Examining the 20-year-old's ceiling
Potential is a strange thing. It's not something tangible that you can hold in your hand, like a lightsaber or a McRib. Yet we tend to obsess over it. Sometimes, we even lend it more weight than observable talent.
The NBA and all those associated are not immune from this tendency. We circumnavigate the globe in search of the game's most fascinating prospects in the hopes that their unique skillsets will help deliver our favorite franchise to the promised land. However, all too often, we fail to stop and ask ourselves, "What are the limits of our imagination?"
Arguably no player exemplifies this pattern in human nature better than Anthony Edwards. On one hand, once you see the flashy, second-year guard showcase his frenetic athleticism and effortless charm, it's easy to come away convinced that he could be the one to pry the Minnesota Timberwolves out of the depths of playoff irrelevancy. On the other hand, it's hard to chalk up his funky shooting mechanics, questionable shot selection and tendency to lose focus on defense to mere growing pains.
This polarity leaves us in a state of basketball limbo. Anthony Edwards: Savior or bust? Which label (if either) is more appropriate? To frame it more pointedly: Just how high can Anthony Edwards fly?
In an attempt to examine Edwards' ceiling, I scoured NBA history to find players with a similar skillset and explored whether Edwards could follow a similar trajectory. I decided to look at five possible developmental outcomes for the young guard. For each player comparison, I've included that player's peak season in terms of Box Plus/Minus (using the BackPicks version of the stat) and an explanation of what Edwards would need to add to his game to reach that level (except for the "Pessimist Floor" tier). Lastly, I offer my thoughts on which tier I think Edwards is most likely to reach.
Tier 1: Pessimist Floor - Andrew Wiggins (Starter)
Peak BPM (2020-21): 1.0 (T-150th that season)
Yep, I didn't wait long to start pissing people off. To avoid Timberwolves fans going into a state of existential dread, I won't spend too much time on this comparison. But you have to admit, these numbers (and the situations surrounding these two players) look pretty gosh darn similar.
| | | | | | | | |
| --- | --- | --- | --- | --- | --- | --- | --- |
| Name | Season | Age | USG%* | PTS/75* | rTS%** | Passer Rating** | BPM** |
| Edwards | '21-22 | 20 | 27.5% | 22.1 | -1.6% | 3.5 | 1.0 |
| Wiggins | '16-17 | 21 | 29.0% | 24.1 | -1.9% | 3.4 | 0.3 |
*Data provided by Basketball Reference
**Data provided by Backpicks
In all seriousness, though, you would need to have a major case of the Rust Cohle "I'm bad at parties" to believe that Anthony Edwards, barely a full calendar year into his career, won't get any better than he is right now at age-20.
Tier 2: Optimist Floor - Jerry Stackhouse (Fringe All-Star)
Peak BPM (2001-02): 2.1 (T-52nd that season)
The more optimistic among us will point to Edwards' violent athleticism and penchant for invading the interior (79th percentile rim frequency, per Cleaning the Glass) to say that at the very least, he will match the production of the post-Jordan wave of athletic two-guards from the early 2000s — particularly Jerry Stackhouse.
In Stackhouse's two All-Star campaigns, he averaged 23.2 and 28.1 points per 75 possessions, respectively, and he did so on above-average efficiency in part because of his ability to get easy points at the free-throw line (averaging 9.5 attempts per 75 possessions during that span).
With all his shots at the rim, you would think Edwards would produce more than the 3.3 free-throw attempts per 75 possessions that he's currently averaging. Yet watching him reveals that he struggles identifying when to slow down and deploy his strength on his drives. For instance, on this play, he should have utilized his size advantage on De'Aaron Fox by taking a power dribble and forcing Fox to foul him, rather than trying to zoom past Fox, pick up his dribble and give Fox an opportunity to rip the ball out of his hands.
Edwards is already handling high-volume usage at near league-average efficiency. But to increase both those outputs further, he's going to need to use his physical tools to earn some more freebies at the line.
Tier 3: Median Outcome - Donovan Mitchell (Solid All-Star/Weak All-NBA)
Peak BPM (2020-21): 3.9 (T-19th that season)
One player whom Edwards garnered comparison to during the pre-draft process was Donovan Mitchell. Though I'm not sure how similar their physical parameters are these days, the Spida trajectory is still instructive as it features an aspect critical in transforming an inefficient volume scorer to an offensive focal point: the pull-up jumper.
In 16 playoff games, from 2017 to 2019, Mitchell shot 29% on 75 pull-up jumpers. In the last two postseasons, he shot 47% on 117 pull-up jumpers over the course of 17 games (per NBA.com). This improvement helped catapult his True Shooting Percentage from an abysmal sub-50%, in the 2018 and 2019 playoffs, to a stellar 64% over the past two postseasons.
Conversely, in his young career, Edwards has shot 32.6% on his 248 pull-up jumper attempts, per NBA.com. While we've yet to witness him in a playoff setting, his learning curve in that environment would likely be significantly less steep (and his ascension to All-Star status would likely come far more quickly) if he could start knocking down those types of shots at a mid-40% clip.
Tier 4: Reasonable Ceiling - Vince Carter (Solid All-NBA)
Peak BPM (2000-01): 4.7 (T-7th that season)
While Mitchell is one of the better shooters in today's game, peak Vince Carter had a case as the best in the league during his heyday. As Cody Houdek pointed out in an article for Premium Hoops, Carter shot 34% of his team's threes in 2000-01 (converting nearly 41% of his attempts), which matches Steph Curry's share in his famous 2015-16 unanimous-MVP season.
In the string of clips below, you'll get a glimpse of Carter's expansive shooting vocabulary. Like Mitchell, he had the pull-up jumper down pat, but he could also knock down shots off the catch-and-shoot, from the triple-threat position, while falling away and following a nasty stepback.
For Edwards to reach All-NBA status without being a high-end contributor on defense (more on this in a bit), he will need to sport a similar cache of weapons to reach peak Carter-levels of volume and efficiency (nearly 27.5 points per 75 possessions on +3.3% Relative True Shooting Percentage). Luckily for him, he's got the bag in his hands; he just needs to deploy it more efficiently.
Another thing that Edwards needs to take from Carter is his self-awareness. Even before his mature years in Memphis and Atlanta, Carter was wise enough to recognize his limitations as a primary ball-handler, so he made it a point to get the ball out of his hands as quickly as possible. That wisdom led to some nice feeds, like this one right here:
Too often, Edwards falls prey to the "let's-see-how-quickly-I-can-deflate-the-basketball-by-dribbling-it-excessively" school of thought, and it leads to pointless sequences like this one here:
Fortunately, he has moments of passing clarity where he analyzes the floor and quickly identifies the right play too:
If Edwards can learn to get the ball out of his hands quicker, it will make it easier for the Wolves to insert a stronger ball-handler next to him (*cough* Ben Simmons *cough*), which increases the team's potential for building a high-level offense around him. Couple that with the outside shot-making mentioned earlier, and you have a recipe for how Edwards can develop into an All-NBA player.
Tier 5: Best-Case Scenario Ceiling - Dwyane Wade (MVP Candidate)
Peak BPM (2008-09): 6.5 (3rd that season)
You knew this was coming. Wade, for my money — the third greatest two-guard ever — is the apex of the Edwards' archetype (because Michael Jordan isn't actually human, and the level of technical soundness required to match Kobe Bryant isn't a reasonable expectation for someone who didn't commit to basketball full-time until high school).
With that said, Edwards even reaching Wade-level is a shot in the dark, in part because of Wade's status as one of the premier perimeter defenders of all-time. What distinguished him from others in this regard was his affinity for racking up "stocks." He finished in the 86th percentile or higher in both block and steal percentage for his position every year from 2005-2013, per Cleaning the Glass. The Ant-man currently sits in the 80th and 79th percentile in those stats, which does bode well for his defensive impact moving forward.
Wade was also a strong man defender who used his strength, speed and savvy to keep other guards in front of him. Look here as Wade defangs the Mamba himself:
Edwards has shown flashes of similar shutdown artistry (as in the first two clips below), but he's also had his fair share of "olé" moments mixed in there as well (as in the last two clips below):
On offense, Wade surpasses Stackhouse's free-throw drawing rates, Mitchell's playoff-scoring potency and Carter's best volume and efficiency outputs while somehow managing to blend that with strong playmaking.
Wade shares Carter's knack for making quick-time decisions as a secondary/tertiary playmaker, but when necessary, he's also able to flip the switch and operate as a high-level offense's lead initiator. For example, the 2005-06 Miami Heat finished seventh in the league in offensive rating with Wade as the team's leading assist man.
Here are some clips that demonstrate Wade's playmaking abilities:
His status as a passer is further solidified by Ben Taylor's Passer Rating stat, where he scores over a 6 (which is a good score for guards) in 13 of his 16 seasons, including peaking at a rating of 8 in the 2008-09 season, per Backpicks.
To become an MVP-level impact player (which Flash was at his peak), Edwards will need to significantly improve his playmaking (his Passer Rating is 3.5 this season), become an All-Defensive-caliber contributor and increase his volume and efficiency to the numbers we discussed previously. A tall task indeed.
So can he ever reach that MVP level?
The Verdict: Tier 4
As of right now, I would have to say no.
I have a difficult time seeing him developing into the lead initiator that Wade was, which historically is a requirement for any on-ball/off-ball hybrid perimeter player to reach MVP-caliber production.
Watching Edwards play, you witness too many lost shot-creation opportunities because he's either missing open guys (as in the first clip) or delivering his passes inaccurately (as in the second clip):
He's young and still has plenty of time to improvehis playmaking, but as I hinted at earlier, he started his full-time basketball journey a little later than most, and that means it will be difficult for him to develop the feel necessary to make the higher-level reads that someone like Wade was capable of executing.
Still, I think Edwards eventually masters the art of changing speeds to help increase his free-throw rates, becomes an efficient and versatile outside shooter, and creates enough havoc on defense to someday develop into an All-NBA-caliber player. And this means that the Timberwolves might have finally found the centerpiece they need to build a winner in Minnesota.