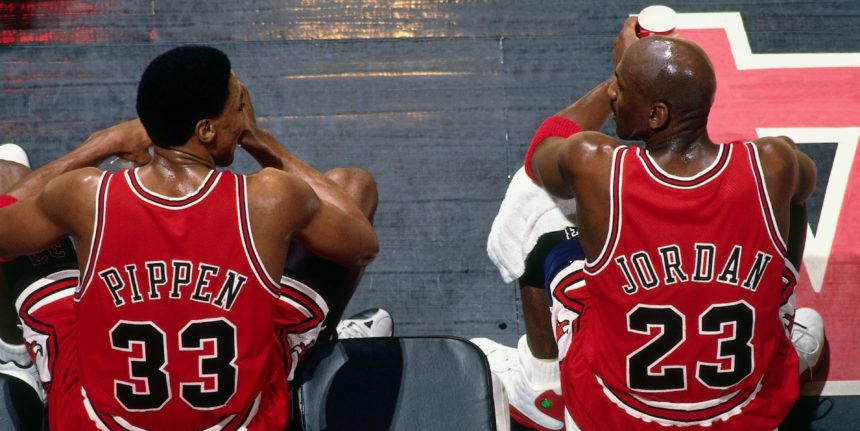 Charles Oakley talks Pippen/MJ beef: 'He feels he's better than Mike'
Charles Oakley played alongside Michael Jordan and Scottie Pippen during his three-year stint with the Chicago Bulls and he is still friends with both NBA legends, so he has a unique perspective when it comes to their relationship and the recent tension between them.
A couple of days ago, Betway caught up with Oakley, and he shared his thoughts on Pippen's criticism of Jordan since "The Last Dance" aired. Oakley thinks this is bigger than "The Last Dance," and that something must have happened behind-the-scenes at some point.
"I know everybody thinks it's some feud from 'The Last Dance' — I think it's something else that happened," Oakley explained to Betway. "We don't know, but one day we will find out. I don't think Scottie would just turn [to] all this from 'The Last Dance.' Some stuff happened 10-20 years ago, but now he's got a platform to talk about it. But he did say he wants to have his last say about 'The Last Dance,' so who knows what's going on?
"Scottie felt like he was mistreated, and he didn't look good. Scottie did some things that we talked about. I'm friends with Scottie and Mike, but I don't talk about Mike to Scottie, or Scottie to Mike... Mike's not going to feud in the press about what Scottie has to say; he's not going to comment on it.
"Scottie feels like he's got six rings, Michael's got six rings. One thing [Scottie] did say when he first got to the league when he was a rookie, he said he wanted to be better than Mike. He feels like he's better than Mike. He said it back then, a lot of people just didn't hear him say it. If you asked 100 people who's better, 99 are going to say Michael Jordan, so [Scottie's] the one. There's always one, right?
"Scottie went through a lot as time passed; stress can put you in a different place. He said something about Phil Jackson. I think he apologized about that. But sometimes you get in the heat of battle, you know? And that's why you've got to be careful when you do interviews and talk to people because they dig..."
Pippen has blasted Jordan for the docuseries among other things in his memoir "Unguarded," as well as in recent interviews.
"Each episode was the same: Michael on a pedestal, his teammates secondary, smaller, the message no different from when he referred to us back then as his 'supporting cast,'" Pippen writes. "From one season to the next, we received little or no credit whenever we won, but the bulk of the criticism when we lost.... Now here I was, in my mid-50s, 17 years since my final game, watching us being demeaned once again. Living through it the first time was insulting enough... He couldn't have been more condescending if he tried."
Pippen also writes that LeBron James is his GOAT, and that MJ ruined basketball in the 1990s: "I may go as far to say Mike ruined basketball. In the '80s on the playgrounds, you'd have everyone moving the ball around — passing to help the team. That stopped in the '90s. Kids wanted to be 'Like Mike.' Well, Mike didn't want to pass — didn't want to rebound, or defend the best player. He wanted everything done for him. That's why I always believed LeBron James was the greatest player this game has ever seen — he does everything and embodies what the game is truly about."
And in response to Jordan describing his 1997-98 trade demand as selfish, Pippen fired back by writing: "You want to know what selfish is? Selfish is retiring right before the start of training camp [in 1993] when it is too late for the organization to sign free agents."
As for Oakley's take on "The Last Dance," he thought it was very well done and didn't have any issues with the docuseries.
"Everybody got to see a different side of Michael Jordan, if you didn't see the Hall-of-Fame speech," Oakley told Betway. "In the speech, he pointed out a lot of people who were waving their finger at him, so he got the last finger point. 'The Last Dance' is the same thing; he got the last say.
"It was great. We got a chance to see the other side of some other guys. It was a documentary, so it was put together like... Michael Jordan always wants to look good, so a lot of guys felt like he let them down. But it's like a movie, you know? If you ain't the main actor, you ain't gonna be a big part of it. I didn't have no bad feelings about what he said about me. He put me in 'The Last Dance,' he put me in the Hall-of-Fame speech, he put me in 'Space Jam,' so I'll wait for the next show...
"A lot of these guys in 'The Last Dance' are mad about what he said about them. Like, half of y'all couldn't play, so how are y'all mad? You should be glad that he mentioned you in 'The Last Dance!'"
Oakley played 19 NBA seasons, becoming an All-Star and averaging 9.7 points, 9.5 rebounds, 2.5 assists and 1.1 steals over the course of his career. He was a two-time All-Defensive Team selection and he was respected as one of the NBA's top enforcers.