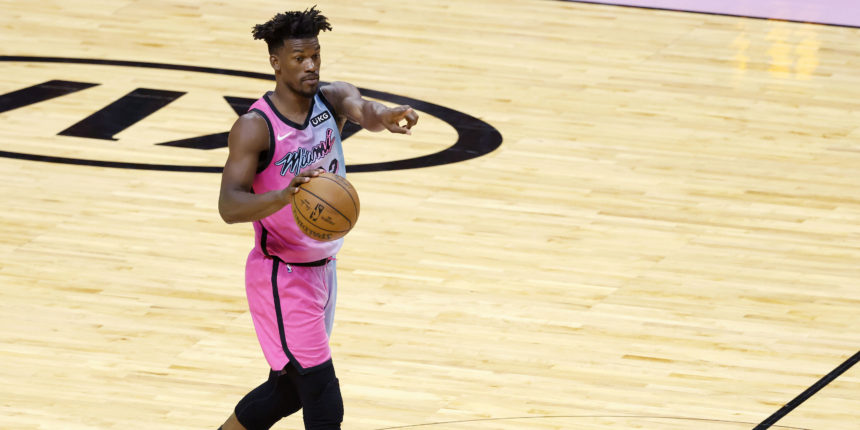 Heat poised to bounce back and contend again after strong offseason
The Miami Heat are going for it.
After making an aggressive offseason move for Kyle Lowry via sign-and-trade, the infrastructure in place for Miami has an extremely high floor but also a potential NBA Finals ceiling.
Adding Lowry alongside Jimmy Butler and Bam Adebayo should give Miami an elite defensive squad. The Heat have always trotted out a team with formidable defense, but they haven't finished in the top-five of defensive rating since the Big Three era with LeBron James, Dwyane Wade and Chris Bosh in 2011-12.
Although Lowry is past his prime, he's continuously proven to be a savvy defender against primary ball-handlers. Butler is known as a tough-nosed, hard-hat, lunch-pail type who can lock down wing scorers. Adebayo is continuing to become one of the most consistent rim protectors in the Association, and his odds of winning Defensive Player of the Year make him an underrated flier bet. The Heat also signed P.J. Tucker this offseason, giving them another weapon on that end of the floor. With several plus-to-elite defenders together in the starting lineup, Miami has vaulted themselves into sleeper territory in the much-improved Eastern Conference.
Miami's offensive potential speaks for itself. Lowry helps alleviate pressure off Butler as a ball-handler, and now Jimmy can focus on hunting for his shots while being set up more frequently. Adebayo is a dangerous pick-and-roll weapon who continues to expand his range to become a more consistent mid-range threat. Duncan Robinson is an excellent floor-spacer who earned himself a massive payday this offseason, inking a lucrative five-year extension worth $90 million.
Victor Oladipo, who continues to rehab from a career-altering quad injury, and Tyler Herro stand out as the wildcards. Oladipo only played four games with Miami last season, but he really thrived within his role as a defensive pest who can create his own shot on the other end. Herro flashed enough potential in Miami's Finals run in 2020 that the Heat reportedly kept him off limits in various trade discussions. If Oladipo bounces back, plus Herro returns to rookie form with some added development, Miami's offense has the potential to match their elite defensive ceiling.
Looking over the Heat's primary contributors for the 2021-22 season, Lowry's addition is such a huge launching pad for the organization. They needed a stabilizing presence who could run the show on offense and hold his own as a backcourt defender, and Lowry is the perfect fit for the Heat culture. Lowry is a dog, and now Miami has a pack of alphas. Lowry, Butler and Adebayo is a trio that balances each other out very well, and the veteran point guard's arrival firmly puts Miami atop the second tier in the East (after the Brooklyn Nets and Milwaukee Bucks).
Over the last two seasons since his decision to re-route to South Beach, Butler has become Miami's entire offense. Everything runs through Butler, and now Lowry will step in and take over some of those responsibilities. Butler has averaged 6.5 assists with the Heat, and that number should drop a little bit in 2021-22 as he moves to more of an off-ball role where he can punish defenders with relentless abandon. It could be similar to the role that Butler played during his final season with the Chicago Bulls, when he averaged a career-high 23.9 points on 58.6% True Shooting. Butler with less on his plate is a top-flight wing in the NBA, and he should be an All-NBA candidate with Lowry alongside him.
Entering his fifth season, another jump should be expected from Adebayo. Becoming a near-star within the NBA bubble, Bam showcased how well-rounded his game is (especially for someone standing 6-foot-9). Adebayo's continued development as a scorer along with his instinctual playmaking and defensive versatility make him one of the most intriguing 25-or-younger players in the NBA. Adebayo is the glue that holds everything together for Miami, which might be a surprise with Butler onboard. However, that's truly the case. Adebayo makes everyone's job easier, and him becoming even more of a threat offensively coupled with his defensive upside is a tantalizing combination that could soon lead to his own All-NBA status once he hits his prime years.
The other players who can really take Miami to another level are Oladipo, Herro, Robinson and Tucker. As mentioned, Oladipo making a full recovery and contributing at some point during the 2021-22 campaign would give Miami a huge spark. If he thrives within a secondary role once more, he's an energizing presence that looms over come playoff time. Herro and Robinson are the two primary young pieces, and both will be huge contributors. Robinson is already a full-fledged starter, but Herro continuing his own evolution is one of the more underrated storylines to follow. Herro's archetype is in the mold of Devin Booker, a player he modeled his game after throughout his high-school career and lone collegiate season at Kentucky. Operating as Miami's sixth man, Herro will be in a pivotal role. He has already flashed real scoring creation, but his continued development as a playmaker would be instrumental to support Lowry, Butler and Adebayo. On Miami's depth chart, Herro is technically going to fall into the backup-point-guard role behind Lowry.
Miami was one of the offseason's biggest winners, pushing their chips in for another Finals run and really embracing what they already have within the locker room. Led by Butler and Adebayo, Miami did an excellent job bringing in like-minded players who will fit within the Heat culture. Lowry, Tucker and Markieff Morris fit this description. All three will enter Miami's locker room as Day 1 contributors who will also be relied upon as key voices in the locker room. The Heat assembled a group of strong, like-minded personalities (some of whom were already close friends), so chemistry shouldn't be an issue in Miami.
Let's take a look at Miami's projected rotation, with the caveat of Oladipo's uncertain status:
Starters: Kyle Lowry, Victor Oladipo, Jimmy Butler, Duncan Robinson, Bam Adebayo
Second Unit: Tyler Herro, KZ Okpala, P.J. Tucker, Markieff Morris, Dewayne Dedmon
Assuming Herro takes the starting role until Oladipo officially returns, this rotation is very balanced on both ends of the court. Lowry is the igniter who is poised to make a leap back to elite status in 2021-22. Miami looks like the toughest competition for the Nets and Bucks in the Eastern Conference, and the Heat should match up well against those teams. If there's one squad to pick as an underdog who can dethrone the East's top-two contenders, Miami is the obvious choice.
With a well-rounded blend of stars, veterans and young players who can contribute consistently, Miami should have an incredible defensive ceiling and a ton of offensive firepower. As a result, the Heat certainly seem poised for a strong bounce-back campaign.