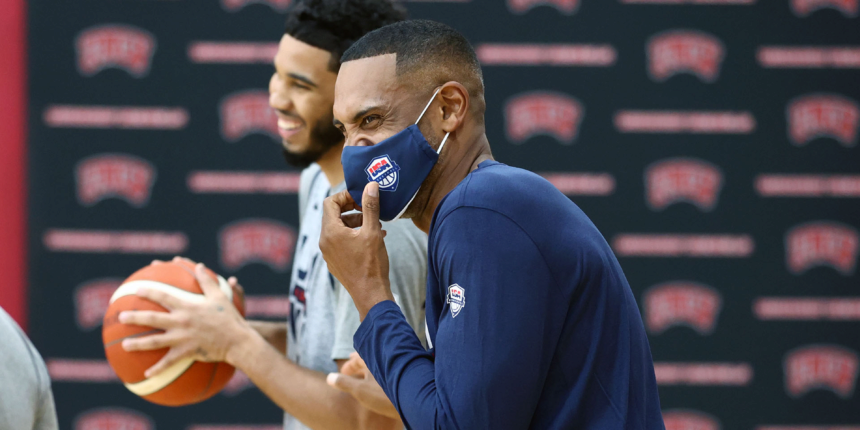 Grant Hill shares widespread excitement surrounding USA Basketball
In discussing his new role as Managing Director of USA Basketball, seven-time NBA All-Star Grant Hill said a mouthful when looking back at what transpired this summer with the United States men's national team and the Tokyo Olympics. Also, he called Kevin Durant "maybe the best offensive player of all-time."
That may not sit well with his old rivals in Michael Jordan and Shaquille O'Neal among others, but anyone who watched Durant lead the American team to the gold medal would at least say that Hill has a valid argument as he plunges into his newest job.
"What is encouraging is that we had the best offensive player, maybe of all-time, wanting to be a part of it, along with a lot of our best young guys wanting to be a part of it," Hill told BasketballNews.com in his first interview since taking over the USA Basketball position previously held by Jerry Colangelo. "I do believe there is a widespread excitement and desire to be a part of it."
Colangelo stepped down following the Olympics after being at the helm for 15 years and winning four Olympic gold medals. Now, Hill must first decide who will replace Gregg Popovich as head coach and who will play for the team that will have to qualify for the World Cup beginning in November. Jeff Van Gundy, who handled coaching duties when the Americans qualified for the 2019 World Cup in China and became the chief U.S. scout for the Tokyo Olympics afterward, would seem like a likely candidate if he can get clearance from his broadcasting duties at ESPN and ABC.
The next competition for Team USA is the 2023 World Cup of Basketball, which will be contended in the Philippines, Indonesia and Japan – the first time multiple nations have played host to the event. And though it may be a challenge to get a team of top American professionals to commit to playing in those far-flung locales, Hill said he will definitely field a team of NBA players, despite suggestions from some corners that the Americans should use a team that has already competed under the Team USA banner (such as the Under-19 team led by Chet Holmgren, a Gonzaga recruit who is projected to be the No. 1 pick in the 2022 NBA Draft).
"Every generation of players is different, so the challenge is what can we do to make it interesting and welcoming so that players will want to be a part of it," Hill said. "I am looking forward to rolling up my sleeves and making it work."
Presumably, the coach who ends up leading Team USA at the 2023 World Cup will also be the head coach for the 2024 Olympics in Paris, when Durant – if he so chooses – will have a chance to go for a fourth consecutive Olympic gold medal. Whether that will happen is a long way from being determined, and Durant will have had two more seasons to try to bring the Brooklyn Nets franchise its first NBA championship.
What Hill expects to be difficult is keeping expectations in line with reality, something Popovich and his predecessor, Mike Krzyzewski, dealt with over the past decade-and-a-half. There is a segment of the basketball-viewing public that expects American teams to dominate the competition, but in reality the American teams have been challenged and defeated at numerous events, including the 2002 World Championship in Indianapolis, the 2004 Olympics in Athens, the 2006 World Championship in Japan and the 2019 World Cup in China. It even happened during training camp this summer when they lost exhibition games against Nigeria and Australia. That was, however, before the roster was tweaked and the team came together over the course of the Olympics, peaking at the end and defeating France 87-82 for the gold medal.
Hill was a member of the first U.S. team that was challenged – the 1996 Olympic squad that competed in Atlanta and had its hands full in the first half of the gold-medal game against Yugoslavia before pulling away in the second half.
"What I remember most were the personalities on that team: Charles Barkley, Shaquille O'Neal, Reggie Miller, Gary Payton," Hill recalled. "It was always fun to be together as a group, just constant laughs, and back then, guys did not know each other as well as they do nowadays because there was no social media and guys played on different teams, and they were just not as connected.
"But I remember the practices were incredible. I went up against Scottie Pippen every day, and all of us formed a bond and a connection that has lasted 25 years."
Two years from now, and then again the following summer, similar bonds will be formed by players to be determined. Whether they return to the United States with gold medals remains to be seen, but Hill sounded a cautionary tone when he noted that last season's NBA Most Valuable Player, Nikola Jokic, and his runner-up, Joel Embiid, were non-Americans. This year's NBA Finals MVP (Giannis Antetokounmpo) and NBA Defensive Player of the Year (Rudy Gobert) were international stars as well.
Hill also spoke about his role as the secretary of the National Basketball Retired Players Association's Legends Care initiative, which earlier this year awarded five $10,000 scholarships to students who will be attending Historically Black Colleges and Universities in the fall.
"I was very involved in picking the finalists," Hill said. "And in reading the essays and looking at the students' histories, you hate to narrow it down because they are all inspiring, all deserving in many ways. We look forward to doing this for years to come. We looked at everything from GPAs to hardships growing up, how some endured gun violence, some had low household income. When you see what they've endured, it's wonderful to see who these students actually are."
Here are the "Starting Five" of the Legends HBCU Scholarship and Legends Scholars program:
Damon Germaine Bryan Jr.

South Carolina State University, Class of 2022
Major: Criminal Justice
Born and raised in the projects of Charleston, SC, he plans to use his major to develop a youth center that would offer a safe space with services – such as mentoring – and college scholarships to help youth realize their potential and build for their future outside of their current constraints.

Saniya Keeton

Tuskegee University, Class of 2023
Major: Animal Science
Only 2.1% of veterinary medicine professionals are people of color. She plans to use her major to become a veterinarian, adding to the diversity of the field and showing BIPOC – especially children and young adults – that this is a field for them.

Tyrell Miller-Johnson

Central State University, Class of 2023
Major: Psychology
He enlisted into the U.S. Army in 2017 after his high school graduation, and has deployed on missions to help others affected by hurricanes, tornados, COVID-19 and other disasters/crises. One deployment involved his providing security for the 2021 Presidential Inauguration. He plans to use his major to help educate teens and high-school students that the entire world is open to them and to teach them about college-alternative pathways such as learning a trade, becoming an entrepreneur, military service, etc.

Erin Foster

Spelman College, Class of 2024
Major: Political Science
Fewer than 5% of federal judges are women of color. She plans to use her major to go to law school, become a federal judge and start removing the gender and racial disparities in the field.

Jayla Imani Thornton

North Carolina A&T State University, Class of 2024
Major: Political Science
She currently interns for Congresswoman Kathy Manning, and plans to use her major to go to law school and become a civil rights lawyer to combat and eradicate systemic racism and the oppression of minorities in America.
The five Legends Scholars will receive a $10,000 academic scholarship from the NBRPA for the 2021-22 school year. In addition to addressing the financial needs of Legends Scholars, a comprehensive scholars program will assist Legends Scholars in the areas of career preparation and development, job placement and mentoring both during and after their undergraduate years.
The Legends HBCU Scholarship and Legends Scholars program was created in 2020 under the NBRPA's Legends Care initiative as a way to honor the rich history of HBCUs and their alums while moving the legacy forward by supporting current HBCU undergraduates.