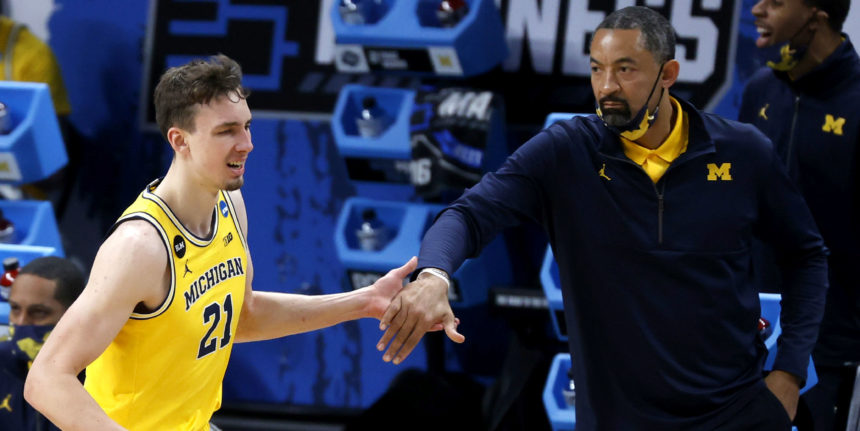 Franz Wagner gets NBA advice from brother, Moe, and coach Juwan Howard
Franz Wagner is one of the most versatile prospects in the 2021 NBA Draft class. During his two years at the University of Michigan, Wagner honed his skills to become a true chess piece that an NBA team will be able to utilize in various roles.
During the 2020-21 season, Wagner averaged 12.5 points, 6.5 rebounds, 3.0 assists, 1.3 steals, and 1.0 block per game while also showing potential to expand his shooting range. After stuffing the stat sheet for the Wolverines on a nightly basis, Wagner's stock exploded. Now viewed as a near-consensus lottery selection, Wagner views his versatility as one of his greatest assets.
"Honestly, I think I fit in pretty well," Wagner told reporters on Monday. "I think every team needs big wings that can move, that can shoot, make decisions with the ball, and play defense. And I think those are all things where I'm good at, that are important for my game. The game is getting more and more position-less, so I think I'll fit in very well with my versatility."
Another feather in Wagner's cap is that he's not done growing yet. Entering his sophomore season at 6-foot-9, Wagner said he's now closer to 6-foot-11. A multi-positional wing with his size and two-way profile offers tantalizing potential to teams looking for any edge in today's pace-and-space game.
"I would say I'm almost 6-foot-11," Wagner said. "Not quite there yet, but definitely grew a little bit this past year."
The last name Wagner might sound familiar to the average fan, because he's actually the younger brother of Orlando Magic forward (and fellow Michigan alum) Moritz Wagner. Throughout Franz's college career and the pre-draft process, he's continuously picked Moritz's brain on what to expect on the professional level.
"It's helped a lot," Wagner said of having his older brother as a resource. "Obviously, he's very busy too, but even the last three years, I've asked him a lot. Obviously, I've seen a lot when I've visited him and stuff. I mean, there's a lot of things you need to know before you get there, but I think the most important thing he told me is that nothing can really prepare you for the NBA lifestyle. The business side around it, too. I'm excited to be able to experience it soon."
Another edge that Wagner holds on other prospects is playing under Michigan head coach Juwan Howard, who was an 19-year NBA veteran and the No. 5 pick in the 1994 NBA Draft. Howard's prestigious college run with Michigan's Fab Five captivated the nation, and his wealth of knowledge on and off the court have been a massive help for Wagner.
"It was a great time," Wagner said of playing under Howard. "I think Juwan was a great resource and is still for me – hopefully for a lot of players at Michigan, too. He's so open about everything, always wants to help, always reaching out, always wants you to ask questions, stuff like that. And I did that a bunch while I was there.
"I think not a lot of college players have that luxury of having a good college coach that has already been [at] and coached at the level you want to get to. Obviously, he played there for 19 years, I think. He talked to me a lot about the pre-draft process, just about the NBA life. Like Moe told me, his main message was, 'You gotta be ready for it. You gotta experience it to truly know what it is.' So, I'm happy that I can do that soon."
Wagner did not want to elaborate on which teams he's met with and worked out with during the pre-draft process, playing it "close to the vest." However, he learned a lot during this long process, and even improved his overall game.
"The draft process was definitely unique," Wagner said. "I think for everybody it's little bit different, but I thought I had a good experience. I thought I improved throughout those two months, and at the end of the day, the goal was to show teams who I am – not just on the court, but also off the court what I worked on."
Wagner is currently projected to go No. 9 overall to the Sacramento Kings in BasketballNews.com's latest mock draft.