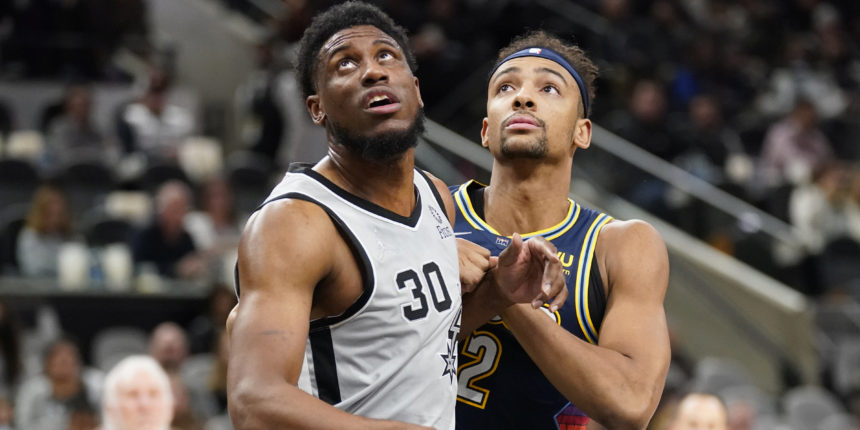 Former 76er Thad Young talks about stint in Philly, Ben Simmons saga
In recent years, Thaddeus Young has become one of the NBA's most respected veterans.
From providing leadership to mentoring younger players to making hustle plays, the 33-year-old has made an impact on and off the court throughout his 15-year NBA career.
Young started his career with the Philadelphia 76ers, joining the team as a 19-year-old after they selected him with the No. 12 overall pick in the 2007 NBA Draft. He spent seven years in Philadelphia before ultimately getting traded to the Minnesota Timberwolves as part of the Kevin Love blockbuster deal.
Young was recently a guest on "The Alex Kennedy Podcast," and the 2020-21 NBA Hustle Award winner discussed his experience playing in Philadelphia.
"Man, I think that's one of the cities that turned me into who I am today," Young said. "Philly has that blue-collar mentality, so they love players who play hard every single night, who are tough, who are going to continue to battle no matter what's happening, who are always going to be there for their teammates. That's what made me kind of, like, a well-liked guy in Philly because I always played hard, I always brought that hard-hat mentality to each and every game, and you knew that you could rely on me to be consistent each and every night. There were times when they booed us and we were still playing hard — or I was still playing hard, at least (laughs). It's just understanding what type of town you're in and if you embody that and embrace them, then they'll embrace you as well."
When asked about the Ben Simmons saga, Young shared his take on the situation and explained why he believes the Sixers should trade Simmons sooner than later.
"I think the situation that's going on there with [Ben Simmons], that's something they've just got to figure out. And I think they should figure it out sooner than later because, at the end of the day, you have a whole franchise to worry about," Young said. "You have players that you have to get locked in to what's going on, but you also have a player who has his own issues and his own focus, so I think it's just a matter of communication and talking it out between them and [if that doesn't work], then just trying to figure it out on their own.
"Philly is a rough city; it's a tough city to play for. But you have to have tough skin as well. When you're playing basketball, [no matter what] city or state or gym you're playing in, there's always going to be someone who's going to be saying something about you, so you just have to be prepared and focused on what you can do as a player and go out there and continue to give your all and try your best."
This week, Simmons' agent Rich Paul met with Sixers executives Daryl Morey and Elton Brand to discuss the stalemate and no progress was made, according to Adrian Wojnarowski of ESPN.
Simmons is no closer to suiting up for in Philadelphia, and the Sixers continue to stress that they won't trade Simmons unless they receive a top-25 player in return.
Philadelphia hasn't been able to find any team that's willing to meet its asking price, per Wojnarowski. Despite the fact that other teams believe the Sixers are overvaluing Simmons, rival executives told Wojnarowski that Philly seems to be increasing its asking price recently.
Young is currently on the San Antonio Spurs, averaging 6.0 points, 3.4 rebounds and 2.4 assists in 14.0 minutes per game. On "The Alex Kennedy Podcast," he also opened up about playing an unfamiliar role in San Antonio and how he was blindsided when Chicago Bulls traded him last offseason.
Listen to the full conversation with Thaddeus Young on Apple Podcasts, Spotify, Stitcher or above.