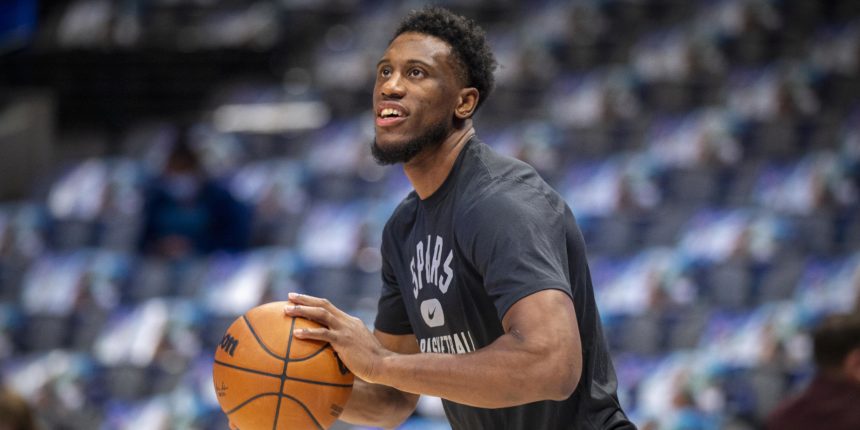 Thaddeus Young was blindsided by Spurs trade, Bulls said he'd be back
On Aug. 3, 2021, the Chicago Bulls traded Thaddeus Young, Al-Farouq Aminu, a protected first-round pick and two second-round picks to the San Antonio Spurs for DeMar DeRozan, who inked a three-year deal worth $85 million with the Bulls.
Young was coming off of one of the most productive seasons of his career, having averaged 12.1 points, 6.2 rebounds, 4.3 assists, 1.1 steals and 0.6 blocks in 24.3 minutes and winning the NBA's Hustle Award in 2020-21.
Recently, Young was a guest on "The Alex Kennedy Podcast" and the 15-year NBA veteran revealed that he was blindsided by the Bulls-Spurs trade since the move didn't line up with what Chicago's front office had just told his camp.
"It definitely caught me off guard. I actually learned about it in the parking lot of the Sports Academy in Frisco, TX. I was leaving a session and my phone was going crazy. I'd seen that DeMar DeRozan had gotten traded to Chicago and I was like, 'Why is my phone going crazy for this?' Then, I dive a little deeper into it and I see that the trade included me, Al-Farouq Aminu, some picks and stuff like that.
"It definitely caught me off guard for the simple fact that I had just talked to my agent and my agent had just talked to everybody in Chicago, and we were being told that I was coming back. And they guaranteed my salary the day before or two days before or something like that and then used it as trade bait. It is what it is; it happens and it's part of the business. But the only thing I wish is that I had gotten the heads up before I found out from social [media].
"I was getting ready to gather my family up and get everyone ready and situated to come back to Chicago. If I had signed another lease in Chicago, then I would've been stuck in a lease for a year and trying to figure out how to get out of it. If I had moved my family up there and came back early because my kids had to go to school, then that would've been a waste of money and a waste of time. The good thing was I was still at home and I was able to kind of maneuver through everything and it was still in the summer. But like I said, I would've rather found out from them firsthand as opposed to finding out through social."
Recently, Young's name has been surfacing in trade rumors once again since the Spurs are rebuilding, and a number of contenders (including the Phoenix Suns) have expressed interest in his services.
The 33-year-old is used to popping up in trade rumors, and he's flattered that so many teams recognize his value. Also, he believes that a big reason why his name ends up in the rumor mill so often is because he can fit with just about every team around the league — on and off the court.
"For me to always be in trade rumors or anything like that, it just says that there's a lot of interest from other teams and that teams see what I'm doing," Young said. "They see and understand who I am as a player, they see that I'm always locked in, they see that I'm always going to be a help and never be a nuisance, and they see that I'm always going to be a key asset to a team. I might not always be the main piece, but I'm one of the most important and valuable pieces that you can have.
"The one thing I've prided myself on is just continuing to be professional and making sure that if I'm part of a team, I'm part of that team. I'm not one foot in and one foot out. If I'm putting on that jersey and they're paying me and they're putting their trust in me, I'm going to make sure that I'm there for them. I think that's one of the biggest things."
Young is playing just 15.6 minutes per game for San Antonio, while averaging 7.3 points, 3.6 rebounds, 2.9 assists and a steal (and shooting 59.6% from the field). He said he understands that the Spurs are in the midst of a rebuild, so they need to give their younger players significant playing time.
It remains to be seen if Young will be moved once again prior to the NBA's trade deadline on Feb. 10, 2022. If he is, hopefully the deal doesn't catch him off guard this time around.