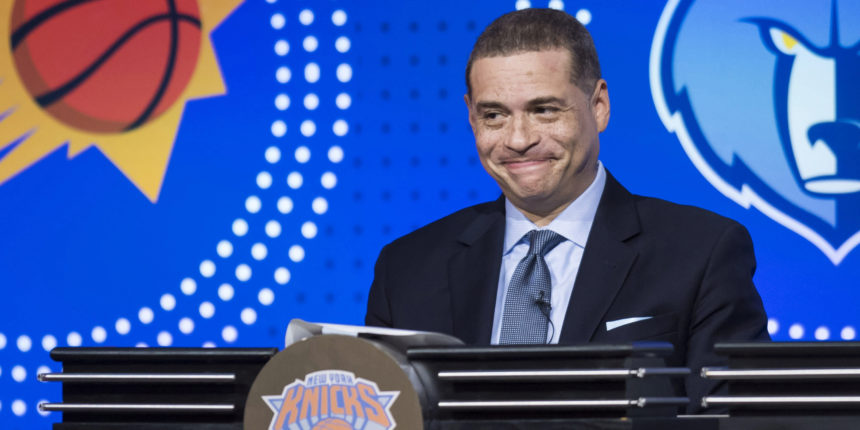 For the New York Knicks, GM Scott Perry continues to be unsung hero
A basketball lifer, New York Knicks general manager Scott Perry was no stranger to long hours and circuitous road trips. But not even he could've known that he'd fall in love in Los Angeles.
Merely months after being hired to his post, in 2018, Perry accompanied the Knicks on a January road trip to L.A.
It ended up being quite consequential — just like most of the moves made on his watch.
As the Knicks prepare to make their first playoff appearance since 2013, credit has rightfully been in abundance. From Leon Rose and William Wesley to Tom Thibodeau, RJ Barrett and, of course, Julius Randle, the national media has bestowed praise upon the franchise.
But of all the names that have been associated with the team's turnaround, nary a soul mentions Perry, the one who set off the chain of events that brought the team where it is and the one who is in the final year of his contract.
Indeed, Perry fell in love in Los Angeles.
In Tinseltown, the lights shine quite brightly, and Randle knew it.
***
Hungry for an opportunity to call a franchise his own, when Kristaps Porzingis checked him on the first possession of the afternoon, the lefty knew that it was feeding time.
Los Angeles Lakers head coach Luke Walton called Randle's number, and the big man took residence in his office on the right elbow. With Porzingis on his back, Randle received an entry pass from Tyler Ennis. He felt Porzingis leaning to his right, so Randle gave a subtle jab before spinning to his left. All he needed was a half-step.
He threw down a thunderous two-handed dunk, as he wore Porzingis like a shirt. It was the first of 27 points on what was a long day at the office for the Knicks. Randle led the Lakers to a 20-point victory.
That night at Staples Center — Jan. 21, 2018 — Perry was among those in the Knicks' contingent that spent some quality time with Lakers president of basketball operations Magic Johnson, sources told BasketballNews.com. Long an ally of the front office in New York, Johnson tipped his hand and foretold a scenario in which Los Angeles may not re-sign the big man.
Perry was all ears.
After LeBron James opted to take his talents West a few months later, Randle, frustrated by a lack of opportunity, requested that the Lakers renounce his rights so he could pursue his potential elsewhere. They did, and perhaps ironically, it was Anthony Davis' recruitment that helped steer Randle to New Orleans.
Randle enjoyed a career-year during which Davis himself asked out of New Orleans, and the Pelicans improbably won the draft lottery. For Randle, that meant splitting time with Zion Williamson. No thanks.
The big man packed his aspirations back into his bags and opted to take his mighty shoulders back into free agency. Being proactive, Perry had learned that Kevin Durant wouldn't be coming to the Knicks as hoped, and the GM became determined to not let the lefty slip through his fingers again.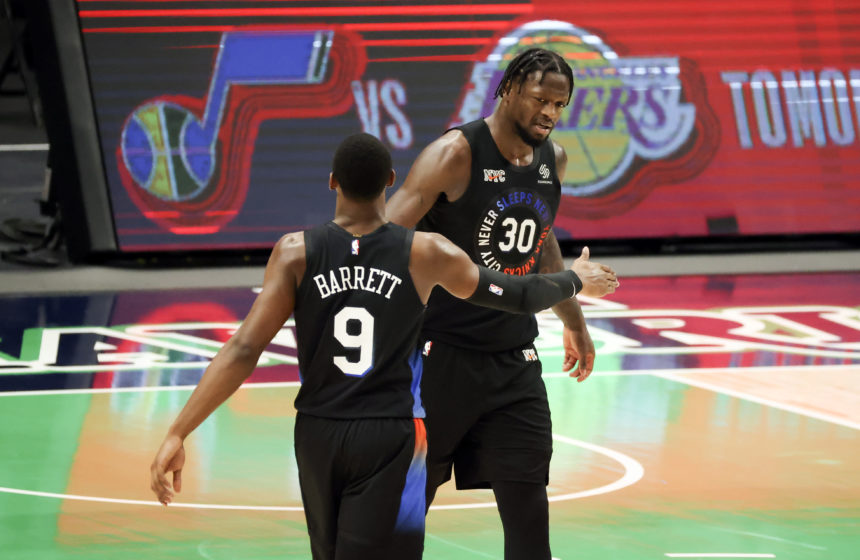 Rather than sulking, prior to free agency officially beginning, Perry began making arrangements so that the Knicks' first free-agency meeting was with Randle. As they did in 2018, he grabbed a small contingent that included former president of basketball operations Steve Mills and former head coach David Fizdale, and plopped them on a plane to Los Angeles.
By the time free agency officially began, New York was in L.A., sitting across the table from Randle and his agent, Aaron Mintz. From their first meeting, Randle understood exactly what was being asked of him, and it was music to his ears. According to one source, he agreed to join the Knicks "on the spot," although the details of what eventually became a partially-guaranteed three-year deal worth $63 million had to be ironed out.
Perry may not deserve credit for Randle blossoming into an All-Star and a cornerstone — he wasn't in the gym shooting shots with the lefty — but he does deserve credit for the decisive pivot that brought the Knicks to Randle's doorstep when free agency began. Just like he deserves credit for doubling down on the decision to stay put at No. 3 in the 2019 NBA Draft.
According to one Knicks source, several members of the team's scouting department advocated for trading down; the belief in Barrett wasn't unanimous. According to the source, the Knicks had "multiple opportunities" to exercise trades for the third pick that would've yielded multiple picks within the first 15. The Atlanta Hawks owned the eighth and 10th overall selections, while other teams, including the Boston Celtics and Washington Wizards, had opportunities to execute deals that would have netted the Knicks additional draft capital.
Among the players Perry was urged to consider targeting in those trade-back scenarios, according to the source, were Darius Garland and Cam Reddish.
"Sure, it ended up being a 'no brainer,' but there were multiple opportunities to trade down and get two top-15 picks," the source said. "Scouts in the organization wanted to trade down, but [Perry] felt strongly about RJ. Scott gave them opportunities to sell him, but he ultimately decided to stay put.
"Scott knew there was no way Barrett would allow himself to fail."
Good call.
***
A little more than three years after Perry saw Randle that fateful afternoon at Staples Center, Randle is now wearing orange and blue and leading a revival. But it's New York's future that — for the first time in a long time — appears bright.
Shortly after Perry took over in New York, he sat down with Carmelo Anthony and attempted to smooth things over with the future Hall-of-Famer. Anthony told Perry that he wanted a fresh start and that Houston was his destination of choice. New York drew a line in the sand with then-Rockets general manager Daryl Morey — Eric Gordon, Trevor Ariza and multiple future draft picks, including at least one first. The Rockets were willing to send Ryan Anderson to New York and some future draft considerations, but no first-rounder.
Perry stood his ground, and eventually got Anthony to buy in on a trade that sent him to Oklahoma City. The Knicks maintained future cap flexibility by not taking on any long-term deals, while also netting the second-round draft pick that eventually became Mitchell Robinson. Although out for the remainder of the season, Robinson is one of the team's more promising prospects, and with a $1.8 million team option for next season, he is signed to one of the most team-friendly deals in the entire league — a deal that Perry's front office negotiated.
And when the time came to deal Porzingis, Perry made the unpopular move to trade the fan favorite after it became clear that Porzingis no longer wanted to be in New York. The cap space that resulted from that trade — aside from being used to sign Randle — also yielded Marcus Morris, who would eventually be traded for the pick that became Immanuel Quickley.
In other words, the Porzingis trade directly led the Knicks to Randle, Quickley and two first-round draft pick credits, the first of which will vest this year, unprotected.
Like any other general manager, some of the moves that were made on Perry's watch haven't exactly panned out — drafting Kevin Knox among them. But in relatively short order, after taking over in New York, Perry had to trade his team's best player twice. Improving a roster while doing that is incredibly difficult. Yet, here the Knicks are.
There's never one reason for anything in the NBA. A tough loss, a great win, a Finals appearance, a lottery showing — there are always multiple reasons why things go right or wrong.
To put it simply: Perry deserves some credit for where the Knicks are today, and truth be told, he hasn't gotten it.
When one takes a look at the roster that the club will bring into the 2021 NBA Playoffs, four of the team's starters — Randle, Barrett, Elfrid Payton and Reggie Bullock — were acquired by the GM.
As Coach Thibodeau and his newly-minted All-Star improbably vie for the fourth seed in the Eastern Conference, without question, Rose and Wesley are in possession of a promising situation in New York — a young, talented and hard-working team, cap-friendly contracts, cap space and future draft assets.
For the first time in a long time, it's easy to imagine what the Knicks would look like if free agents once again consider them a destination. Could they land one of the top players in this upcoming class such as Lonzo Ball, John Collins or Lauri Markkanen?
In New York, it's okay to believe in the future again.
But it's important to remember that the bright future was once snuffed out by an endless night.
Scott Perry is the spark that lit the lantern. Salvation draws near.
Three years ago, what seemed an inconsequential road trip and rendezvous with Magic Johnson has made all the difference. And whether or not Rose decides to re-sign arguably the Knicks' most deserving free agent this summer, one thing has become abundantly clear...
As general manager, Scott Perry has done more than his part.