The NBA is an incredibly competitive league featuring the world's best basketball players. But even among the best of the best, there are still very noticeable differences between the 10 or so best players in the league and everyone else. Not surprisingly, the NBA's very best players typically play for the best teams; and more and more, they are teaming up to form super-teams.
As a result of the super-team trend, there are realistically only six or so teams who are given decent odds of winning a championship each season. Six of the previous 10 championships were won by a top seed, and only three teams have advanced to a conference finals in the last 10 years as a fourth seed or lower (Atlanta Hawks, 5th, 2021; Miami, 5th, 2020; Memphis, 5th, 2013).
The trend will probably continue this season. Entering 2021-22, just four teams have +900 odds or better to win the 2022 NBA Championship – the Brooklyn Nets, Los Angeles Lakers, Golden State Warriors and Milwaukee Bucks, according to VegasInsider.com.
Long story short: there is a competition problem. At the root of that problem is the fact that postseason entry and seeding are contingent upon the league's divisions and conferences. But I have a potential solution; hold on to your hats, because it entails a major change. Allow me to explain...
In England, professional football (soccer) is arranged into four divisions, with a number of non-league divisions also feeding into the structure: Premier League, English Football League Championship, English Football League One, English Football League Two and four other less-competitive divisions. Each season, the bottom three finishers are relegated from the Premier League to the English Football League Championship. Simultaneously, the top three finishers from English Football League Championship are promoted to the Premier League, while the bottom three finishers from English Football League Championship are relegated to English Football League One. The top two finishers from English Football League One are automatically promoted to English Football League Championship, with the third being decided by a playoff. Meanwhile, the bottom four teams in English Football League One are relegated to English Football League Two. Additionally, the bottom two finishers in English Football League Two are relegated to the National League, which is the highest tier of the four other divisions. The same promotion/relegation concept continues down the remaining divisions.
It may seem chaotic, but it has created a thriving system in England. And it would be far simpler in the NBA with only 30 teams than it is in England, which boasts hundreds of football clubs.
I propose an English Football League-inspired realignment, resulting in two distinctly separate divisions. The top half of the NBA would be slotted in an upper division in which teams could compete for an NBA title. The remaining half of the league would be in the lower division where they would compete for a biannual promotion to the upper division.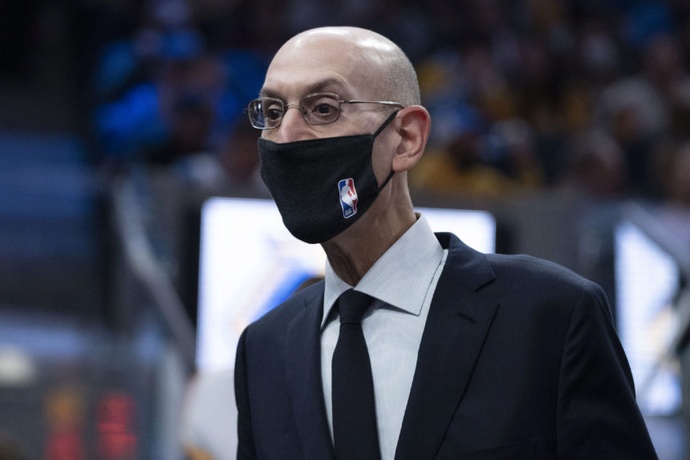 Why pick on divisions? Geographically inspired divisions have existed for as long as professional basketball itself. In its inaugural 1946-47 season, the Basketball Association of America – which eventually merged with other leagues to become the NBA – launched with 11 teams: six in the east division (Boston, Providence, New York, Philadelphia, Pittsburgh and Washington) and five in the west division (Cleveland, Detroit, Toronto, Chicago and St. Louis). Both division winners received first-round byes in the first-ever playoffs, with four other teams qualifying for the playoffs.
Since then, expansion has eroded away at the importance of a division championship. Presently, eight out of the 15 teams in each conference qualify for the playoffs and none receive byes. And while expansion has resulted in even more distance between teams, significant increases in revenue and technological innovation have enabled teams to traverse the continental United States with relative ease. So, while location-oriented divisions are embedded in the league's history, moving past them can unlock some key benefits.
How so? Mostly because an updated structure generates interest around games that would otherwise be of no interest to the casual fan. By late February, many teams are essentially eliminated from contention. This proposal allows the NBA to make meaningful games for these teams. Suddenly, there is meaning to a late-season matchup between the Sacramento Kings and Oklahoma City Thunder.
And with improved competition comes improved watchability. As top-tier players flock to play with each other, there is simply less talent to go around for the remaining teams. Sure, storylines drive interest at the start of each season, but realistically, the NBA's storylines boil down to a select few as the season progresses. Viewers have a significant amount of content competing for their attention, but this change creates new basketball storylines to monitor, and can result in more meaningful games for more teams.
Then, there are business implications to consider. Actual games' ratings – an important metric in contract negotiations between the league and its network partners – are driven by talent, competition and rivalries. This type of move should allow the league to put more teams on the national schedule because more teams would be competing for a spot in the upper division.
But in fairness, drawbacks exist, too. First, exciting runs like the one made by the Atlanta Hawks last season would have been impossible. As of the 2021 All-Star break, Atlanta was No. 11 in the Eastern Conference standings, meaning they would have been relegated for the second half of the season using this model. Additionally, exciting up-and-coming teams like the Charlotte Hornets, Chicago Bulls and Indiana Pacers would have all started the 2021-22 season in the lower division, meaning that we would see fewer primetime matchups featuring LaMelo Ball, Domantas Sabonis and Zach LaVine. And it would impact free-agent movement and decisions, giving teams in the upper division an unfair recruiting advantage.
Let me be crystal clear, though – this change is about improving the competition amongst the bottom half of the league. The existing playoff structure works. This is about creating an opportunity for new goals in regards to the less-competitive franchises, and implementing these new opportunities could result in an increase in ticket sales and television ratings. That's a win-win.
On to logistics: How would the season work? One possibility is splitting the season in halves. After 41 games of playing primarily other teams within a given division, last-place teams from the upper division would be demoted. Simultaneously, an equal number of teams at the top of the lower division would be promoted. This creates a midseason event that drives continued interest and attention. Another promotion/demotion event could follow the end of the regular season.
This new system also enables several other new events, like a midseason tournament featuring top finishers from each division competing for a midseason title and prize money — and more.
I am well-aware that this is a major change, the pros and cons of which should be appropriately weighed. But it's also a change the sets the NBA up for success in the future. It eliminates redundancy, improves competition and allows for new opportunities and events. Realistically, this type of a change would be a hard sell, and it's probably too big to enact.
But it could also help usher in a new era in NBA competition.